Lori Ann Hamlin, age 50, passed away peacefully surrounded by family at Kaplan Family Hospice House on Friday, January 15, 2021 after a courageous, hard-fought battle with breast cancer.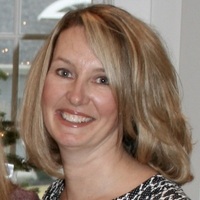 Lori was born April 10, 1970 in El Paso, TX to James and Shirley Mulqueen. She was raised in Pompton Plains, NJ alongside her sister Casie. Lori graduated from Pequannock Township High School in 1988 and relocated to Massachusetts to attend college. She earned a B.A. in Economics from the College of the Holy Cross in 1992, and later earned an MBA from Northeastern University. During her professional career Lori worked in business analytics and management consulting.
Above all else, Lori was a devoted wife and mother to her daughters, Erin and Molly. Lori met her husband, Brad, in a classic Boston way – at a bar near Fenway Park – and never looked back. They married in 1996 and welcomed their beautiful daughters in 1999 and 2003. In 1997, Lori and Brad settled in Reading, MA where they became active members of the community. Over the years, Lori volunteered her time and talents with Reading Public Schools, St. Agnes Church, Burbank YMCA, Young Women's League, and several other organizations. She derived so much joy from her family and her dedication to them was unparalleled. Most often, Lori could be found alongside her daughters. Whether it was on the pool deck, at a track meet, or attending a dance recital or competition, it always brought Lori great happiness to see her daughters participating in activities they loved. Erin and Molly were the center of her world and her highest priority from the day they were born.
Among the many things Lori will be remembered for are her love of photography, yellow roses, Billy Joel, and all lemon-flavored baked goods. She loved tradition, including baking and delivering Christmas cookies with her daughters and most of all their annual summer vacations with extended family in Stone Harbor, NJ. She also enjoyed cooking, traveling and had spent the past few summers learning to golf, which married two of her loves, competitiveness and sociability. Wednesday nights at Meadow Brook Golf Club for Nine and Dine remained steadfast in her calendar throughout her illness. Lori was a fiercely loyal and devoted friend who will be deeply missed by many. Lori always remembered birthdays, anniversaries, and knew when a friend was in need. Her loyalty did not stop her from being fiercely competitive. She expected all-in effort from everyone around her. She was definitely the person you wanted on your Trivial Pursuit team!
Lori approached her illness with a quiet grace and determination, never stopping her fight. Her strength has been an inspiration to us all. She led by example and will be fondly remembered by all who knew her.
Lori is survived by her husband Brad, daughters Erin and Molly, her parents James and Shirley Mulqueen (North Port, FL), her sister Casie (Mulqueen) Monahan, brother-in-law David, nephews Benjamin and Kevin (Cranford, NJ), and several aunts, uncles, cousins and many friends.
Lori and her family would like to thank the incredible team of medical professionals from the MGH Breast Cancer Center who helped her and her family navigate her cancer battle.
Led by Dr. Therese Mulvey, Dr. Michelle Specht, Dr. Alice Ho, Dr. Eric Liao, and Dr. Aditya Bardia, these professionals guided her and Brad at every step, offering world-class care and treatments as well as compassionate support. Lori would also like to thank the many nurses and NP's she encountered along her journey. Nurses truly are the backbone of our medical system and Lori had the great fortune to be in the care of some of the best, including Cindy H., Joanne K., Nancy G., Dana H., Kara O., the entire team from the Termeer Center, with a special shout out to Elene, Debbie L. and Kayla B. We extend loving thanks as well to our dear friend Ann Letendre, an MGH nurse who helped guide us from day one by helping us to ask the right questions, navigate MGH, decipher medical jargon, and just being an amazing friend and support.
Additionally, her family would like to thank the team at the Care Dimensions / Kaplan Family Hospice House for their compassionate care during Lori's final days. Lastly, Lori and her family want to sincerely thank all of Lori's amazing family and friends for their unwavering support over the past few years. We couldn't have done it without you.
In lieu of flowers, please consider making a donation in Lori's memory to either the ESSCO-MGH Breast Cancer Research Fund (Mass General Hospital, Development Office, 125 Nashua Street, Boston, MA 02114) or to Care Dimensions (75 Sylvan Street, Suite B-102, Danvers, MA 01923).
Due to the pandemic, her Funeral Mass at St. Agnes Church will be private for family on Wednesday January, 20 at 10:30AM but will be live streamed at www.readingcatholic.org. There are no visiting hours. A Celebration of Life will be held at a later date