Reading Public Library continues a series of conversations aimed at strengthening the heart of our community
The Reading Public Library is pleased to announce the first Pulse of Reading conversation of the new year on Wednesday, January 6 @ 7:00 pm.
In the 2019 Pulse of Reading discussion topics were Change & Transition, A Matter of Civility, and Belonging. All three conversations determined that, as a community, we needed to talk about race and racism. Events of 2020 have reinforced the importance of this discussion.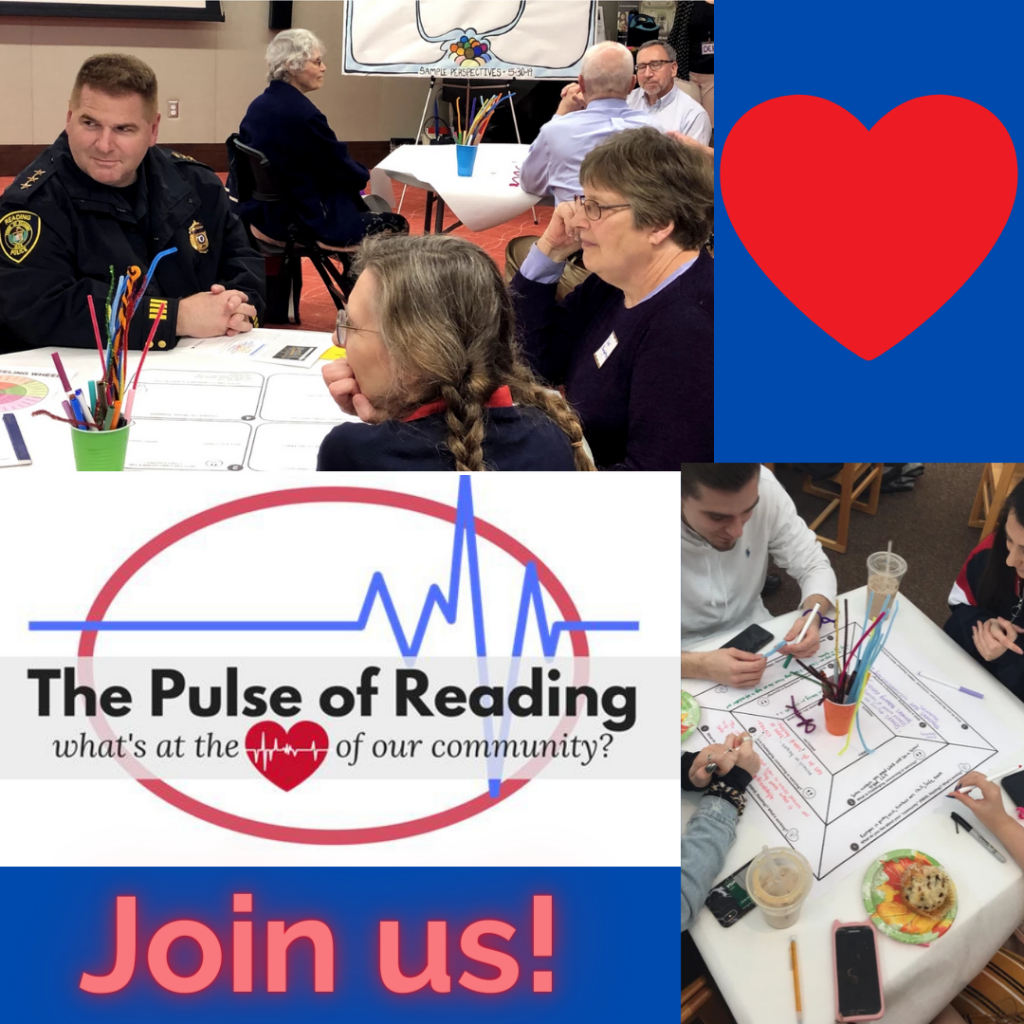 Join us for a virtual, community conversation to begin exploring our own experiences, perspectives, and blind spots about race and racism. How can we as a community start to unravel such complex and deeply rooted challenges? Using a virtual and inclusive format, we will discover what happens when we confront difficult topics with open and humble hearts
"Let's Talk About Race" is a facilitated conversation that is specifically designed to call people in, instead of calling them out. Join the conversation, experience community.
The Pulse of Reading is an ongoing series of conversations open to all, designed to address the vitality or "heart" of Reading. Join us throughout 2021 as we continue to engage and strengthen our community.
Using the World Café process (​www.theworldcafe.com)​, these sessions are designed to bring diverse groups together to explore important questions that matter to them. Attendees can expect:
A safe and inclusive conversation experience that invites people to speak honestly from their point of view
Respectful and honest discussion with fellow residents about challenges and opportunities facing Reading
An opportunity to hear from others with different perspectives, as well as to identify shared values, passions, and concerns
The Reading Public Library is sponsoring this series to foster open and respectful conversations that recognize different perspectives, identify shared interests, and spark future networks to support our growing and changing community. Each session explores questions about the issues raised during the original 2018 and 2019 Pulse of Reading​ conversation series.
The events are free and open to anyone in Reading who wants to participate. To learn more or if you have questions regarding accessibility, please visit pulseofreading.org or contact the library at ​rdgadmin@noblenet.org ​and include "Pulse of Reading" in your subject line.