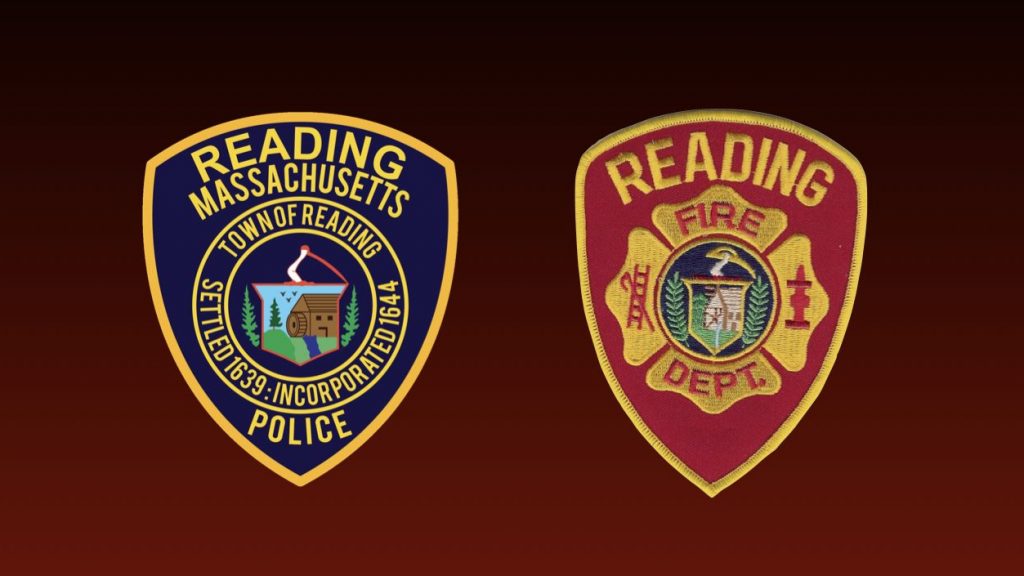 Reading, MA — Excerpts from the Reading Police and Fire Log:
Wednesday, December 23, 2020
7:15am – Scotland Road Resident Reports Vehicle Egged Overnight.
8:48am – Officer on Parking Enforcement in the Square.
8:52am – Report of Suspicious Person Sleeping in Sleeping Bag Near Main Street ATM.
12:32pm – Parking Enforcement on Haven Street, One Citation Issued.
12:39pm – Stone Well Road Resident Reports Suspicious Person Rode Bike Down Driveway.
12:52pm – Traffic Lights Out in all Directions at Lowell Street and Grove Street.
2:42pm – Officer Covering Crossing Post on Birch Meadow Drive.
3:00pm – Officers Assist with Welcome Home Parade on Oakland Road.
4:46pm – Flat Tire Reported on Lincoln Street.
5:14pm – Oak Ridge Road Resident Reports Finding NY License in the Mail.
5:31pm – West Street Resident Reports Water and Sewage in Basement.
5:46pm – Bancroft Road Resident Reports Leaking Home Drain.
6:41pm – Officer Standing by with DPW on West Street.
7:41pm – Vehicle Repossession Order Received Via Fax.
8:04pm – Verbal Warning for Texting Issued on Main Street.
Thursday, December 24, 2020
6:09am – Doors Found Open at Bolton Street Business.
11:42am – Report of Odd Announcement Made over PA system at General Way Business.
4:14pm – Winslow Road Resident Reports Lost Dog.
4:22pm – Report of Shoplifting at Salem Street Business.
4:35pm – Disabled Vehicle in Intersection on Walkers Brook Drive.
5:44pm – Officer Out with DMV at Salem Street Rotary.
6:28pm – Complaint of Multiple People on Sidewalk Blocking Traffic on Walkers Brook Drive.
6:47pm – Lights at Walkers Brook Drive and General Way not Working.
7:36pm – Complaint Regarding Numerous People in Entrance of Walkers Brook Drive Business not Wearing Masks.
8:01pm – Complaint Regarding Loud Music on Washington Street.
11:48pm – Main Street Resident Complaint Regarding Neighbors Playing Karaoke Loudly.
Friday, December 25, 2020
3:45pm – Report of Suspicious Package Near Pillar of Bridge on West Street.
5:36pm – Bay State Road Resident Reports He Can See Into Neighbor's House.
7:18pm – Fire Alarm Activation at Bond Street Residence.
9:41pm – Report of Loud Audible Alarm by Front Doors of RMHS.
Saturday, December 26, 2020
2:01am – Commercial Alarm at Main Street Business.
11:34am – Shady Hill Lane Resident Reports Brown Water Inside Home.
12:50pm – Washington Street Resident Reports Stolen Check.
1:50pm – Lost Wallet Turned in at Station.
3:41pm – Walkers Brook Drive Business Reports Customers Refusing to Wear Masks.
6:30pm – Possible Water Main Break in the area of Summer Avenue.
10:07pm – Disabled Vehicle on Hopkins Street.
10:56pm – Complaint Regarding Vehicle Driving Too Fast on Franklin Street.
Sunday, December 27, 2020
12:52am – Officer Checking on Two Suspicious Vehicles Sitting in Main Street Parking Lot.
9:41am – Report of Suspicious Person Making Comments to Resident.
9:59am – Lee Street Resident Reports Check Fraud.
2:12pm – Cherry Lane Drive Resident Reports Loose Dog in the Area.
3:00pm – West Street Resident Reports Sewage Coming Up from Drain.
3:28pm – Woburn Street Resident Reports Lost Wallet with Fraudulent Charges to Account.
7:22pm – General Way Business Reports Person Throwing Objects in Store.
10:30pm – Complaint Regarding Erratic Vehicle Operation on Haverhill Street.