Reading, MA – The idea came to her after seeing people wearing their masks incorrectly in the store.
"I saw lots of people who didn't know how to wear masks properly, like they'd wear them under their nose, or so that they weren't covering their chin. So, I decided I wanted to make little cards with mask-wearing tips," said Hannah Lang, an 11-year-old member of Girl Scout Troop 62779 in Reading.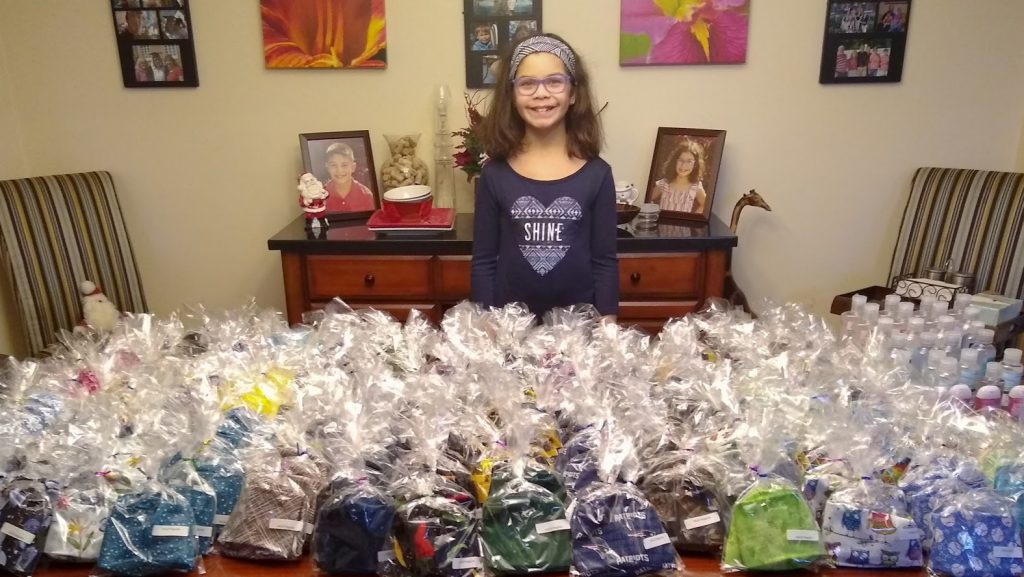 It was out of this desire to educate that Lang's Bronze Award project was born. The Bronze Award is the highest honor a Girl Scout Junior can earn, asking Girl Scouts to create a project that will educate members of their communities while also taking direct action to solve a problem. In researching her project, Lang realized that the issue of masks could be exacerbated by economic hardship.
"Lots of people who have food insecurity also might not have the resources or the money to buy a mask. And so, with everyone having to wear a mask around other people, I realized that if someone is experiencing food insecurity, they may not have enough masks," said Lang.
After having the project approved on August 20, Lang set to work with the end goal being to donate masks, hand sanitizer, and informational cards to the Reading Food Pantry. Working with four friends and her troop leaders Danielle Lang (Hannah's mother) and Linda Clarke, Hannah began by assembling funds raised through cookie sales and Fall Nut and Candy Sales over the past few years. She also began visiting businesses such as the North Reading Walmart and Dollar Tree, and the Woburn Target to ask if they might be interested in donating bottles of hand sanitizer to accompany the donated masks.
"I also posted a request for donations on Facebook, and she received several donations from Reading residents as well as friends and family. Several people also donated coupons that Hannah used toward purchasing hand sanitizer with troop funds," said Danielle Lang.
With her friends and family's help, Hannah personally sewed 200 of the masks (made with two layers of 100% cotton material), while her friends helped her with cutting the fabric, adding ear loops and nose pieces, and putting the packages together. The fashionable masks sported prints of flowers, geometric designs, chili peppers, and Boston sports teams' logos.
"The sizes we created were Adult Regular, Adult Large, Child Extra Small, Child Small, Child Medium, and Child Large. So they could be worn by anyone ages two and up," said Lang.
All told, she was able to donate 250 masks. Accompanying each mask donation was a bottle of hand sanitizer (either one 2 oz. bottle or two 1 oz. bottles) and a notecard detailing how to wear the mask correctly.
Hannah Lang donated all the packets to the Reading Food Pantry on December 16, bringing the project she worked tirelessly on for three months to an end.