Reading, MA — Reading Memorial High School (RMHS) Principal Kate Boynton shared proposed updates to the RMHS student handbook's academic portion on December 17. "We are looking at the revision from an equity and social and emotional standpoint." Boynton shared. Boynton further explained that the revisions result from extended and "rich" conversations with parents, faculty, and students. She also shared that they were approved by the faculty and unanimously approved by the School Council, which is an advisory body to the principal.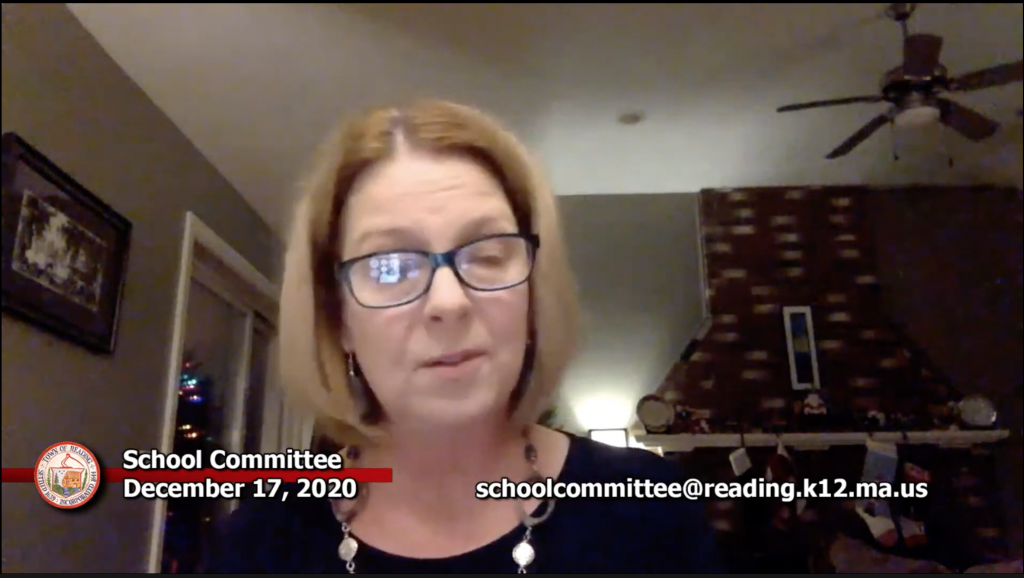 Notable changes include changes to transcripts that will only have year-end grades, and course credit will only be awarded at the end of the year. There is a change in how the grade point average is calculated, and class rank will be removed from the transcript.
Boynton explained that the change to year-end grades and credit would encourage students who may fail a course for one quarter for medical or other reasons to continue to seek to pass the course as a whole considering that the one poor quarter will not be reflected on the transcript.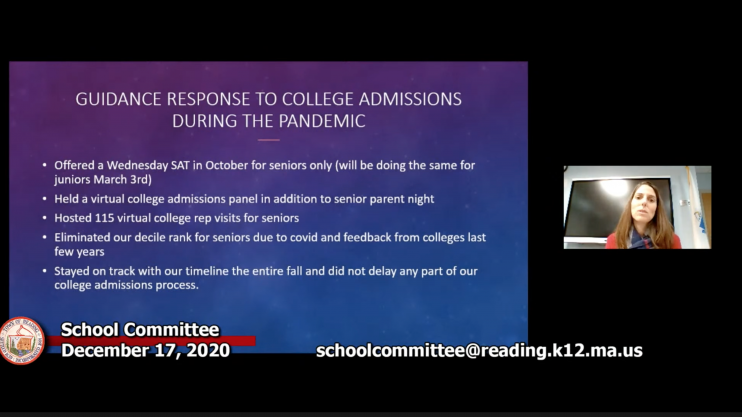 Director of Guidance Lynna Williams explained the removal of class rank from the transcript as a change that seeks to reduce the stress of "academic competition" between students. Williams cited examples of students seeking to know the most AP courses anyone ever took to seek to exceed that amount. She also suggested that colleges no longer use class rank when considering students and that Reading is "behind the times" in continuing to place it on transcripts.
Grade point average (GPA) will now be calculated using the University of Massachusetts system. While 'A+' grades will still appear on the transcript for students achieving the high mark, it will not be given any additional weight over an 'A' when calculating a student's GPA. The grade of 'F-' has also been eliminated from report cards, transcripts, and GPA calculation. The 'F-' is now viewed as overly punitive.
Member Thomas Wise questioned how it was fair to high-achieving students that a 'B+' or a 'C+' got the .3 in calculating GPA over a 'B' or a 'C,' but an 'A+' did not merit the same advantage. He also expressed concern that high-achieving students would lose the motivation for striving for this level of excellence. Williams again cited student stress as motivation for the changes, noting that students were involved with the decision to make the change.
"Are we going to be a district that continues to let [student stress] happen?" Williams asked.
Members Shawn Brandt and Erin Gaffen agreed, citing the detrimental effect academic competition had on their own high school experiences.
Wise also questioned the School Council's unanimous vote, stating that a few council members did not recall taking a vote, though a vote was reflected in the minutes. Boynton explained that she asked for a show of hands agreeing to the changes and that they were all in the affirmative. Two members of the School Council emailed the School Committee during the meeting, stating that they were unclear regarding taking a vote. Boynton remained adamant that one had been taken.
Wise suggested that a School Committee vote on the handbook changes be delayed until the misunderstanding could be cleared up, but Chair Chuck Robinson declined to postpone the vote. "The high school principal has told us that there was a vote, and I believe her." Robinson declared. The School Committee voted 5-1 to accept the changes to the high school handbook with Wise as the only dissenting vote.
Williams shared a presentation with the committee regarding college admissions efforts during COVID, noting that fewer members of the class of 2020 opted to attend four and two-year colleges this fall. She suggested that virtual formats in colleges and other COVID-related reasons could explain this anomaly. Williams also reported that college admissions work for this year's senior class was "on track.'
Williams shared efforts over the past year to expose students to non-college, post-high school options through a gap-year fair, changing the college fair to a college and career fair, and partnerships with Northeast Vocational School and the Benjamin Franklin Institute of Technology.
"Every student is an individual." Williams affirmed, "We do not believe that college is the only option."
Chief Financial Officer Gail Dowd gave the committee a "high-level overview" of the school department budget explaining costs centers, the budget process, and a timeline for budget approval. No numbers were included in this presentation. After a series of meetings, the School Committee is expected to vote on the Fiscal Year 2022 budget on January 25.
The School Committee voted 6-0 to approve policy BDF on advisory committees and voted 6-0 to approve the district's Student Opportunity Act plan. This plan needs to be submitted by January 15.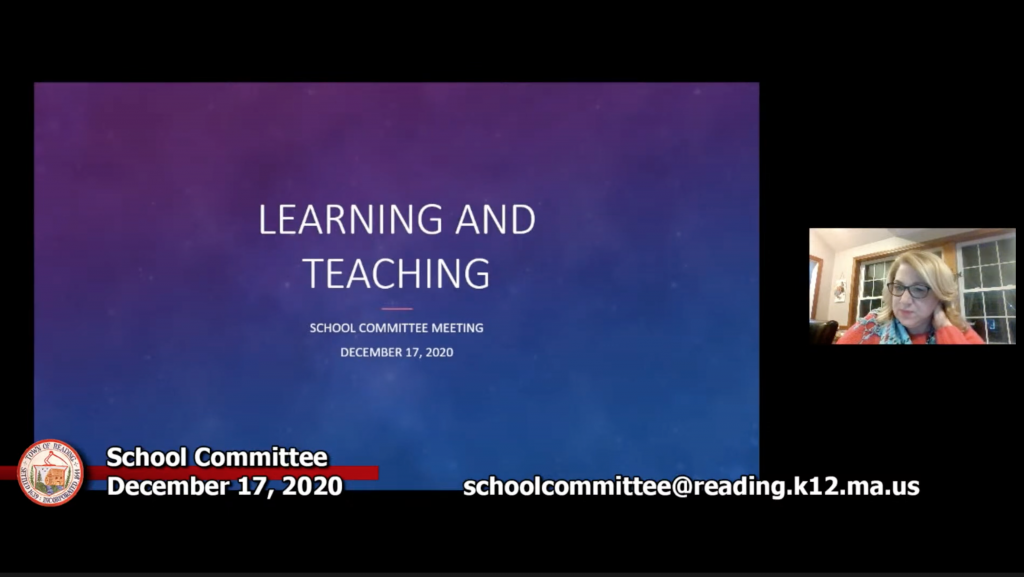 Assistant Superintendent Christine Kelley reported that all but four of the 172 curriculum guides have been completed and that the remainder will be done by the end of December. Superintendent John Doherty also shared preliminary results from the hybrid learning survey suggesting that almost eighty percent of students and nearly eighty-four percent of parents give the experience, thus far, a rating of three, four, or five out of five. Parents generally favor a transition to full-hybrid at the high school, while teachers generally do not favor this change. Students are mostly split on the matter.
Doherty shared that starting January 19, districts will be required by the state to provide at least thirty-five hours of synchronous or in-person learning to all students every ten days. Reading already exceeds this requirement as elementary students are currently receiving an average of forty-one hours of synchronous or in-person learning every ten days, with middle and high school students receiving forty-eight hours every ten days.
The School Committee adjourned at 10:40 pm.