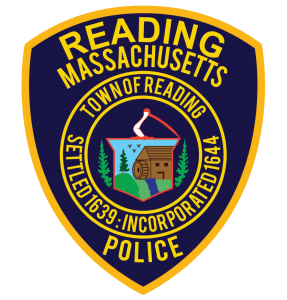 READING, MA — Chief David Clark and the Reading Police Department wish to provide tips for residents to avoid common scams.
"There are unfortunately many different types of scams that often target people's vulnerabilities, including unemployment scams, IRS and tax identity scams, and scams that specifically exploit older adults," Chief David Clark said. "We want residents to be aware that these scams exist, and that you should never share your personal information with someone you do not know, whether that's online, over the phone or in-person."
The Reading Police Department wishes to share the following scam avoidance tips from the Federal Trade Commission:
Block calls and texts from unwanted numbers. To learn more about this from the FTC, click here and here.
Never give out your personal information, especially your social security, bank account, or credit card numbers.

Remember: a legitimate organization won't unexpectedly ask for your private information.

Scammers may pressure you to make an immediate decision. Do not allow yourself to be pressured into giving your personal information or paying a fee. A legitimate organization will give you time to make a decision.
Scammers commonly ask for payment with a gift card or a money transfer service. Take this as a significant red flag- legitimate organizations do not ask for payment in this way. Residents should also never deposit a check and send money back to someone.
If you're concerned you're being targeted by a scam, talk to a family member, friend, or neighbor you can trust. Reading Police also encourage residents to contact the organization the scam claims to represent to verify whether that is accurate. Contact the organization from a phone number you can verify is legitimate.
If you need further assistance or may have fallen victim to a scam, contact the Reading Police Department at 781-944-1212.
The Reading Police Department also wishes to share the following tips from the FTC for recognizing and avoiding job scams:
Legitimate organizations won't ask you to pay a fee in order to guarantee a job offer, whether that be for certification, training materials, or other related expenses.
Never give out personal information, like your credit card or bank account information, over the phone to a company if you do not know the company and haven't agreed to purchase something.
Remember: information about available federal jobs is free and all federal positions are announced publicly at https://www.usajobs.gov/.
Know that while some job placement services are legitimate, others may take your money and stop returning your calls, lie about the services they'll provide, and so on. Make sure any job placement service you seek out is legitimate by:

Contacting the company or organization the job placement service is mentioning in an ad or interview to verify the legitimacy of the posting.
Be sure to get a copy of any contract with the agency you're working with and read it thoroughly.

A legitimate job placement agency will ensure you have time to read the contract through and will not rush you.

Know whether you're contracting services for job placement or job counseling, as career counseling services can help you with career directions and decisions and help you prepare, but won't guarantee job placement.

Confirm with your local consumer protection agency, state Attorney General's Office, and the Better Business Bureau to confirm if there have been any complaints filed about the company you're looking to work with.
If you've been targeted by a job scam, report it with the FTC here.
For an overview of common scams, visit https://www.usa.gov/common-scams-frauds.