Reading, MA — The selection criteria which will be published to candidates investigating the role of superintendent of schools in Reading were reviewed and accepted by the School Committee on November 23. Current Superintendent of Schools John Doherty announced to the committee at the May 28 School Committee meeting that he would be resigning when his contract expires at the end of the 2020-21 school year. The criteria, created by consultant Dorothy Presser of the Massachusetts Association of School Committees, were developed using "strong themes" that emerged through focus groups and the 214 surveys submitted by parents, community members, and other stakeholders.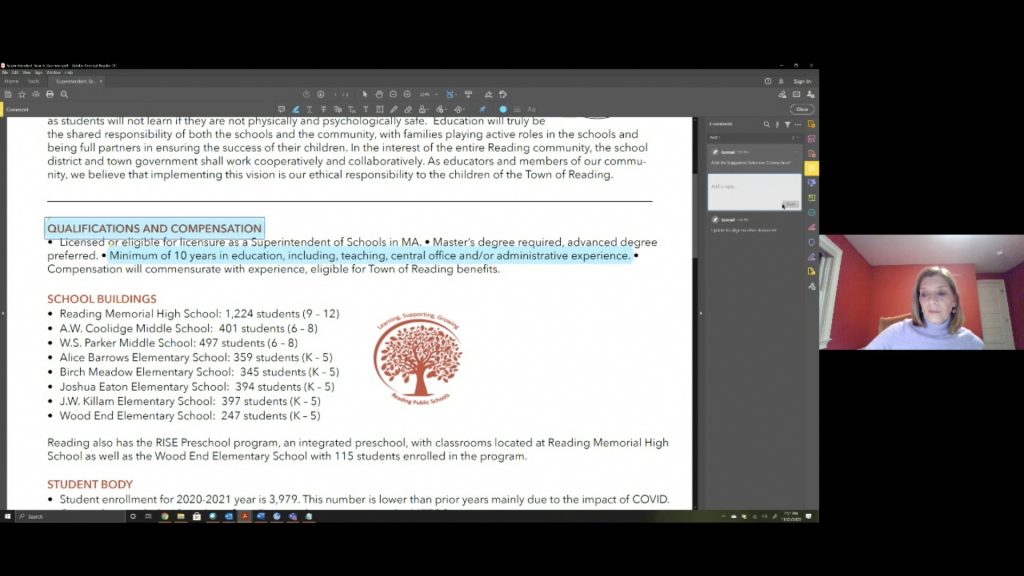 The five suggested criteria include a collaborative leadership style, promoting diversity and equity, goal setting and budget development, understanding good teaching, and improving and maintaining high academic standards. The committee also added two additional criteria to the list. The first, prompted by School Committee member Shawn Brandt, focused on creating consensus and driving a shared vision for elevating the district. Later, a second bullet point was added, at the suggestion of chair Chuck Robinson, indicating that experience with school building projects would be "a plus."
"This could be what sets candidate 'A' over candidate 'B' if all else is equal," Wise opined.
Member Thomas Wise also indicated that a bullet point regarding curriculum development should be added. Wise made the argument that the importance of choosing the correct curriculum cannot be understated. Other members expressed concern that the district already has staff dedicated to this area and that Wise's concern was encompassed by the additional criteria already listed. Arguments were also made that the list of standards would be too long if every area of the district were listed in the search criteria.
In reviewing the new superintendent's qualifications, the wording was adjusted to suggest that central office experience would be ideal for a candidate but not a requirement. Several members indicated their belief that requiring past central office experience would restrict too many potential candidates from the candidate pool.
The committee also reviewed and offered suggestions regarding the advertising brochure that will be posted to attract potential candidates to the job opening. Presser indicated that after polishing, the brochure is scheduled to be published next week.
The School Committee adjourned at 8:30 pm.