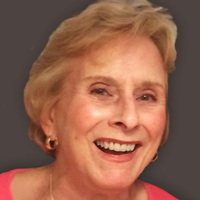 Jo Mary Sawyer Gustenhoven, 87, died peacefully at home on November 23, 2020.
Jo Mary was born in East Boston, MA to the late Joseph and Anna (Tisi) Alfano, the youngest of their seven children.
Jo Mary married Kenneth E. Sawyer Jr. in 1955 and settled in Reading, MA; Ken passed suddenly and unexpectedly in 1982. In 1994, Jo Mary wed Thomas L. Gustenhoven, who passed in March 2000 after a brief illness.
Jo Mary was multi-talented, well-read, hard-working, and classy. Excelling in many disciplines, professionally and personally. She was also a dedicated and selfless daughter, sister, wife, mother, aunt, neighbor, friend, and volunteer — always generous with her time and talents to anyone in need.
She is survived by her children, Kenneth Sawyer of East Hartford, CT; Mark Sawyer of Woburn; and Karen Sawyer (Stephen Gousie) of Reading. Cherished grandmother of Alexander Gousie (Reading, MA/Nashville, TN).
In lieu of flowers, please consider donating in Jo Mary's memory to the Massachusetts Chapter of the ALS Association, 685 Canton Street, Suite 103, Norwood, MA 02062; or to a charity of your choice.
Due to COVID, services and burial will be private. A Memorial Mass will be held at a later date.