Reading, MA — The town held its annual Veterans Day Ceremony on Reading common Wednesday, November 11 at 11 am. Due to Covid-19, the public was requested to watch the live stream on RCTV. Here are the speeches from the event.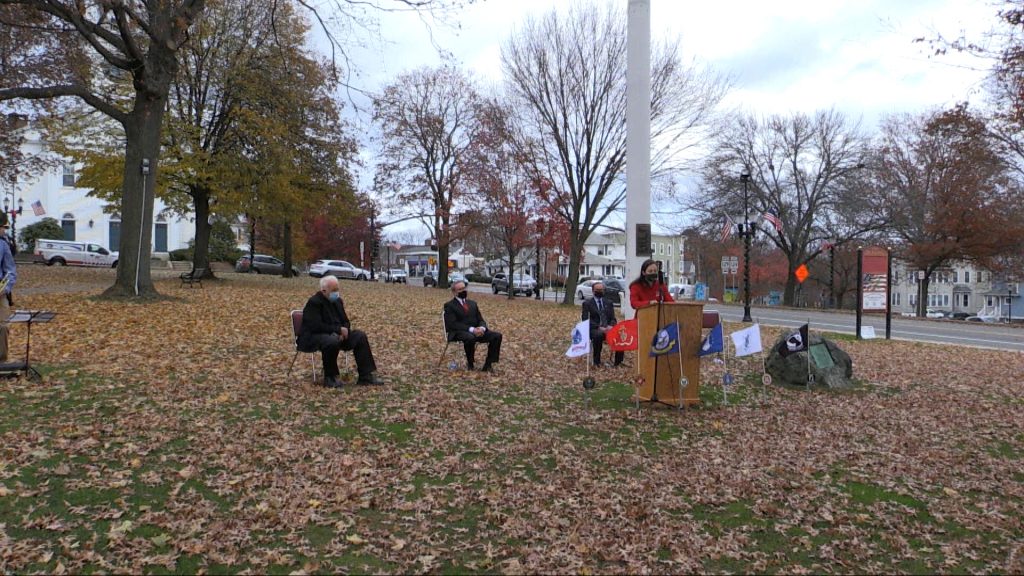 Kevin Bohmiller
Good morning, I am Kevin Bohmiller, I'm privileged to be the Veterans Service Officer for the Town of Reading. I welcome you to our virtual, 2020 Veterans Day Ceremony. Honor Guard – Post the Colors.
Happy 245th Birthday to the United States Marines!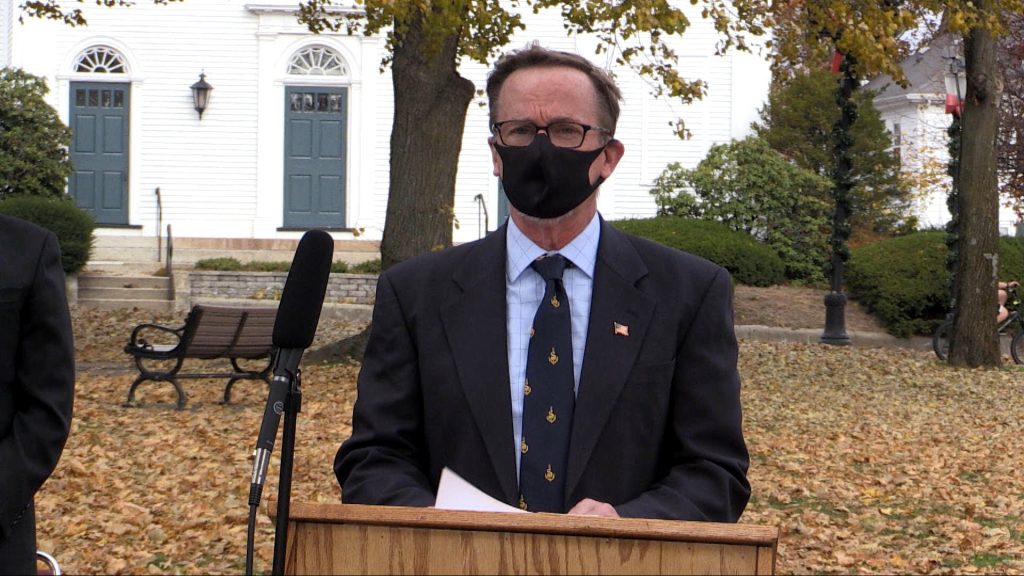 I missed seeing everyone at our annual Veterans Day Breakfast, which we usually hold before this ceremony each year. This breakfast will be one more thing to look forward to in 2021!! On this Veterans Day, we mark the 102nd Anniversary of the end of WWI. This was the beginning of what has become our Veterans Day. A day to celebrate, honor, and thank America's Soldiers, Sailors, Airmen, Marines, Coastguard, and Merchant sailors who have all bravely answered the call to defend our freedom. [Read More]
Mark Dockser
Good morning folks. My name is Mark Dockser, and I am the chair of the Reading Select Board. Thank you for joining us virtually today on RCTV. The pandemic has strained all of the ways that we do things, including today's Veterans Day observance. But being vigilant about wearing masks in public as you see us doing here today is critical to controlling the spread.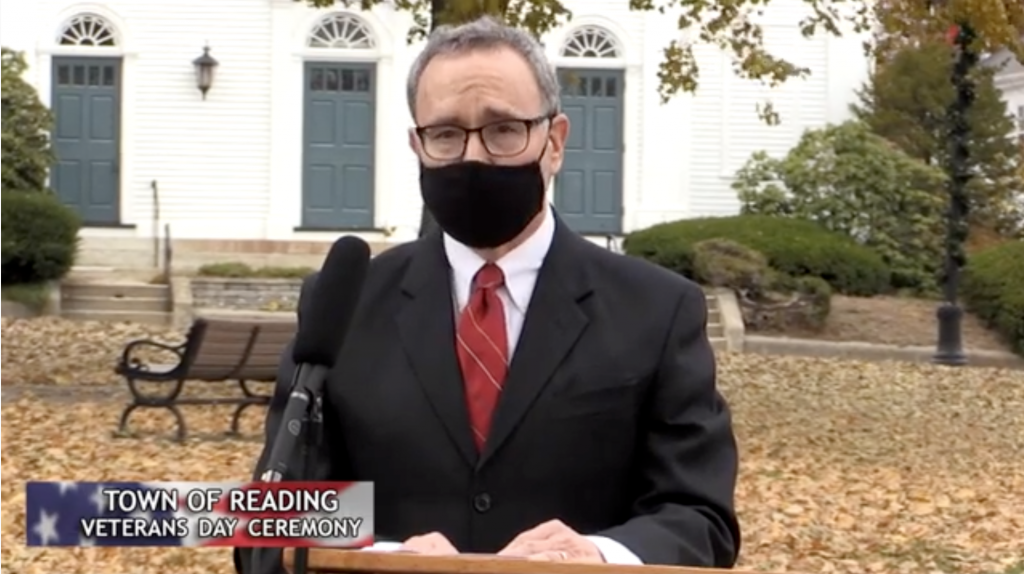 I know that it is very hard to not be able to be with all the members of our families, even outside, honoring our veterans who have passed away as well as those who are living. It has been an honor and a tradition to be able to attend the graves of those veterans who have died as well as to honor those who have served and are alive. Their service is the foundation of our democracy. I want to thank all of our local and not so local veterans for their service in making our country safe and free from tyranny. [Read More]
Autumn Hendrickson
During the summer between my freshman and sophomore years of high school, my moms took me to Nova Scotia. For some reason, they decided that we could go to the tiny little town in northern Nova Scotia, where almost the entirety of my mother's side of the family comes from. It is a town where restaurants don't open until 3:00 PM and then close promptly at 7:00 PM. While we were there, I visited the grave of my fourth great grandfather. When I sunk my knees into the dirt in front of his grave marker, I think that's when I really started to love history. He was right there, six feet below me. Not long after that trip, I discovered that my great uncle on my father's side had been killed in the Battle of Mont Sorrel in the First World War. My first cousin, four times removed, had died of the Spanish Flu just one month before the First World War would end. So, to honor them, I decided to learn everything I could about World War I. By the time my senior year of high school arrived, I was quite the war buff, so I cleared out my schedule so that I could take a history elective…and I chose World War II, European Theater with Mr. Dent.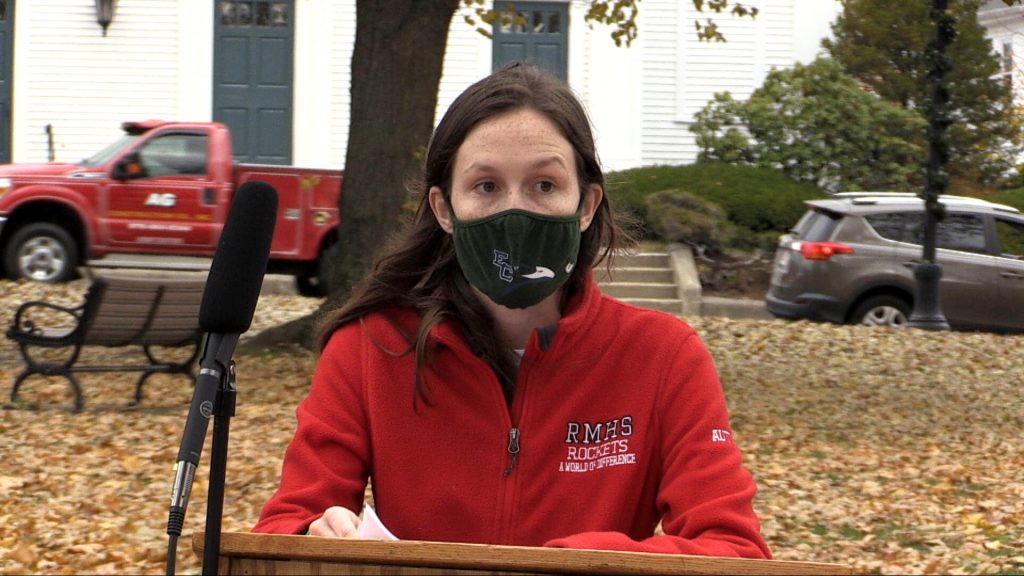 It was so fascinating to learn more about the Second World War, but it was kind of difficult for me to connect back to myself because most of my family missed World War II. When summer began, I was offered a job to write for The Reading Post, though, and I was overjoyed. But as I thought more and more about it, I became concerned that I wouldn't really have anything to write about because COVID-19 was keeping everyone home. So I came up with this idea that I could try to follow the men from Reading that served in World War II through the summer of 1943 or 1944. It was really a pipe dream. When I talked about it, I really didn't think I would be able to do it. But I told myself I'd take a crack at it and give up when I didn't find anything, which I knew I wouldn't. I sat down with Ken Burns' documentary ​The War​, a box of goldfish, and started going through the World War II draft cards from Reading. And I started finding things…a lot of things. I started finding stories of people whose names I'd never heard of, even though I thought I probably should have. When I asked if anyone had names of relatives for me, people answered. Before I knew it, the pipe dream I'd had was starting to come true. [Read More]