Be on the Lookout Oct. 29 – Nov. 19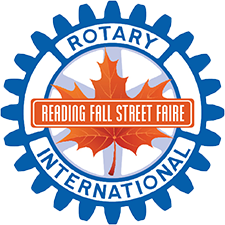 The Reading Fall Street Faire Committee has accepted the challenge of reimagining the Reading Fall Street Faire for the COVID era. Events included a socially distant Classic Car Rally through downtown Reading on Oct. 4 and a town-wide game of Bingo, which wraps up on Sunday, Oct. 18. The final event in this years Reimagined Fall Street Faire occurs from Oct. 29 – Nov. 19. During this time, Rotary members will be popping by local businesses, unannounced, to distribute gift cards to customers/diners to thank them for supporting the local business community and to encourage them to come back and continue to shop and dine locally.
Rotarian and Street Faire organizer Sheila Clarke explains, "More than anything; the Fall Street Faire is fun. Handing out gift cards to residents who happen to be out and about shopping and dining locally is a way to support our local businesses, have a little fun, and hopefully give some folks a little unexpected joy in their day."
Nobody will know when or where Rotary will be popping up from October 29 – November 19. But if you follow Reading Fall Street Faire on Facebook, Instagram, and Twitter you'll get to see where they go and follow the fun.
Local Businesses Encouraged to Sign Up
If you are a local business owner who would like Rotary to pop up at your store to distribute gift cards to your customers, please email readingmarotary@gmail.com BY OCTOBER 24. Business locations will be picked by lottery and business owners will be contacted ahead of time to arrange a good time for Rotary to visit. There is no cost for participating. The cost of the gift cards will be covered by the Reading Rotary and our generous sponsors.
Sponsors Needed
We are looking for Sponsors for this fun event! Your generous donation will allow us to purchase gift cards. For details on the benefits of sponsorship, email readingmarotary@gmail.com.
Full information about Reading Fall Street Faire can be found at fallstreetfaire.com. Residents are encouraged to follow Reading Fall Street Faire on Facebook, Twitter, and Instagram.