Warren cites Mullet's commitment to climate, reproductive care, and campaign finance reform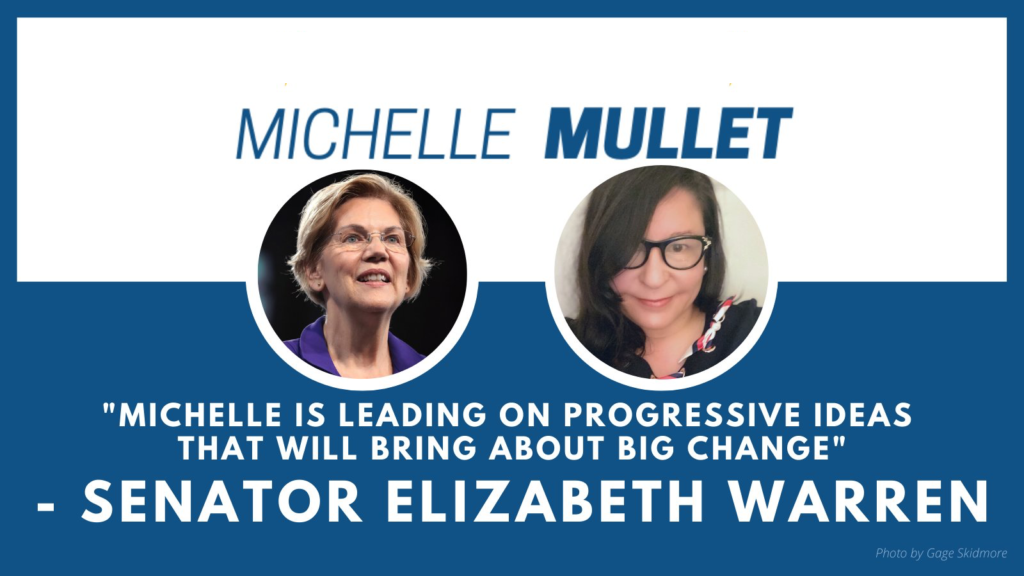 North Reading, MA – The Committee to Elect Michelle Mullet is proud to announce that Senator Elizabeth Warren has endorsed Michelle Mullet for State Representative in the 20th Middlesex District of Massachusetts.
"I'm proud to endorse Michelle Mullet for the Massachusetts State House. She's leading on progressive ideas that will bring about big change — like implementing a Massachusetts Green New Deal, protecting and expanding access to reproductive care, and ensuring campaign finance reform is a priority on Beacon Hill," ​said Warren​. "And she will be the first woman and first Latina to represent the 20th Middlesex District of Massachusetts."
Mullet has earned the support of Moms Demand Action as a Gun Sense Candidate this year. In addition, she has earned endorsements from 350 Mass, Renew New England, Run en Masse, and all four Democratic Town Committees in her district–Lynnfield, Middleton, North Reading and Reading, as well as Presidential Candidate Beto O'Rourke and Boston City Councilor Julia Mejia.
Michelle Mullet holds a degree in journalism and writes about community issues. She's fighting the 26-year incumbent Republican Representative Bradley Jones who hasn't faced a challenger in 12 years. Michelle is a mom, a writer, an environmental advocate, and an active member of the North Reading community, where she and her husband are raising their two children. To follow her campaign, go to MichelleMullet.com​, @MichelleMullet2020 on Facebook, and @VoteForMullet on Twitter.