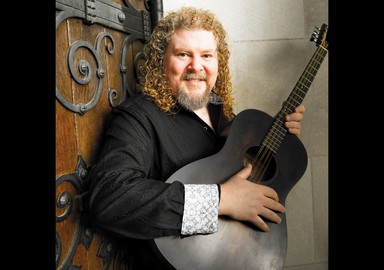 Reading, MA — Linden Tree Coffeehouse's Thirty-Six season of acoustic music concerts, featuring national and international performers, will continue Making Memorable Music on Saturday, October 17th with Joe Jencks. Shows will be different this year due to Covid-19. All shows will be broadcasting LIVE STREAMED. The audience will listen from their homes' safety, up close and personal, and NOT in the UU Church social hall.
A Linden Tree favorite, Joe Jencks, is an international touring musician, award-winning songwriter, of musical beauty, social consciousness, and spiritual exploration. A 20-year veteran of the international Folk circuit, Jencks has released 15 CDs in that time. Merging conservatory training with his Irish roots and working-class upbringing, Joe delivers musical narratives filled with heart, soul, groove, and grit. Blending well-crafted instrumentals and vivid songwriting, Jencks serves it all up with a lyrical baritone voice that has the edgy richness of a good sea-salt caramel. Joe's a talented performer whose repertoire moves between the world of contemporary and traditional folk, combining them into a mix of memorable music.
"Joe Jencks is the type of musician that will cause you to drop that morning newspaper or pull your car to the side of the road when you hear his songs. He is the type of artist that will turn heads in his direction when he walks onto a stage. His voice will instantly draw you into his passionate songs. He is the type of musician whose music will become part of you. His craft and artistry will remind you of the best efforts of Phil Ochs, Stan Rogers, and Woody Guthrie. The troubadour tradition is alive and well in the 21st century with the music of Joe Jencks." – Ron Olesko, WFDU "FM Teaneck, NJ, Folk Music Network.
Although we cannot charge admission to these shows, it is expected that viewers would donate what they can. Linden Tree Coffeehouse usually charges $20 for adults and $10 for those under 18 years old. Our performers have bills to pay, and most of their live concerts since last March was canceled for the year. There is much uncertainty about when live shows will resume. So be generous if you can by donating $5 or $10 to their Pay Pal accounts or send in a personal check to Linden Tree Coffeehouse with a note for the performer, and they will be mailed to them. We thank the Massachusetts Cultural Council, Wakefield Chapter, for supporting the concert series that has allowed us to bring quality programming to our community.
To watch Joe Jencks on 10/17/20 at 7:30pm, check his webpage JoeJencks.com or directly to https://youtu.be/HcBcFI00DXs
For more information: LindenTreeCoffeehouse.org, or LindenTree85@comcast.net, 781-246-2836, LTC, 8 Dexter Lane, Wakefield, MA 01880, The Linden Tree Coffeehouse in its 36 season of acoustic music supported in part by Massachusetts Cultural Council, Wakefield Chapter.