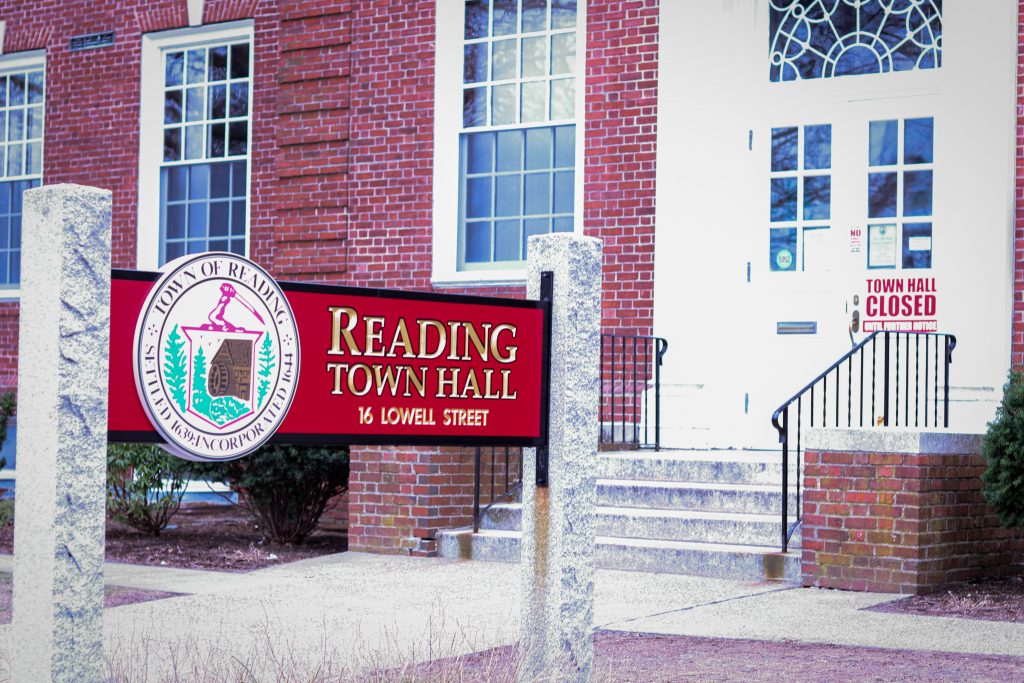 Road Diet Public Info Session, Walkers Brook Drive, and the Economic Development Summit Coming Up
Reading, MA – Due to Covid-19 precautions, multiple virtual events are planned for the coming weeks to enable Reading residents and businesses to engage with state and local officials and renowned experts on a variety of projects before the community. Through the use of webinars and online meeting platforms, residents and members of our business community can listen to and ask questions about the Road Diet project on Main Street, the traffic engineering work related to the Walkers Brook Drive Corridor and Intersection Analysis, and the conversation planned for the 4th Annual Economic Development Summit on economic trends and insights about economic resilience and withstanding a dynamic economy.
Rt. 28 Road Diet and Resurfacing project Virtual Public Information Meeting:
September 29, 2020, 6-7:30PM via GoToWebinar
MassDOT will host a virtual public meeting on Tuesday, September 29, 2020, to share information about the MassDOT Route 28 Resurfacing and Road Diet Pilot Project and continuing the pilot into spring 2021. After a brief presentation by the project team, members of the public will be given the opportunity to ask questions and share feedback about the project.
Click Here to register for the meeting. After registering, you will receive a confirmation email containing information about joining the webinar.
Participants must register to watch the presentation and submit questions and/or comments. Attendees who call in without registering will only be able to listen to the meeting. If you prefer to call in using your telephone, call in using the numbers below.
Call in Number: +1 (415) 655-0060
Access Code: 574-108-511
Audio Pin: Shown After joining the webinar
For more information, please visit the Project page
Walkers Brook Drive Corridor & Related Intersection Analysis:
September 30, 2020, 4PM via ZOOM
The Town has hired traffic engineering firm Green International Associates to complete a comprehensive study of the Walkers Brook Drive corridor and a number of related critical intersections that serve the commercial area and provide access to abutting neighborhoods. Green International will analyze and prepare a series of conceptual re-design options for consideration, an important goal of which is to address safety and operational deficiencies. The area under review includes Walkers Brook Drive, John Street, Washington Street, and Ash Street, and includes major intersections such as the Walkers Brook Drive/Lakeview Avenue/Village Street/General Way intersection(s), and the Main Street/Ash Street/Bolton Street intersection. Public outreach will be planned during the next few months in order to obtain stakeholder feedback. For more information, please contact Andrew MacNichol, Staff Planner at amacnichol@ci.reading.ma.us.
Click Here to access the meeting for Zoom meeting.
Call in Number:

+1 646 558 8656 US (New York)
+1 646 518 9805 US (New York)

Meeting ID: 629 367 8419
4th Annual Economic Development Summit- Join Us!
October 7, 2020, 5:30-7:30PM, via ZOOM Webinar
The Town of Reading is pleased to be hosting its 4th Annual Economic Development Summit on Wednesday, October 7, 2020, from 5:30-7:30pm. Join us for an evening of remarks and a panelist discussion about economic trends and insight about economic resilience and withstanding a dynamic economy. The virtual event will include opening remarks, a panelist discussion, and facilitated Q +A. We are excited to have an engaging group of speakers including keynote speaker, Barry Bluestone, political economist and Professor Emeritus of Political Economy and founding director of the Dukakis Center for Urban and Regional Policy at Northeastern University; Julie Thurlow, President and Chief Executive Officer at Reading Cooperative Bank; and Jeremy Cyrier, CEO and Founder of MANSARD a commercial real estate and brokerage firm. Residents may remember Professor Bluestone from his work on Reading's Economic Development Self-Assessment Tool (EDSAT) in 2013. This "event" will be held virtually and can be accessed by the general public by computer, phone, or RCTV livestream.
Click here to access the Zoom meeting or call in using the numbers below.
Call in Number: US: +1 646 518 9805
Webinar ID: 964 8652 4782
For more information about this virtual event and speakers.
Or contact Erin Schaeffer, Economic Development Director at eschaeffer@ci.reading.ma.us