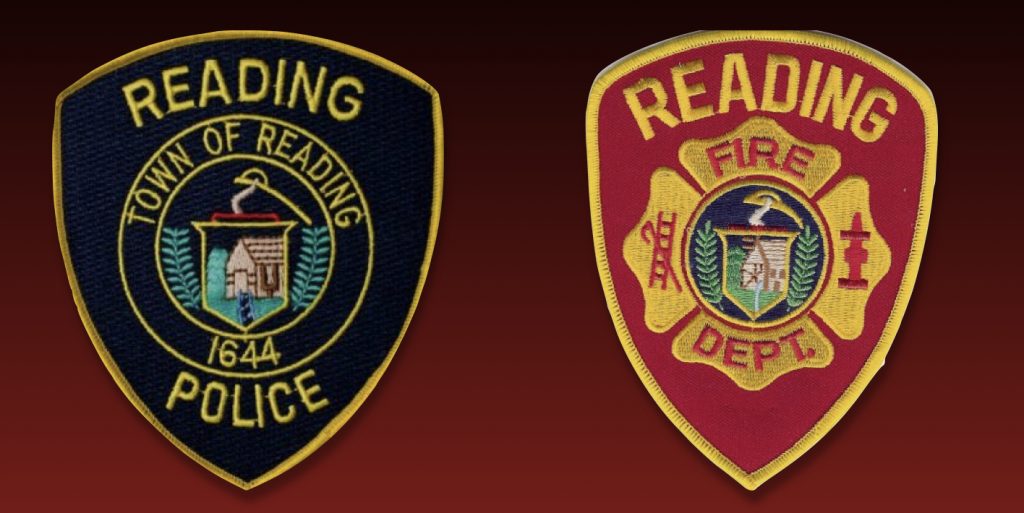 Reading, MA — Below are highlights from the Reading Police & Fire Log
Thursday, September 3, 2020
5:10am – Possible Vehicle Crash at Salem Street Rotary.
6:27am – Alarm at RMHS.
8:26am – Investigation of Minor Vehicle Crash on Mill Street.
9:37am – Verbal Warning Issued for Failure to Stop at Intersection on Woburn Street.
9:40am – County Road Resident Reports Identity Theft.
9:48am – Smoke and Burning Odor Reported in Linden Street Area.
10:31am – Hanscom Avenue Resident Reports Theft of Packages from Front Steps.
11:13am – Salem Street Business Reports Theft of Cones from Parking Lot.
12:09pm – Plastic Pellet Gun and Possible Drug Paraphernalia Found on Jacob Way.
12:50pm – Main Street Resident Reports Follow-up Information about Previous Case.
2:41pm – Assistance Rendered to Resident at General Way Business.
2:54pm – Archstone Circle Resident Reports Suspicious Person Standing Near Patio.
3:04pm – Report of Person Soliciting Money at Walkers Brook Drive Business.
7:37pm – Report of Possible Intoxicated Person in Salem Street Parking Lot.
9:30pm – Report of Used Cat Litter Dumped in Front of Entrance to Main Street Business.
10:34pm – Belmont PD Requests to Speak with Green Street Resident.
Friday, September 4, 2020
1:15am – Residence Check of Pearl Street House with Garage Lights On.
5:35am – Report of Mattress in Roadway on Fairchild Drive.
6:25am – Alarm at RMHS.
8:38am – Complaint Regarding Vehicles Speeding Down Edgemont Avenue Due to West Street Detour.
8:42am – Deceased Animal Reported on Tamarack Road.
8:51am – Arrest Made After Two Persons Attempt to Fraudulently Withdraw Funds From Haven Street Bank.
8:51am – Haven Street Bank Provides Additional Information in Fraud Case.
9:53am – Fire Alarm Activation at Bond Street Residence.
11:48am – MSP Complains of Erratic Vehicle Operation at Haverhill Street Rotary.
1:36pm – Haystack Road Resident Reports Fraudulent Unemployment Claim.
2:29pm – Main Street Resident Reports Attempts to Access Social Media Accounts.
2:53pm – Thomas Road Resident Complains Regarding Large Tanker Truck Driving Over Mill Street Bridge.
3:33pm – As a Result of Woburn Street Traffic Stop, Suspect Arrested on Outstanding Warrant.
5:49pm – Report of Fallen Tree Limb in Roadway on Batchelder Road.
6:17pm – Investigation of Two Vehicle Crash on Walkers Brook Drive.
7:05pm – Linnea Lane Resident Complains About Neighbor Running Yard Equipment.
8:44pm – Complaint Regarding Customer Refusing to Wear Facial Covering at Bolton Street Business.
9:18pm – Resident Reports Simple Assault While out for a Walk on Parker Street.
11:20pm – Employees of Salem Street Business Reports Possible Drug Activity by Customer.
Saturday, September 5, 2020
12:05am – Assistance Rendered to Canterbury Drive Resident In Possible Missing Person Case.
4:38am – Green Street Resident Reports Dog Running in the Road.
8:52am – Commercial Alarm at Haven Street Business.
9:31am – Two Fire Alarms Sounding at South Street Residence – No Smoke or Fire.
9:51am – Commercial Alarm at Haven Street Business.
10:42am – Green Street Resident Requests Photos Taken for Simple Assault Case.
1:08pm – Resident Complains that Bolton Street Business is Closed, Unable to Get Prescriptions.
1:54pm – Report of Low Hanging Wire on Van Norden Road.
2:00pm – Archstone Circle Resident Reunited with Dog.
2:01pm – Barrington, NH PD Requests Information Regarding BitCoin Scam.
4:29pm – Officer Assists with Traffic as Resident Tries to Retrieve Dog.
6:30pm – Commercial Alarm at Main Street Business.
7:41pm – Green Street Resident Fund Kitten Wandering in Street.
8:04pm – Disabled Vehicle on Charles Street.
10:34pm – Audible Smoke Alarm at Salem Street Residence, No Sign of Smoke or Fire
10:41pm – Audible Smoke Alarm at Sumner Cheney Place Residence.
Sunday, September 6, 2020
1:06am – Commercial Alarm at Walkers Brook Drive Business.
2:46am – Mineral Street Resident Seeks Help Getting Person Out of House.
4:45am – Manning Street Resident Reports Wild Animals Howling in Back Yard.
10:28am – Grand Street Resident Reports Moving PODS Have Been Tampered With.
11:44am – Investigation of Past Crash Between Vehicle and Bicycle on Prescott Street.
2:18pm – Report that Yellow Light is Out on New Crossing Road.
3:12pm – Irving Street Resident Reports that Movers May Have Stolen Silverware.
3:35pm – Disables Vehicle on Salem Street.
4:55pm – Report of Dog Running Loose in Memorial Park.
7:50pm – Officer Comes Across Loose Dog at Main Street Apartment Building.
8:06pm – Report of Loud Bangs in Area of Pratt Street.