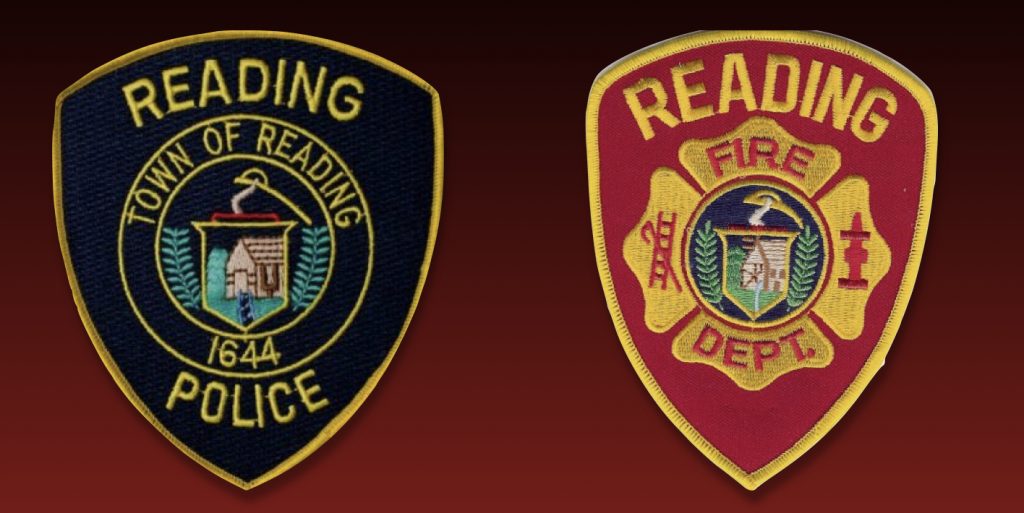 Reading, MA — Below are highlights from the Reading Police & Fire Log
Monday, August 31, 2020
1:39am – Burglar Alarm at Walkers Brook Drive Business.
5:48am – Charles Street Resident Complains Regarding Loud Music from Neighbor.
7:22am – Reading PD Informed of Private Investigator in Avalon Road Area.
9:11am – Main Street Resident Reports Lost Dog.
11:36am – Investigation of Two Vehicle Crash on Lowell Street.
12:18pm – Speedboard Deployment at RMHS Field House.
1:41pm – Complaint of Erratic Vehicle Operation on Walkers Brook Drive.
1:51pm – Report of Lost Hard Hat on West Street.
1:56pm – Concern About Suspicious Person at General Way Business Reported.
3:02pm – Speedboard Deployment on Oakland Road.
5:02pm – Report of Solicitors in the Area of Wakefield Street.
5:13pm – Complaint of Large Tree Trimming Truck Working in Road on Walnut Street.
5:46pm – Report of Customers Yelling at Employees at Main Street Business.
Tuesday, September 1, 2020
6:21am – Alarm at RMHS.
7:58am – Residence Check on Summer Avenue Requested.
10:42am – Verbal Warning for Red Light Violation on Green Street.
1:10pm – Complaint of Illegal Dumping of Construction Debris at Compost.
2:34pm – Large Set of Keys Lost in Area of Field Pond Road and Rustic Lane.
3:24pm – Complaint of Couple is Vehicle Having Adult Relations in Walkers Brook Drive Parking Lot.
4:56pm – Franklin Street Resident Reports Stolen Yard Sign.
5:17pm – Report of Erratic Vehicle Operation in Area of Franklin Street and William Road.
7:32pm – Investigation of Dog Hitting Side of Vehicle on Stone Well Road.
8:57pm – Archstone Circle Resident Reports Concern that Someone Was in House.
9:34pm – Vehicle Stopped for Traveling Wrong Way in Traffic on South Street.
Wednesday, September 2, 2020
5:45am – Alarm at RMHS.
6:44am – Bag Covering Old Speed Limit Sign on Haverhill Street Fell Off.
7:37am – Report of Deceased Animal on Bethesda Lane.
8:37am – Concern Expressed Regarding Tree Crew in Road on Main Street.
9:51am – Report of Disabled Vehicle in Middle of Main Street.
10:39am – Speedboard Deployment on Forest Street.
11:01am – Speedboard Deployment on Minot Street.
11:45am – Green Street Resident Reports Fraudulent Unemployment Claim.
12:28pm – Middle Street Resident Reports Fraudulent Unemployment Claim.
1:21pm – Lynn Village Way Resident Reports Unemployment Fraud.
1:59pm – Pearl Street Resident Reports Fraudulent Unemployment Claim.
3:19pm – Report of Shoplifting from Bolton Street Business.
4:06pm – Property Returned to Main Street Resident.
4:34pm – North Reading PD Reports Hit & Run on Main Street.
4:35pm – High Street Resident Reports Stolen TV.
4:45pm – Collins Street Resident Reports Suspicious Vehicle in Area.
5:18pm – Report of Open Door and Lights Off at Washington Street Business.
5:39pm – Commercial Alarm at Main Street Business.
5:55pm – Commercial Alarm at Main Street Business.