September 6 – 27
Art Walk Returns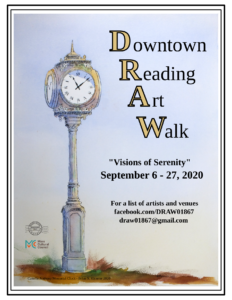 Reading, MA — The Downtown Reading Art Walk evolved from the Reading 375 celebration event Paint The Town. Renamed this year to Downtown Reading Art Walk or DRAW, this to be annual event showcases local artists' artwork in downtown storefront windows. Over 25 artists are participating in this year's art walk. Displayed will be oil, watercolor, acrylic, mosaic, and mixed media works of art.
Planning of the event had its special challenges resulting from the uncertainty of the Covid-19 pandemic, giving rise to the question as to whether the event would be virtual or live. The committee comprised of 4 members, Eileen Barrett: Chairperson, Brian Kimerer, Karin Samatis, and Maria Puglielli decided to have a live art walk as it is self-guided and all the art can be viewed from outside. Due to social distancing guidelines, the Opening Reception and any guided art walks will not be happening this year, but a slideshow will be forthcoming and put on YouTube.
Last November, when the DRAW Committee chose the theme "Visions of Serenity", they had no idea how apropos it would be. The intention is when you view the gorgeous artwork, it will bring you serenity and for the moment transport you away from this strange and trying year.
The DRAW Committee would like to thank and is grateful to the Massachusetts Cultural Council, the local artists, and the business owners for their support and participation.
For the Artist & Venue List (available September 6) visit or email us at facebook.com/DRAW01867draw01867@gmail.com