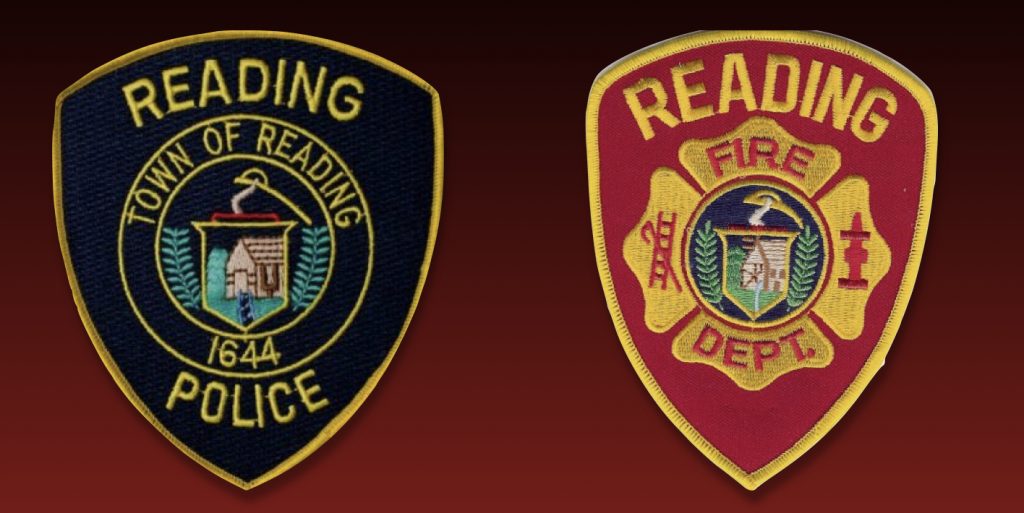 Reading, MA — Below are highlights from the Reading Police & Fire Log
Monday, August 10, 2020
3:05am – Frank Tanner Drive Resident Reports Hearing Noises Outside Apartment.
4:31am – Lift Assist for Whittier Road Resident.
4:43am – Burglary Alarm at Salem Street Business.
7:07am – Deceased Raccoon Reported on Walkers Brook Drive.
10:15am – Colonial Drive Resident Complains of Outside Odor of Gas.
10:41am – Wire Down on John Street Reported.
11:41am – Report of Dead Animal in Road on Pearl Street.
12:11pm – Complaint that Large Truck Knocked Over Island Markers on West Street.
12:48pm – Complaint of Vehicle with Out of State Plates and Trash all Around in Summit Drive Parking Lot.
1:42am – Damage to Back Lot of Wood End Cemetery Reported.
2:57pm – Report of Possible Disabled Vehicle on Summer Avenue.
3:21pm – Report of Vehicle Fire on Lowell Street.
5:37pm – Report from Winchester Hospital that Patient Took Off.
8:34pm – Verbal Warning for no Headlights Issued on Main Street.
9:48pm – Suspicious Vehicle Behind Main Street Building Reported.
Tuesday, August 11, 2020
12:06am – Pearl Street Resident Reports Suspicious Vehicle in Front of Residence.
2:22am – Officer Out with Suspicious Vehicle in Main Street Parking Lot.
4:20am – Lift Assist for Green Meadow Drive Resident.
4:59am – Commercial Alarm at Salem Street Business.
7:50am – Complaint of Light Work Without a Detail on Bancroft Avenue.
8:05am – Spruce Road Resident Reports Suspected Forged Check.
8:54am – Complaint of Asphalt Work Being Done Without a Detail on Summer Avenue.
9:06am – Summer Avenue Resident Complains of Vehicle Parked on Lawn.
9:39am – Report of Three Vehicles Broken into on Scotland Road.
9:53am – Investigation of Hit & Run on Walkers Brook Drive.
10:59am – Investigation of Minor Two Car Crash on Main Street.
12:01pm – Speedboard Deployed on Summer Avenue.
1:04pm – Follow-up Visit to Wood End Cemetery.
4:52pm – Complaint that Tow Truck Left Vehicle on Side of Road on Lowell Street.
5:02pm – Lowell Street Resident Reports Fraudulent Unemployment Claim.
8:05pm – Complaint of Vehicle All Over Roadway on Stone Well Road.
11:34pm – Report of Youths Throwing Gallons of Water in Walkers Brook Drive Parking Lot.
Wednesday, August 12, 2020
5:43am – Lift Assist for Elderberry Lane Resident.
8:00am – Parking Enforcement on Haven Street.
9:04am – Complaint Regarding Delay on Traffic Light at Salem Street and Main Street.
11:26am – Report of Injured Possum in Driveway on Sailor Tom's Way.
12:36pm – Officer Assists with Funeral Procession on Haverhill Street.
12:55pm – Grey Coach Road Resident Stuck Outside on Motorized Wheelchair Assisted.
1:27pm – Deceased Squirrel Reported on Lee Street.
1:55pm – Main Street Store Manager Reports Fraudulent Credit Card Transaction.
5:11pm – Parties Report Property Stolen While at Salem Street Business.
6:54pm – Unattended Bag Reported in Harnden Street Parking Lot.
5:17pm – As a Result of Vehicle Stop on Walkers Brook Drive, One Suspect in Custody on an Outstanding Warrant.
8:40pm – Hopkins Street Resident Reports Driver Refusing to Move Vehicle Blocking Driveway.