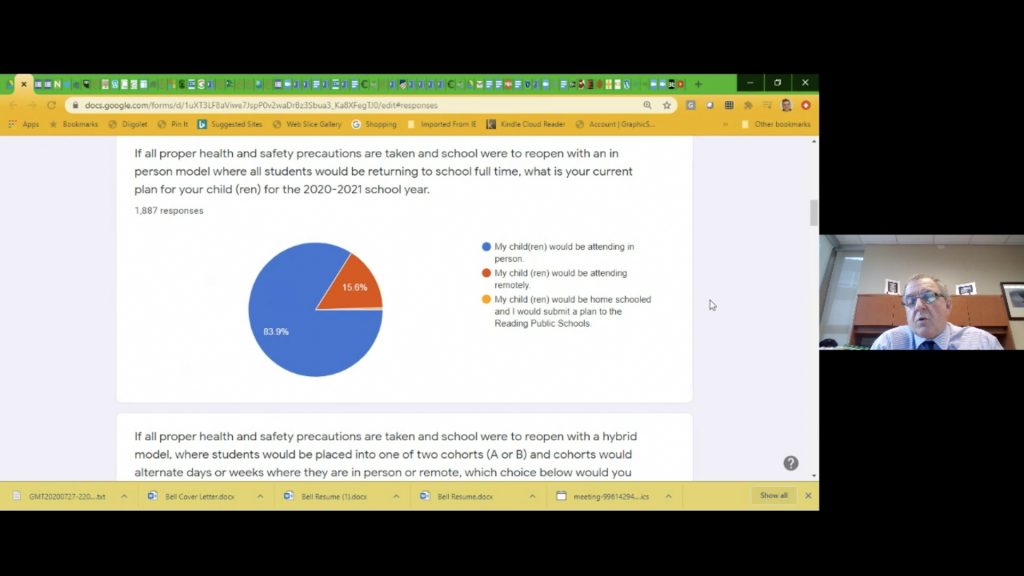 Reading, MA — Superintendent of Schools John Doherty updated the School Committee on the three models of fall reopening plans on Wednesday. The first is a full in-person school learning plan, the second a hybrid plan, and the third a full remote learning plan. Doherty shared that the plans have been developed in accordance with guidance from the Department of Elementary and Secondary Education (DESE). "By having all three plans ready to go, we are able to change as the school year is underway, if necessary." Doherty shared.
The preliminary plans need to be submitted to DESE by July 31, with final plans submitted by August 10.
Doherty's presentation began by sharing results from the most recent parent and staff surveys. With 1,887 responses, over 83% of parents indicated that their children would attend in-person school if safety measures were in place. Just over 15% indicated that they would opt for a remote model this fall, regardless of what the schools offer. Sixty percent are concerned about ventilation in the classrooms and other school spaces. If a hybrid model is used, over 57% of the parents stated that a two-day on, two days off, Friday remote model is preferable.
The staff survey showed high levels of concern over ventilation, cleaning, and the ability for students to follow safety guidelines. Almost five percent also indicated child care concerns if any in-person learning is to occur.
Based on results from the feasibility study, Doherty indicated that a full, in-person model would require the district to rent or acquire significant space off campus to accommodate students and for equipment storage. He shared concerns over the costs for rent and staffing that this would incur, as well as the lack of spaces in town available to rent for such endeavors. He also indicated a significant discomfort amongst staff for this approach.
A hybrid model would place students in one of two cohorts. Using an "A Week/B Week" model, the first cohort would have in-person instruction, while the other engaged in remote learning. The cohorts would switch for the second week and continue in that pattern. Every Friday would be set aside as a remote learning half-day. This would allow for teacher planning and for the "deep cleaning" of each school as well as giving a 72-hour window every week with no students in the building. This matches CDC guidelines.
The cohorts which are in the building for in-person instruction would also be split into smaller groups in separate classrooms, using cameras and smart board technology for instruction, with primary teachers moving between rooms. High-risk students and those with particular disabilities would be in-person all the time. The high school will be moving to block scheduling to limit the amount of time spent in transitions.
The hybrid model has the advantage of small class sizes and is easier to adjust to a full remote model if it becomes necessary to do so. The disadvantages range from the scheduling challenges for families and staff to the use of "specials" teachers, that is teachers of subjects such as art and music.
Committee members Erin Gaffen and Shawn Brandt shared concerns over the fact that "specials" teachers would be teaching every student in the school in both cohorts, some even traveling between schools. Member Shawn Brandt expressing, "It potentially undermines what we are trying to do with scheduling." Doherty acknowledged the concern, pointing out that the district does not have enough "specials" teachers for one per school, though he is open to any ideas people may have on the issue. 
"Every schedule has a challenge." Doherty shared.
Doherty insisted that a full remote model would be very different from what was done in the spring, with structured schedules, mandatory attendance, synchronous and asynchronous learning, expectations for online engagement, and graded assessments. Doherty shared that this model is the least effective for students, though presents the greatest level of safety for all involved.
The School Committee will vote at its August 6 meeting to accept the plans as finalized and to direct the superintendent as to which model to use to begin the school year.
The committee also reviewed the timeline for hiring an outside consultant for the upcoming superintendent search. A draft Request for Proposal (RFP) has been created and is expected to be released in its final form by August 5.
The School Committee adjourned at 9:55 pm.