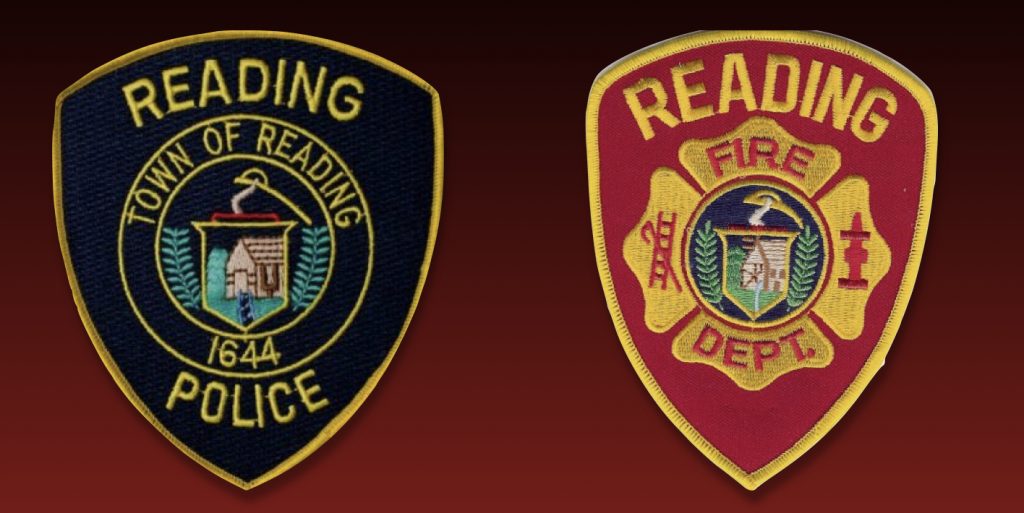 Reading, MA — Below are highlights from the Reading Police & Fire Log
Thursday, July 23, 2020
2:57am – Notified of Tree for RMLD to dispose of on Summer Avenue.
5:20am – Report of Trash in the Middle of Main Street.
5:36am – Manhole Cover Sticking up on Main Street Reported.
8:28am – Report of Loose Dog in Area of Forest Street.
8:57am – Follow up Visit at Edgemont Avenue Residence.
9:56am – Complaint of Cement Truck Dropping Some Payload on Grove Street.
11:17am – Forest Street Resident Reports Lost Cat.
11:23am – Set of Keys Lost on Pine Ridge Road Turned in.
11:27am – Main Street Resident Reports Issues with Neighbor.
11:24am – Verbal Warning Issued for Red Light Violation on Pleasant Street.
12:32pm – Report of Person Leaving Belongings inside Main Street Business.
12:59pm – Investigation of Two Vehicle Crash in General Way Parking Lot.
1:29pm – Investigation of Minor Vehicle Crash in Main Street Parking Lot.
2:42pm – Vehicle Disabled in Roadway on New Crossing Road.
3:01pm – Commercial Alarm at Ash Street Business.
4:03pm – Report of Downed Tree Limb on Wires on Main Street.
4:10pm – Complaint of Traffic Lights not Cycling Properly at Main Street and Forest Street.
4:41pm – South Street Resident Reports Fraudulent Unemployment Claim.
5:09pm – Lift Assist for Elderberry Lane Resident.
5:19pm – Wilmington PD Reports Hit & Run on Lowell Street.
6:34pm – Officer Assists with Disabled Vehicle on Salem Street.
6:50pm – Disabled Vehicle Lost Tire on Varney Circle.
9:51pm – Report of Small Child by Himself in Front of Main Street Store.
Friday, July 24, 2020
2:20am – Fire Alarm Activation at Taylor Drive Residence.
7:48am – Lift Assist for Archstone Circle Resident.
10:37am – Party of Advised of No Trespass Order at Main Street Business.
1:37pm – Salem Street Resident Reports Possible Scam.
3:53pm – Lift Assist for Lowell Street Resident.
5:34pm – Odor of Smoke Detected in Main Street Building.
8:16pm – Summer Avenue Resident Reports Sick Raccoon in Yard.
10:29pm – Pilgrim Road Resident Reports He Was Jumped.
11:50pm – Text-a-Tip Report of Loud Music in the Area of John Carver Road.
Saturday, July 25, 2020
3:16am – Loud Gathering of People in Lincoln Street Residence Reported.
7:32am – Lights not Cycling at Main Street Summer Avenue.
9:19am – Commercial Alarm at Haven Street Business.
12:46pm – Report of Erratic Vehicle Operation on Symonds Way.
2:02pm – Curbing Dislodged by Car in Walkers Brook Drive Parking Lot.
4:02pm – Salem Street Resident Looks to Speak to Someone Regarding Hospital Admittance.
4:38pm – Richards Road Resident Reports Neighbor Playing Loud Music.
8:14pm – Saugus PD Requests Haystack Road Resident Notification.
9:18pm – Report of Loud Party on Village Street.
10:14pm – Report of Party with Minors Drinking Alcohol on Green Street.
10:16pm – Burglar Alarm at Main Street Business.
10:44pm – Vehicle Stop Results in Arrest of Suspect on Outstanding Warrant on Walkers Brook Drive.
Sunday, July 26, 2020
2:30am – Complaint of Neighbors Having a Party Causing a Disturbance on Washington Street.
4:13am – Commercial Fire Alarm at Walkers Brook Drive Business.
5:40am – Report of Plants Ripped Out of Island and Disbursed in Roadway on Grove Street.
10:44am – Commercial Alarm at High Street Business.
12:29pm – Pine Ridge Road Resident Reports Graffiti on Driveway.
12:37pm – Syringe Located at Barrows Elementary School.
12:59pm – Abigail Way Resident Reports Suspicious Person.
1:01pm – Officer Assists with Birthday Parade.
1:08pm – Traffic light Stuck on Red at Main Street and Franklin Street.
5:45pm – Check on suspicious Person on Washington Street.
6:11pm – Speedboard Deployed on Oakland Road.
10:30pm – Disabled Vehicle Reported on Washington Street.