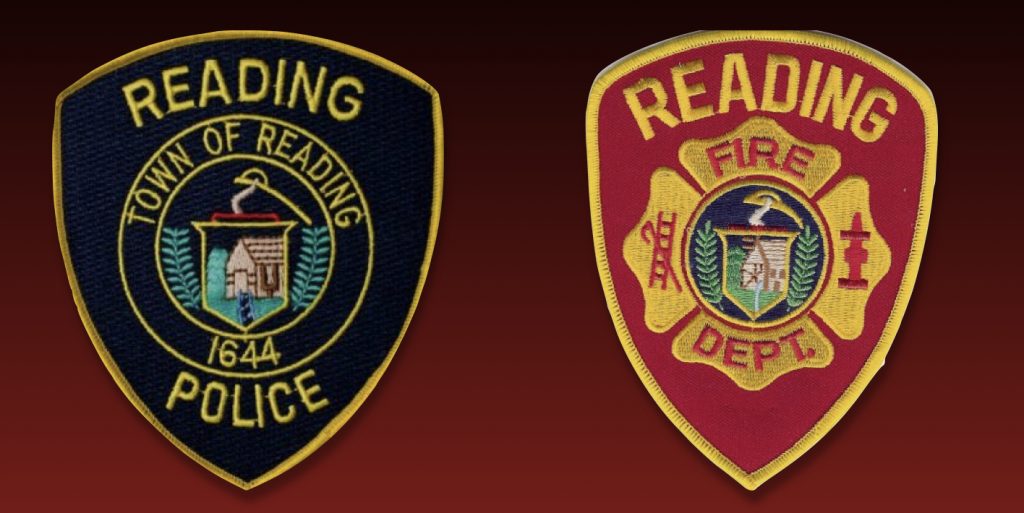 Reading, MA — Below are highlights from the Reading Police & Fire Log
Monday, June 29, 2020
5:10am – Possible Water Main Break Reported on Linnea Lane.
5:41am – Fire Alarm Activation at Main Street Business.
5:56am – Burglar Alarm at RMHS.
9:46am – Walkers Brook Drive Business Reports Wheels and Tires Taken From Two Vehicles.
10:33am – Pierce Street Resident Complains Regarding Vehicle Parked in Visitor Spot for Past Week.
10:38am – Tarpin Terrace Resident Reports Stolen Vehicle.
11:16am – Investigation of Hit and Run in Walkers Brook Drive Parking Lot.
11:42am – Linden Street Resident Reports Finding Weapons While Cleaning Out Residence.
11:46am – Officer Reports Disabled Motor Vehicle on Pleasant Street.
3:15pm – Resident Reports Many Vehicles Parked on Grove Street.
4:13pm – Report That Traffic Island Landscaping was Damaged on Woburn Street.
4:24pm – Disabled Vehicle Reported in General Way Parking Lot.
4:37pm – Comment from Passing Motorist Offended Haven Street Pedestrian.
4:43pm – Eaton Street Resident Reports Receiving Email Requests for Gift Cards.
5:16pm – Report of Dog or Coyote Going Through Timberneck Drive Backyards.
5:33pm – Complaint Regarding Vehicles Parked in Roadway on Oakland Road.
8:52pm – Complaint of Car Lights Shining in Windows of Summer Avenue Residence for Over an Hour.
Tuesday, June 30, 2020
3:41am – Lift Assist for Causeway Road Resident.
5:45am – Disabled Vehicle Reported in Salem Street Rotary.
9:13am – MBTA Emergency Light Activated on Walkers Brook Drive.
9:58am – Winter Street Resident Reports Rabid Squirrel in Roadway.
10:49am – Report of Illegal Dumping in Charles Lawn Cemetery.
11:56am – Complaint Application Flied as a Result of Vehicle Stop on Knollwood Road.
12:59pm – Puppy Loose and Running Around in Main Street Parking Lot Reported.
2:45pm – Officer Flagged down for Disabled Vehicle on Elderberry Lane.
4:53pm – Main Street Resident Reports Neighbor Playing Drums.
5:07pm – Whittier Street Resident Reports that Neighbor Left Bricks on Tree Lawn.
5:14pm – Report of Illegally Parked Vehicles on Strout Avenue.
10:21pm – Text-a-Tip Report of Loud Party on Applegate Lane.
10:58pm – Lakeview Avenue Resident Seeks Advice Regarding Court Notification.
Wednesday, July 1, 2020
1:07am – Report of Burning Odor in Washington Street Building.
10:39am – Direct Station Call for Building Fire on Washington Street.
11:29am – Officer Assists Tractor Trailer Unit on Main Street.
12:28pm – Reports of Youths with Dirt Bike at Hunt Memorial Park.
2:09pm – Officer to Collect Medication at Elderberry Lane Residence.
4:02pm – Assistance Rendered in Bank Issue on Walkers Brook Drive.
4:03pm – OUI Arrest as Vehicle is Driving Erratically on Walkers Brook Drive.
8:35pm – Fire Alarm Activation at Lothrop Road Residence.
9:06pm – Outside Burn Located by Engine 3 on West Street.