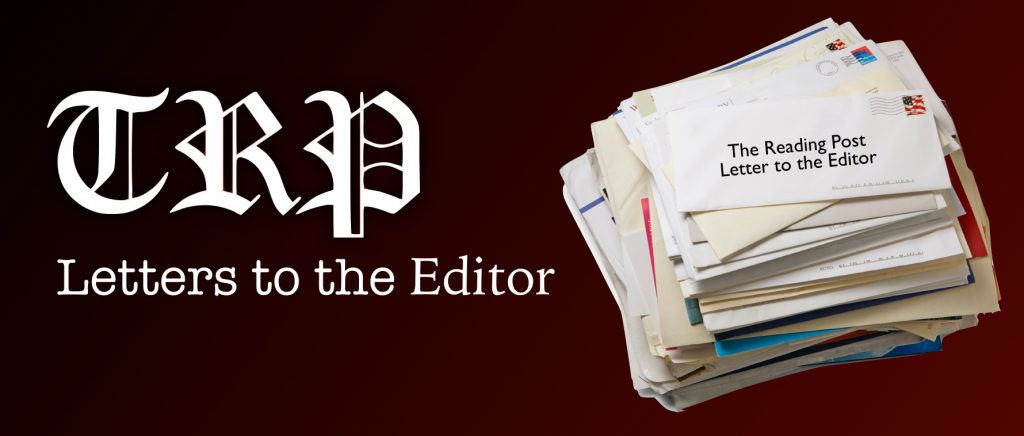 The Reading Post accepts Letters to the Editor. All letters must be signed. The Reading Post reserves the right to edit or not publish any letters received. Letters do not represent the views or opinions of the Post. editor@thereadingpost.com
---
Letter to the Editor:
On June 18, 2020 I emailed to Reading Select Board Chair Mark Dockser and Reading Town Clerk Laura Gemme the following Open Meeting Law (OML) Complaint, explaining in the email that I have serious concerns regarding the direction the Board is taking with the public's right to know, accurate record keeping and the Open Meeting Law.
The body of the Complaint is in the format required by the Attorney General's Division of Open Government and involves Reading Select Board Meetings February 11, 2020 (approved Minutes not available until June 10, 2020) and May 13, 2020 (at which these Feb. 11, 2020 Minutes were pre-approved, corrections unknown to the viewing public). The Minutes of the May 13, 2020, remote meeting have yet to be approved.
Kendra Cooper, Esq,
Covey Hill Rd., Town Meeting Precinct 8
---
June 18, 2020 OML Complaint
Description of alleged violation by the Reading Select Board:
Outside the knowledge and view of the public, during the Feb. 11, 2020 Police Chief Appointment discussion at Town Hall, some Reading Select Board members communicated via electronic messaging through private cell or computer among themselves and with certain members of the public. These communications are not referenced in Feb. 11 minutes though it is believed the communications shaped the views and course of the discussion. At the May 13, 2020 meeting, the Draft Feb. 11 Meeting minutes were pre-approved in an atypical process incorporating changes to be determined at a later date outside the meeting by members Ann Landry and Vanessa Alvarado. The Final Approved form of Feb.11, 2020 minutes was released to the public on June 10, 2020.
See references to Feb. 11, 2020 RCTV meeting video on Youtube: https://youtu.be/zn-FgFIn1j0
Committee Chair Alvarado mentions 11 o'clock (3:54:30) in the tape. Church 11 PM clock bell is heard (4:02:28).
Electronic Communication 2/11/20 among Reading Select Board members during meeting.
All five Select Board members have laptop computers open during the meeting and cell phones often on the table next to their laptops, easily within view. Select Board Meeting seating L-R: Committee Admin. Caitlin Saunders, Board members: Andrew Friedmann, Mark Dockser, Committee Chair.Vanessa Alvarado, John Halsey, Ann Landry, and Town Manager Robert LeLacheur. In March 2020, Board Members Karen Herrick and Carlo Bacci were elected, replacing John Halsey and Andrew Friedmann.
Discussion of the Police Chief Hiring Process (2:43:25)
1.      Preparation: Audio is down as members reenter the Select Board meeting from Break. Alvarado enters room to her seat in the middle, followed by Friedmann who walks in front of the committee desk. Chair Alvarado sits down, Friedmann gets pill bottle from Alvarado, gives it back and goes for water. Alvarado checks her laptop. Friedmann returns to seat with water and, as he drinks, Alvarado speaks at Friedman, takes her phone from her pocket and waves it at him. Friedmann reaches into his jacket pocket for his phone. Both Alvarado and Friedmann look at each other, both texting and holding their phones up. They lay their cell phones down on desk next to their laptops and Friedmann flips up his laptop, phone coordination appearing complete for the meeting. 2:45:10 Alvarado turns up audio volume.
2. Halsey describes process of selecting candidates and multiple attempts over months to have Chief discussion on agenda before election, thwarted by Chairman Alvarado by not putting listening sessions on the agenda. (3:40:20)
3. Alvarado accuses Halsey of grandstanding, numerous inaccuracies and putting forth blatant lies. (3:50:10)
4. Friedmann asks Alvarado to turn around so he can see tire tracks from her being "thrown under the bus."( 3:50:50)
5. Friedmann's comments re: Reading Police in the audience intimidating him, driving around with guns all day. Police leave the meeting in protest. (3:51:30)
6. Friedmann leans forward to see laptop and cell, takes off glasses, looks closer, then puts glasses back on, looks at Alvarado speaking.(3:55:27)
7. Friedmann apologizes that he knows he offended every officer in the room with his previous comments and didn't mean to insinuate they would shoot him down in the street but police can be very intimidating by the nature of their jobs…. (4:24:54)
8. Acting Chief Clark assures Friedmann that Reading police are 100% professionals, people say things to them all the time and they can take it. (4:26:01)
May 13, 2020 Preapproval of incomplete February 11, 2020 Minutes
Minutes of Feb. 11 were voted with unclear revisions and corrections contingent on changes Ann Landry and Vanessa Alvarado would make at later date. Using a new Summary approach, May 13 Draft minutes state: "The board approves the minutes of Feb. 11, 2020… with the edits presented by the board members" The edits remain a mystery, though the video of the May 13, 2020 Minutes discussion shows much omitted in the May 13 Draft. https://www.youtube.com/watch?v=NDKsvE6MDIo (Minutes Discussion/Approval 2:21:30 – 3:01:40)
Desired Public Body Action in response complaint:
1. The Select Board adopt a policy to prohibit communication regarding Town business during meetings via personal electronic devices, a practice which has denied the public the right to see and hear the workings of the Select Board decision making process.
2. All Communication during meetings should occur through official web addresses and phones (Town Manager, Administrative Assistant) and become part of the records.
3. Minutes should be accurate, complete representations of meetings, voted in a timely manner as final copies and with corrections clear to Board Members and the public when Minutes are approved.
4. The Board must view accurate, timely minutes as an integral responsibility of the Board's business, a necessary permanent record to document their actions and discussions for the Town.