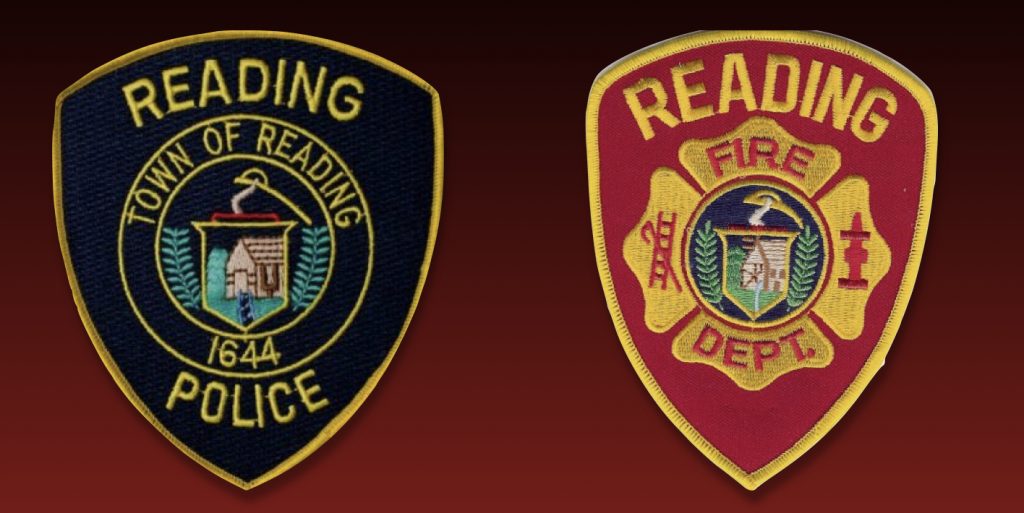 Reading, MA — Below are highlights from the Reading Police & Fire Log
Monday, June 22, 2020
7:46am – Breaking and Entering Reported at Gould Street Construction Site.
7:50am – Report of Baby Deer Struck by Vehicle on Fox Run Lane.
9:37am – Lost Bicycle Located on Prospect Street.
10:44am – Glen Road Resident Reports Credit Card Fraud.
11:38am – Report of Dog Locked in Vehicle in Walkers Brook Drive Parking Lot.
11:44am – Complaint that Construction Vehicles are Parked on Both Sides of Forest Street.
12:21pm – Complaint Filed Regarding Motor Vehicle Stop on Walkers Brook Road.
1:05pm – Audible Fire Alarm at Main Street Business.
2:04pm – Officer Assists with Birthday Parade on Walnut Street.
2:40pm – Report of Disable Motor Vehicle on Birch Meadow Drive.
2:46pm – Officer Assists with Birthday Parade on High Street.
3:56pm – Wescroft Road Resident Reports Unemployment Fraud.
5:27pm – Traffic Enforcement at Park Avenue and Minot Street.
8:53pm – Commercial Alarm at Walkers Brook Drive Business.
Tuesday, June 23, 2020
12:05am – Extra Check of Gould Street Residence.
12:07am – Complaint of Group in Area of Main Street Apartment Being Loud.
7:25am – Report that Dog Attacked Another Dog in Town Forest.
10:11am – Letter of No Trespass Received for Colburn Street Property.
2:00pm – Officers Assisting with Birthday Parade on Middlesex Avenue.
2:03pm – Green Street Resident Reports Fraudulent Unemployment Claim.
2:51pm – Weston Street Resident Reports Vacation Rental Scam.
2:54pm – Complaint Regarding Several Vehicles Parked on Fire Lane at RMHS.
3:00pm – Old Mill Lane Resident Reports Falling Victim to Online Scam.
3:49pm – Report of Vehicle Damage Caused by Road Plates on Summer Avenue,
5:21pm – Complaint of Vehicles Illegally Parked in Roadway on Summer Avenue.
6:01pm – Complaint of Wood Chipper Running with Nobody Around on Tamarack Road.
7:35pm – Report of Telephone Wire on Fire on Locust Street.
8:13pm – Complaint of Vehicle Driving Erratically on Birch Meadow Drive.
10:43pm – Report of Suspicious Person Knocking on Door on Margaret Road.
Wednesday, June 24, 2020
1:50am – Washington Street Resident Spoke to Officer About Issues with Neighbors.
9:22am – Commercial Hold-Up Alarm at Walkers Brook Drive Business.
10:31am – Woburn Street Resident Reports Stolen Bicycle.
11:03am – Complaint of Erratic Vehicle Operation on Hopkins Street.
11:05am – Complaint of Unoccupied Construction Trailer in Road on Willow Street.
11:28am – RFD Reports Vehicles Parked in Fire Lane and No Parking Zones at RMHS.
11:52am – High Street Resident Reports Fraudulent Account Opened in Their Name.
12:13pm – Report of Suspicious Person Yelling and Screaming on West Street.
12:24pm – Longfellow Road Resident Reports Being Shot with a Pellet.
12:54pm – Union Street Resident Turns in Rifle and Ammo for Disposal.
3:18pm – Large Puddle in Roadway Reported on Strout Avenue.
3:43pm – Verbal warning for Stop Sign Violation on South Street.
4:04pm – Libby Avenue Resident Reports Odor in Building.
4:53pm – Officer Transports Juvenile Home from YMCA.
7:49pm – Edgemont Avenue Resident Reports Injured Rabbit on Sidewalk.