Reading, MA ­– On June 4, Reading became one of the thousands of towns and cities across America to host a Black Lives Matter protest. The event, titled "Vigil for George Floyd & Peaceful Rally Against Police Brutality," began yesterday at 7 pm as around three hundred Reading residents congregated on the Reading Town Common to protest the recent death of George Floyd, Breonna Taylor, and countless other African Americans whose lives have been taken due to police brutality and racially motivated acts of violence.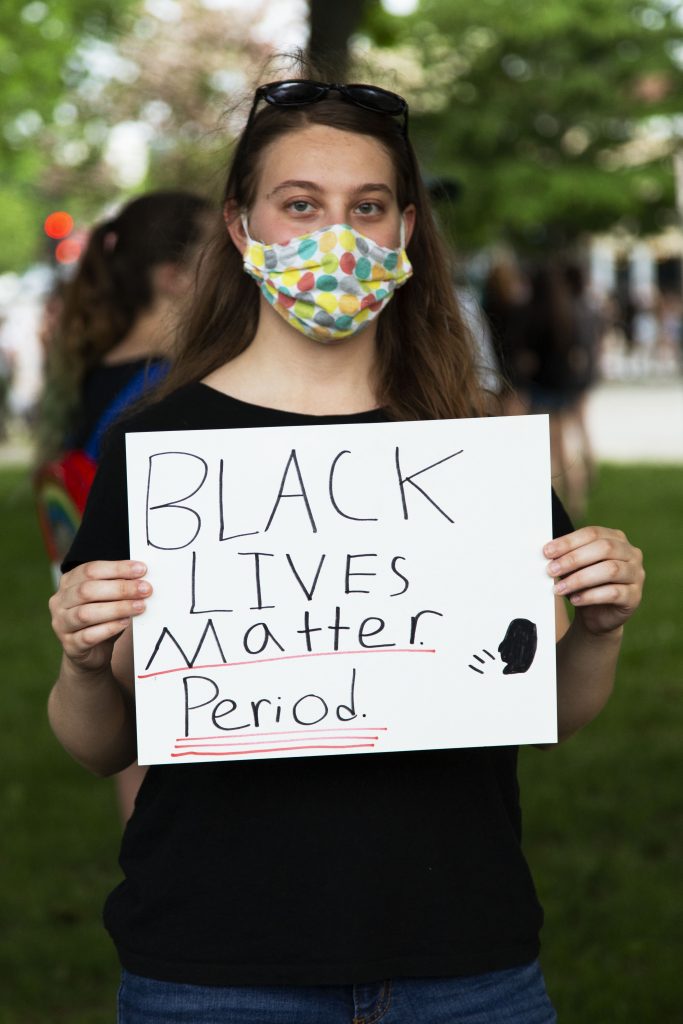 "Unfortunately, we are taking care of family at risk, so we weren't able to go to the Boston protest, so I think today is all about standing in solidarity, especially with those protesters. Today is also about looking at what we can do here in terms of showing solidarity with George Floyd and protesters having worse experiences with the police in the city right now" said Reading resident Matteo Coelho.
"I came out here today because I think it is important to put your money where your mouth is and actually act on the policies that you are posting about on social media. It's important to come out and actually support it in person" said Reading resident Olivia Cronin-Golomb.
The protest began on the Reading Town Common, where protesters of all ages held up signs with phrases such as "No Justice, No Peace," "Black Lives Matter," and "Teachers Against Systemic Racism." On the Common, protesters attempted to maintain social distance from one another, grouping together with their families or friends. Protesters held up their signs and encouraged cars driving past to honk in their support. The sound of cars was punctuated by chants of "Black Lives Matter," "George Floyd," and "Not One More." At one point, the protesters fell silent and took a knee on the Common, remaining silent for about eight minutes, symbolizing the amount of time Derek Chauvin, the Minneapolis Police Officer currently being charged with second-degree murder, kneeled on George Floyd's neck.
"There was just so much violence that we see every day in the news toward black and brown citizens, and particularly in Reading there was nothing really bringing us together to speak about this. So, I put up a statement on Facebook trying to see if there was more interest and, look around you, there was. This is all about peace and making sure everybody understands that each life is precious" said Reading resident Angela Chang, the creator of the Facebook event that promoted the protest.
"I wasn't sure if last night's events would be anything substantial. We've been contained for so long at first it started to seem like people were more excited to see neighbors and friends than they were there to grieve another life lost and an unjust system. I understood, and I agree it was comforting to connect and see others supporting the movement but it couldn't only be that. Thankfully, the atmosphere shifted and people began to march toward the police station and kneel" said Reading resident Julia Donahue.
At about 7:30 pm, a march was led from the Common down Woburn Street to the Reading Police Station, with protesters chanting "No Justice, No Peace" along the way. Here, protesters were met with a row of police officers guarding the entrance to the building. Protesters took a knee in front of the officers and called for them to do the same in order to show solidarity with their cause.
The Chief of Police, David Clark, earlier this week had put out a statement condemning the actions of Minneapolis police that led to the death of George Floyd, saying that "The actions and inaction of police officers, leading to the death of a man in their custody, shows failure at multiple levels, but most importantly, a failure in the most vital and solemn vocation of a police officer: to safeguard human life and instill a sense of safety in their community. These actions stand in stark contrast to the standard that the vast majority of law enforcement agencies, including the Reading Police Department, work to uphold every day."
At 8:06 pm, Clark and some other officers took a knee with the protesters, while others remained standing.
"Kneeling is a symbolic gesture but the fact they couldn't even meet us there was extremely disappointing. Something that struck me was that some of the officers protecting the building in riot gear were from Wilmington and Waltham and Concord. They were more willing to protect a building that isn't their own than they were to simply grieve death and acknowledge that there needs to be change. It was encouraging that the community was willing to ask something of their department but frustrating that they were willing to leave after several requests from Reading Police Officers" said Donahue.
NEMLEC officers from surrounding communities were there as part of mutual aid to Reading Police.
"What happened today, it wasn't enough. I want to create a platform where young black people get a voice and to have all this passion and share it because I feel like I was blocked from my passion because I feel like I was so close, I was so close to exploding and letting it all out, and then a box just trapped me, and I guess I'm going to explode somewhere else. I feel like I didn't get my voice heard or my points across, it might have looked like I did, but in my heart, I don't think I got my voice heard today" said 15-year-old Reading resident Latoya. [Editors note: full name of minor withheld]
The peaceful protest dissolved at around 9 pm, as officers asked for protesters to return to the Common so they could reopen the streets for traffic. The evening was punctuated by impromptu speeches from protesters, who called for both the police officers and the greater Reading community to educate themselves about current events and how they can hold themselves and others more accountable.
"Go home tonight and think about what you can do to make a change. I ask you to educate yourselves before you try to educate others" said protester Sherilla Lestrade to the crowd outside of the police station.