March 28, 1923 – April 17, 2020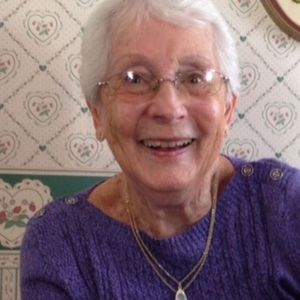 Esther M Bolivar, the beloved wife of the late Harold R Bolivar with whom she celebrated 69 years of marriage, a resident of Reading for over 70 years, passed away peacefully on Friday, April 17, at home, surrounded by loved ones.
Born in Wakefield MA, Esther was the loving daughter of the late Louis and Delores (Comeau) Melanson. Esther lived in Reading as a young child and moved with her family to Medford where she grew up and attended school graduating from Medford High School. She met the love of her life, Harold at Wrights Pond in Medford and began a lifelong romance.
After graduation, Esther held several different jobs working at Macy's and Wades in Boston, and during the war, she was also a switchboard operator at Lawrence Memorial Hospital while her husband was away serving our country. After WWII, they bought land and built a house in Reading MA and raised a family there. She was a long time employee of MF Charles in Reading Square until retirement.
Esther was devoted to her family and loved to be busy. Together with her late husband, they traveled this beautiful country and for a short time in retirement, they bought a house in Treasure Island FL where they lived for part of the year. Lately, her passions were playing cards and attending Bingo with her family. She loved to crochet and made blankets for her grandchildren and great-grandchildren and hundreds of infant hats that were donated to the Catholic Medical Center in Manchester NH
She was a devoted mother to daughter Delores (Bolivar) DeCicco and her husband Frank of E. Hampstead, NH, and Harold (Reggie) Bolivar Jr and his wife Cindi of Reading MA. She is the grandmother of Frank DeCicco and his wife Jess of Costa Mesa, CA; Mark DeCicco and his wife Kim of Walpole, MA; Lauren (Decicco) DeLuca and husband Mike of Plaistow, NH; Jennifer (Bolivar) DeMoura and husband Kris of Ashburnham, MA and the late Joey Bolivar of Reading, MA. She is the great-grandmother of Creighton and Kielyn DeMoura; Isabella and Max DeCicco; Lola and Liv DeCicco; and Leo DeLuca.
Due to the current social gathering restrictions viewing and interment will be private. A Celebration of Life will be held at a later date.
In lieu of flowers, donations may be made to The American Cancer Society or Sawtelle Hospice House in Reading MA.
For further information please visit www.facebook.com/BarileFamilyFuneralHome