Reading, MA — As the country and town feel the brunt of COVID-19 shutdowns and closures, one person emerged this past weekend to help alleviate stress; the Easter Bunny.
On the morning of April 5, the Easter Bunny, accompanied by one police car and one fire engine, made his way around the town of Reading, greeting smiling children everywhere he went.
"The idea behind the parade was mainly to bring cheer to the town," said organizer Sally Edmonds. The honor of playing the Easter Bunny went to Reading resident Lindsay Renzullo, and Mathew Renzullo had the idea to secure a police escort for the parade.
The parade started on Wilson Street at 10 am and wove its way through neighborhoods east of Main Street, with plans to visit the west side of town next weekend. Families were encouraged to watch and wave at the parade as it passed, making sure they kept social distance as they did so.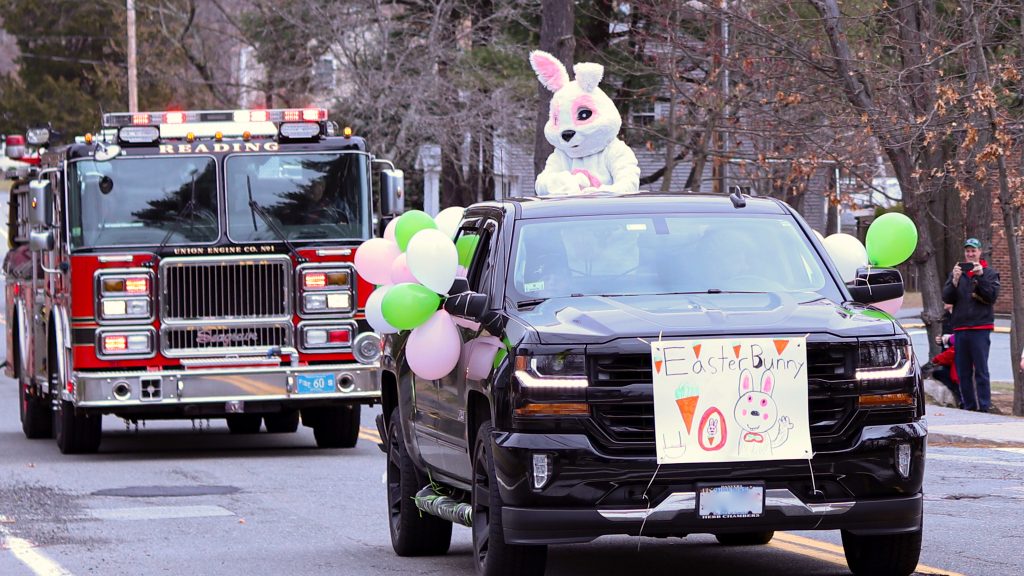 Children raced to keep up with the Easter Bunny on their bikes, who applauded their efforts with a genial wave. Adults and children alike savored the opportunity to get out of their homes and celebrate the season.
"We wanted to bring the Easter Bunny to the kids," said Edmonds. The parade was divided into two sections in order to ensure that the Easter Bunny was able to cover the greatest number of neighborhoods and see as many children as possible.
The second half of the parade will be taking place at 10 am on Saturday, April 11, with the Easter Bunny and a chick visiting neighborhoods west of Main Street.
Editors Note: This article will be updated with the April 11 parade route once it is available.