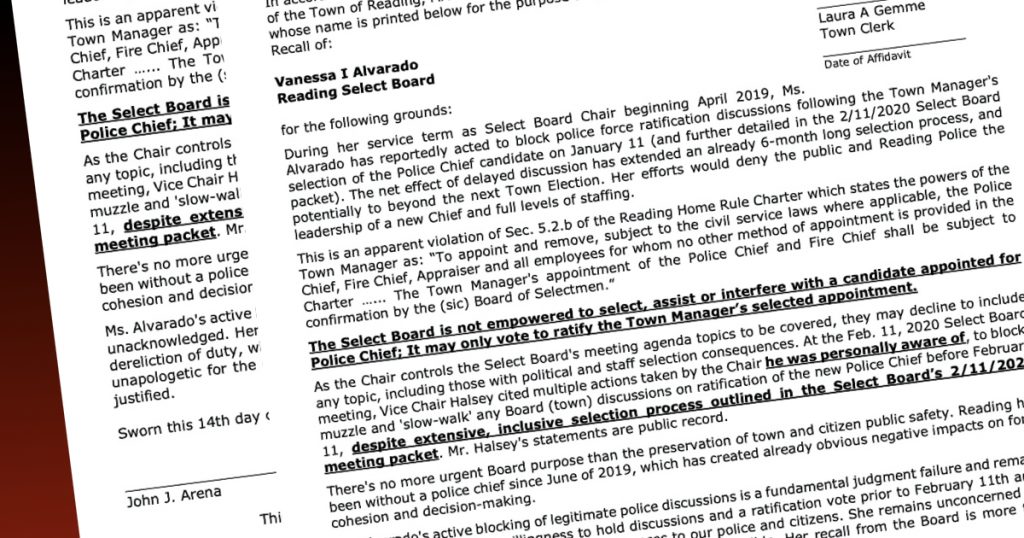 Reading, MA — Laura Gemme, Chair of the Board of Registrars, announced on Thursday, March 19 that the petition to recall former Select Board Chair Vanessa Alvarado has been officially certified. Gemme certified 2,239 of the signatures submitted, which was greater than the ten percent threshold of registered voters required by the Town of Reading Charter. 
According to the charter, the registrars will submit the certified petition to the Select Board who will then officially notify Alvarado. The charter also stipulates that the board needs to schedule a recall election no less than 64 and no greater than 90 days from the date of certification. At this time it is not known how the current situation with the coronavirus may affect a recall election. 
The certification text reads:

I, Laura A Gemme, Chair of the Board of Registrars and Town Clerk of Reading Massachusetts, hereby certify that the Petition for Recall of Select Board member Vanessa I Alvarado of contains 2,239 certified signatures of registered voters with no more than 25 percent in one precinct. Signatures of ten percent of the registered voters are required to hold a recall election. Ten percent of registered voters as of March 21, 2020 is 2,000.
In witness whereof, I have hereunto set my hand and affixed the seal of the Town of Reading, this Nineteenth of March in the year of Two Thousand and Twenty.
Duly authorized by the Board of Registrars
Laura A. Gemme
Alvarado submitted this statement on Wednesday of this week.