The following article has been submitted by Megan Fidler-Carey for School Committee
Dear Reading neighbors,
My name is Megan Fidler-Carey, and I am running for a 3-year seat on School Committee.
Having worked in schools for nearly twenty years, and as the only candidate currently working full time in a public school district, I have a uniquely relevant perspective to guide my understanding of the work of the Reading School Committee.  As the Director of the Medford Before and AfterSchool program, I regularly present to the school board in Medford and have come to value thoughtful and thorough communication as the way to best join policy and practice. An informed School Committee can move a district forward toward student achievement in not only academics, but also social-emotional wellbeing and meaningful citizenship.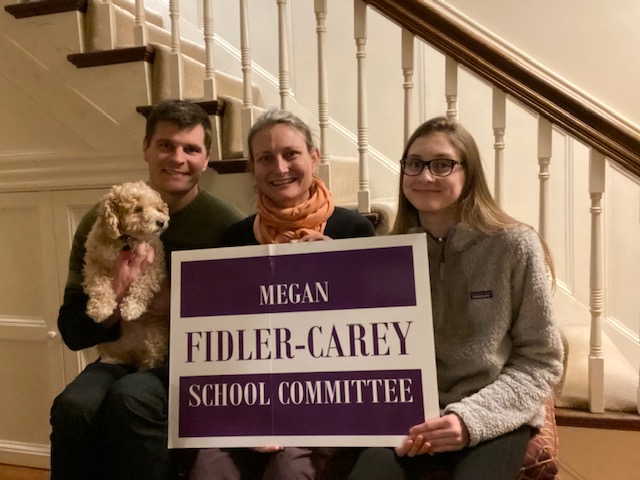 My husband Charlie and I moved here with our daughter nearly 5 years ago for similar reasons that many people do: the good schools, proximity to the city, idyllic parks and neighborhoods, to be part of a connected community. Our Marlie was going to be entering the 3rd grade at Killam so we checked out the opportunities to get involved to meet new people. The town website mentioned the sense of history and a clear value for volunteerism. I signed up to help out with the Killam PTO, then shortly after that ran for Town Meeting and have joined other boards since.
When I learned that there would be open seats on the School Committee, I realized (after discussing the idea with my family, of course)  this was the perfect time to join my professional experience and my commitment to service in Reading.
My experience points directly to serving in this role:
I am an educator.
I began my career as a substitute teacher the year after graduating college; from there, my path was set. I have a Masters in Education and post graduate studies focused on the importance of partnerships and collaboration in education leadership. I have worked in 3 districts under 5 superintendents and I've worked in schools at all levels, including teaching teachers. I have served on several relevant boards including as current president of the New England Alliance for Concurrent Enrollment Programs at the high school level; current Co-Chair of the Network for Extended Day Directors at the elementary level; I was Chair of the Mayor's Education Advisory Committee in Revere, on the Commonwealth Dual Enrollment Advisory Board; Boston's Full Service Round Table (for wrap-around services and practice); coalition task-forces; curriculum alignment committees; health/wellness committees; community service committees; intergenerational learning committees, and more.
While I'm at work every day, I'm operating under policies set by a School Committee, under the leadership of a Superintendent hired and evaluated by a School Committee, and within a budget set by a School Committee. As of March 3, all of the educators currently on the Reading School Committee will have stepped down so my professional experience will fill that vital perspective that will otherwise be gone.
With this perspective I can identify when the challenges we face are not unique to Reading, and also know when there are problems we're working on that have been solved by other districts.
I am a parent.
Marlie, now in 7th grade, was very supported at Killam for elementary school and now at Parker for middle school. The opportunities to participate in the school musical, band, chorus, after school art and other clubs, take Spanish, take advanced math, and more have been invaluable. And in collaboration with the schools, she has had the opportunity to serve as a "Book Buddy" at the Public Library and volunteer back at Killam.
But I'm mindful of the fact that Marlie's singular experience with school is only one perspective. So I also consider the 450 other kids I have in my Medford AfterSchool program  to inform my understanding of how kids experience and access school.
I am invested in serving Reading.
In addition to Town Meeting, in 2017 I was appointed to Reading Cultural Council, which provides mini-grants to artists and art projects centered in Reading. That year I also joined the Reading Embraces Diversity leadership team, which seeks to promote understanding across lines of difference and disrupt racial and other bias in order to build an honestly welcoming community. Next I joined as a member of the Reading Education Foundation board which organizes fundraisers for the community to raise money for grants for teachers in RPS. The grants are to complement the existing school budget and encourage innovation in the classroom.
Most recently, I was delighted to participate in Reading's 375 celebrations as a host for PorchFest performers and to research my historical home as part of the "If This House Could Talk" project during the Reading 375 celebrations.
Reading is a wonderful town. We have terrific neighbors, terrific teachers, and really great kids. I have the educational background to provide informed input with a critical eye for looking at policy, budget, and leadership and I am deeply committed to this town.
I look forward to work ahead and hope you'll vote for me on March 3 for one of the three-year seats for School Committee.
Sincerely,
Megan Fidler-Carey
Charles Street
bit.ly/Megan4Reading
facebook.com/fidlercareycommittee/