The following article has been submitted by Erin Gaffen for School Committee
I am seeking election to a 3-year seat on the School Committee. I am a former special educator and administrator, an active volunteer in our community, and a mom of three Reading school children.
Since embarking upon this campaign, I have been connecting with parents, teachers, School Committee members, and residents of all ages to hear their joys and concerns for Reading Public Schools. I am eager to listen to and learn from others, and to work together to see our schools thrive. I am committed to putting the students of Reading first and ensuring that they all have the opportunity for a great education. I want to bring my experience, passion, collaborative nature, and proven leadership to serve on the School Committee.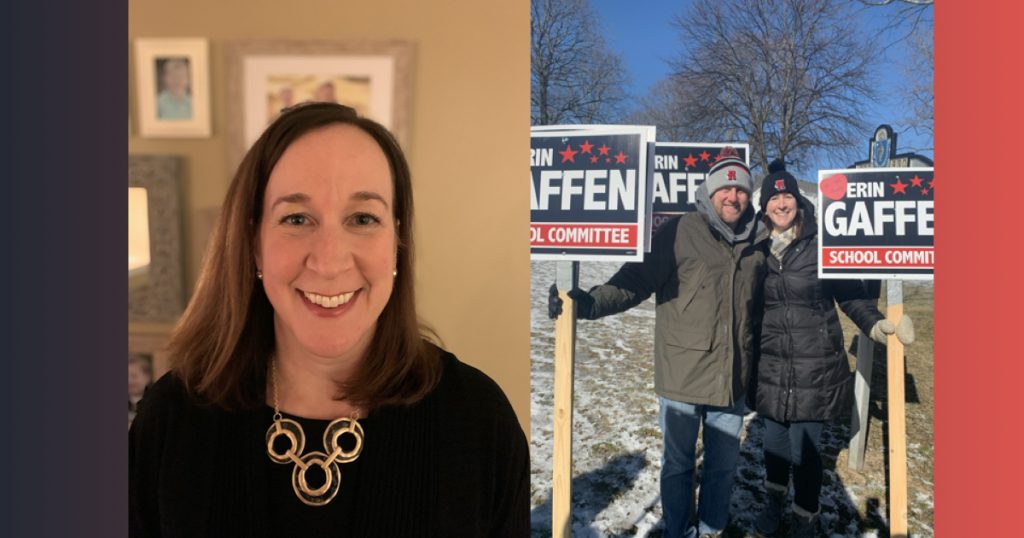 My husband Eric and I decided to make Reading our home 14 years ago when I was pregnant with our oldest son. We were struck by the strong sense of community, and the fact that the town had just build a new elementary school and renovated the high school showed us that Reading was a town that invests in its schools. Three years ago, we also helped move my mother into town, and we are now raising three wonderful boys here: Owen (13), Josh (11), and Zach (7). Next fall, we will have a child at Joshua Eaton Elementary, another at Parker Middle School, and our oldest at Reading Memorial High School.
I can bring a unique perspective to the School Committee through my background in education, dedication to our town, and ability to lead and collaborate.
A Background in Education: Education has always been a focus of my world – both as a student and as a teacher and administrator. Growing up, I had the benefit of strong public schools and graduated near the top of my high school class. I went on to earn a BA from Wesleyan University as well as a 5th year MA in Psychology. My first job was as a Teaching Assistant at a residential school in Arlington, MA for adolescent girls with emotional and behavioral disabilities. I quickly saw how impactful I was helping my students experience success in the classroom setting and when I was promoted to teacher, I decided to pursue my master's degree in Special Education at UMASS Boston. After several years of teaching, I was promoted again to Assistant Principal, where I focused on teacher training and development, curriculum oversight, IEP writing, and leading team meetings. My time as an educator gave me a first-hand perspective on the complex challenges that administrators, teachers, parents and students face daily.

A dedication to our town: For the past 10+ years I have shifted my career in education to active volunteerism and community involvement. Some of my volunteer work in Reading has included joining the pre-school board at Sawyer Nursery School, serving for three years on the board of Connect the Tots including one year as President, serving for four years in the Women's League of Reading including two years as President, serving multiple terms on the PTO Board at Joshua Eaton, serving on the School Councils of Joshua Eaton and Parker, and teaching religious education at our church.

I have built a reputation as someone who can be relied upon when asked to help. Each of these experiences has brought me a deeper connection to my community and a broader understanding of our community needs.

Ability to lead and to collaborate: My advocacy work for Reading public schools began back in 2014. I was part of a group of parents who recognized the space needs in our schools and conducted a letter-writing campaign to Town Meeting Members to advocate for modular classrooms at three elementary schools. In 2016, when the town and school system were facing significant cuts, I joined the board of the first "Yes for Reading" campaign to work for the passage of an override. When the financial issues in town worsened, I stepped up to co-chair the second "Yes for Reading" campaign. Together with my friend and campaign chair, Michele Sanphy, we built a team of over 100 volunteers and successfully helped pass an operational override for our schools and town services. I am most proud that throughout our campaign we collaborated with and united all different stakeholders in the community – parents, teachers, town and school administrators, elected officials, public safety members, young couples, and seniors. Since then, to ensure that the override dollars are being used as promised and to continue to have a voice in local financial matters, I have served as a Budget Liaison and been elected to Town Meeting. I have continually demonstrated leadership and collaboration in both professional and community environments, and I will bring these attributes to the School Committee.
Whether you are voting early starting February 24th, or heading to the polls on March 3rd, I hope you will please vote for me for a 3-year term on School Committee.
Erin Gaffen
15 Hemlock Road
www.ErinGaffen.com
https://www.facebook.com/ErinGaffenForSC/