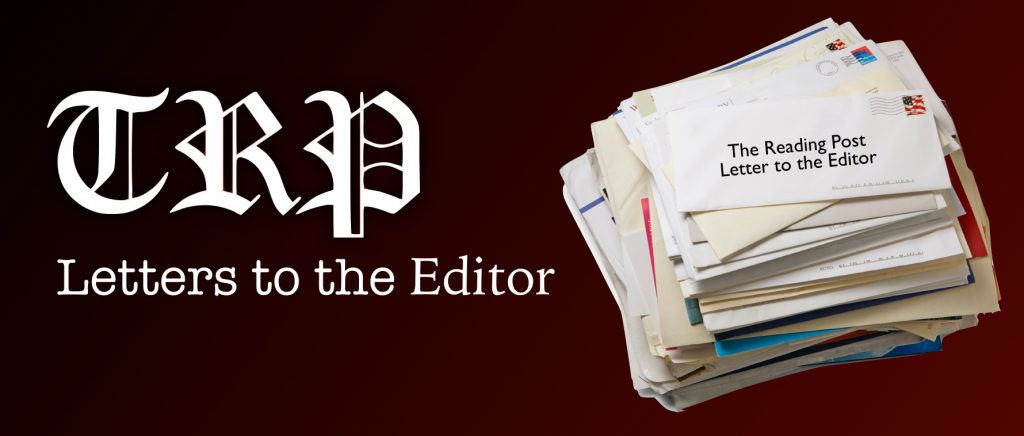 The Reading Post accepts Letters to the Editor. All letters must be signed. The Reading Post reserves the right to edit or not publish any letters received. Letters do not represent the views or opinions of the Post. editor@thereadingpost.com
---
It is with great enthusiasm and confidence that my husband and I endorse Erin Gaffen for a three-year School Committee seat.
I first met Erin years ago when we co-taught Sunday School at our church. I recall being impressed at how skillfully she managed our group of energetic six and seven-year olds on day one, patiently drawing their focus back to our lesson plan time and again. Anyone who volunteers in an elementary school setting walks away in awe of what teachers do, and that was my experience with Erin!
Erin comes by this naturally because of her 10+ years as a special education teacher and tenure as Assistant Principal of Germaine Lawrence, a residential home for girls with behavioral and emotional needs. Reading Public Schools faces the challenge of growing expenditures for special education and Erin understands the complexity of these issues. She will bring to School Committee the perspective of a teacher who has been in the trenches, of an administrator who is looking at the big picture, and of a parent of three boys (she'll have one in elementary, middle and high school next fall). Erin is fully invested in our school system.
Erin proved her strong capacity for leadership and her commitment to Reading's schools as Co- Chair of the successful 2018 Yes For Reading campaign. Facing deep cuts to our school and town budgets, Erin and her co-chair galvanized a team of 100+ volunteers who worked tirelessly to advocate for an operational override. It was a daunting task (a prior attempt failed in 2016), but Erin listened respectfully to concerns, met often with key stakeholders, and built strong relationships across many different constituencies in town. Our schools are in a much healthier financial position because of the work of Erin and her team.
To ensure the override dollars are being used as promised, Erin is now serving as a Budget Liaison for the schools and was also elected to Town Meeting. My husband is also a Town Meeting member and serves on the Finance Committee, and he has found Erin to have a deep understanding of the complicated school budget and the ongoing challenge of effectively
allocating funds to meet Reading's educational objectives. With this budget comprising two- thirds of Reading's overall operational budget, this financial insight is critical to serve effectively on School Committee.
It is a privilege to have Erin and her husband Eric as neighbors and friends. We admire their devotion to each other and to their three boys, as well as their active engagement in town.
Erin will be an amazing asset to our School Committee. She is smart, straightforward and wholly committed to education. She has established solid relationships in town and proven herself a collaborative, thoughtful team player. We know she will serve with energy and determination, all for the benefit of our children and our community.
Sincerely,
Eric & Bryn Burkhart Belmont Street