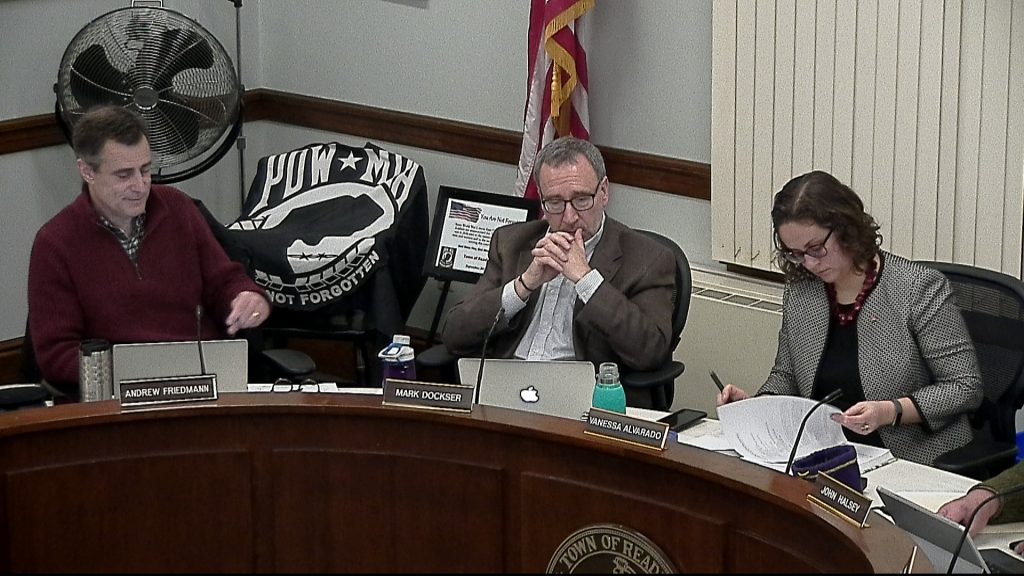 Residents of Varney Circle requested support from the Select Board on January 7 after several emails to the board describing issues of illegal activity on their street. Residents complained of landscaper trucks blocking driveways, use of a dark area for drinking, drug activity, diaper changing, trash, and an instance of an alleged "sexual predator" who was arrested in the area. Residents had spoken to the police department, who quickly posted a "dead end" sign entering the street to inform motorists that there is no outlet from the cul-de-sac. Residents asked the Select Board to aid them in getting a street light placed over a typically darkened area, as well as possibly restricting parking on the street to residents only. Town Manager Robert LeLacheur assured the residents and the board that the issue would be brought up at the next Parking Traffic Transportation Task Force meeting.
Director of Public Works Jane Kinsella gave a brief overview of the clearing of sidewalks in town. This was in response to the concern expressed by some residents over areas not cleared near schools in some recent storms. Kinsella reported that the town uses over 40 pieces of equipment to keep streets and parking lots clear in a storm, but the same staff is often used to clear sidewalks, most of which are not cleared until the day following a storm. This timing can be extended dependent on the length of a storm and driver fatigue. The town also uses two Bobcats for clearing sidewalks downtown. Kinsella also informed the board that while calcium chloride is used to pretreat roads, it is not used on sidewalks, therefore snow melts on many streets faster than it does on the sidewalks. "The key thing," Kinsella concluded, "we use the same people who do the roads to do the sidewalks, and they need rest."
LeLacheur offered the board a brief preview of the 2020 Annual Town Meeting scheduled to begin April 27. He expects seventeen articles on the warrant, several to do with debt authorizations, many of which deal with water and sewer main work. "This is one of the simpler town meetings I've seen in a while," LeLacheur commented. He also reminded the board that it would have to close the town meeting warrant in about a month's time. 
LeLacheur said that the Fiscal Year 2021 budget numbers the board had seen for capital expenses may need to be rearranged. He explained that ladder trucks, which have been used to last for 20 years, now only have a useful life of 15 years. Reading's ladder truck will need to be replaced in FY2022 and this will result in the "shuffling" of other projects between the FY 2021 and the FY2023 capital budgets. Once these changes are finalized, they will be shared with the board.
The Select Board made several appointments to boards and committees and spent considerable time in a brainstorming session about its own goals and plans for the coming years. Possible goals ranged from reviews of town-owned land, a reexamination of board liaison roles, and a clearer vision for economic development. This session was the first step in a longer process to help the board clarify its plans for future endeavors.
In the Select Board packet, and thus part of the public record, was an email from former police chief Mark Segalla. In it Segalla writes:
"To All,
Since the criminal charge brought against me was made public through a statement by the Town on April 11, I just want to make it very clear that this morning the criminal charge (assault and battery) was nolle prossed (dismissed) by the Special Prosecutor hired to look into the allegations brought against me. Since most just pay attention to the sensationalism of an incident, I want everyone to know the true outcome directly from me.
I especially want to thank everyone who reached out to me and my family during this horrible period of our lives.
Thank you.
Mark D. Segalla
Chief of Police (ret)
Reading Police Department
Reading, MA 01867"
The Select Board adjourned at 10:15 pm.