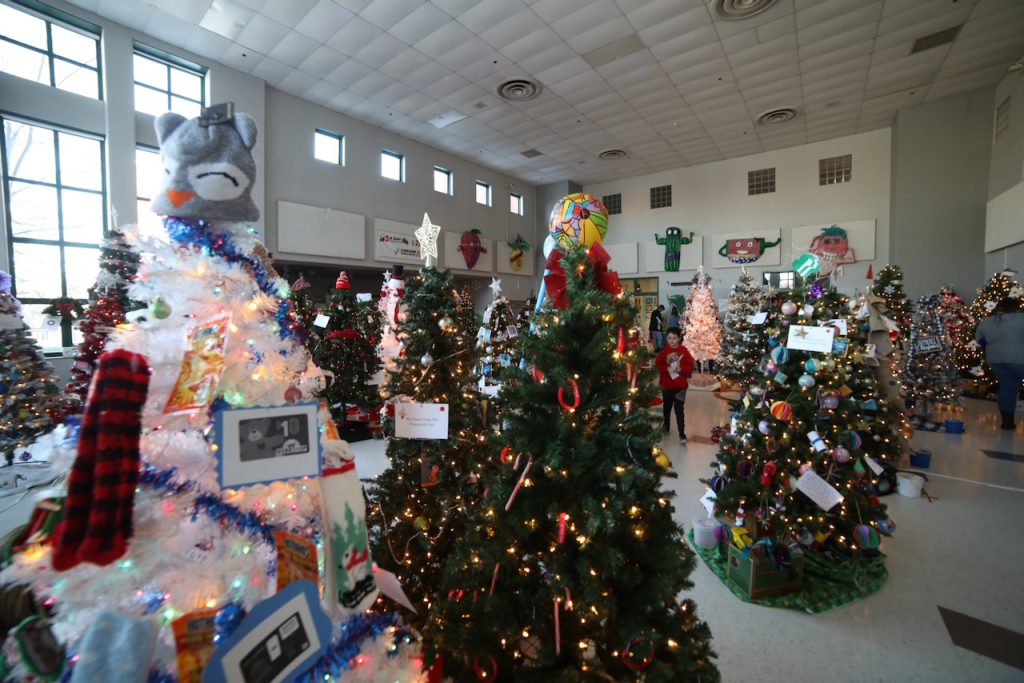 Reading, MA — Thank you all for a very successful Festival of Trees in 2019! Over 2,400 people attended and REF raised over $30,000 in profits which will go directly toward 2020 Teacher Grants. Without the support from local businesses, school and community groups, individuals and volunteers, our festival would not be possible. Together we have made this entertaining and rewarding holiday tradition a key fundraiser benefiting Reading's students! A special thank you to our event sponsor the Reading Rotary Club; our community sponsors: Pamplemousse, Columbo's Pizza & Cafe, and Geno Grande and his food truck; and our individual sponsor Karen Janowski.
In addition, much appreciation for the Reading Rotary Club for donating candy and cotton candy, and staffing the food booth; Columbo's for the pizza; Woburn Showcase Cinema and Reading IMAX for donating popcorn; Michelle Greenwalt, the Sweet Treat Baker for the delicious cookies; Reading Stop & Shop for donating cookie frosting; Jackie and Mario Antimone for paper products; Creative Arts for card making station; Lauren Bennett for our festive posters and logos; Eric Rzepka for IT support; Reading Facilities Department, Parker Middle School and the Custodial crew for the space, electrical technology and support; the Reading Public Library for helping to promote our event.
There is no gallery selected or the gallery was deleted.
Thank you to our fabulous FOT committee, the super volunteers who make this whole event possible: Kathy Kinney, Ann Cruickshank, Alyssa Gallegos, Heather Stepler, Jeanne Cappuccio, Julia Cahill-O'Shea, Karen Richardson, Sheila Baxter, Lindsey McCarthy, Laura LaFrancesca, and Annemarie Ring. In addition, special thanks to our wonderful students volunteers including our student volunteer organizers Rachel Grimes and Caroline Hugo. And of course, deep appreciation and thanks to our beloved Tree donors (see a complete listing at the end of this post).
We focused on local entertainment again this year and had a fabulous array of adult and youth musicians, singers and story-tellers. A heartfelt thanks to our adult performers: Reading Community Concert Band and singer Taylor Hilliard; and for the wonderful performances from our inspiring youth: RMHS Color Guard, RMHS Select Chorus, RMHS Jazz Band, RMHS Small Ensembles, Coolidge Middle School Wind Chimes & Small Ensembles, Parker Middle School Performers, Ben Mini, and Julia Mullen, CBTween, Caleb Cascio and Claire Benjamin. Last but not least, thank you to our favorite storyteller, Eileen Litterio and Shanna Fusco for the sing-a-long. We could not have done it without you and all the support from this community!
2019 Tree Donors
6th Grade Girls Basketball Team
Aine's
Alice M. Barrows Elementary School Tree
Alive & Well Chiropractic
Allardi, McGurn, Williams, Fialli and Kinney families
Antea Amoroso Design
Barbara & Joe Casarano
Barrows Girl Scout Troop (save tickets)
Birch Meadow Student Council & PTO
Bonazoli Family
Bourque and Dumas Families
Casarano, Connolly, Dean, Mullin & Vitarrisi Families
Cataldo Family
Connect The Tots
Coolidge Middle School
Creative Arts
Cross Country Mortgage
Curate Partners (new 2019)
Department of Children and Families
Douglas Funeral Home
Elite Free Style Karate
Evergreen Florist
Everything But The Dog
Flower Bar
Friends of Reading Recreation
Fusco & Zessis Families (new 2019)
Gallegos Family
Girl Scout Troop 76150 (new 2019)
Gould Family
Grace Chapel – Reading Life Community Group
Innovative Autism Connections, LLC. (new 2019)
Joshua Eaton Elementary School
KayLash
Killiam PTO
KR Staging & ReDesign (new)
Lee Kimball
McCarthy Enterprises (new)
Meadow Brook
Miss Cristi's Homeroom
MOMS Club of Reading
Nichols and Wolter Families
Northeast Youth Ballet
O'Brien Family (new 2019)
O'Neill Family
Onset School of Music (new)
Parker Art Department – Room 200
Parker Middle School PTO
Parker Music Department
Parker Special Ed Department
PDA Dental Group
Peirce Family
Pine Ridge Neighborhood
Pleasant Street Center (new)
Reading 375
Reading Co-Operative Bank
Reading Education Foundation
Reading Education Foundation
Reading Embraces Diversity (RED)
Reading Fire Department
Reading Police Department
Reading Public Library
Reading Rotary Club
Reading School Committee & Central Office
Reading Youth Hockey
Reading-North Reading Chamber of Commerce
REMAX Ladner Realty Group (new 2019)
Ring Family
RISE PTN
RMHS Choral Department
RMHS Drama Department
RMHS Girls Rising Club
RMHS Marching Band
RMHS PTO
RMHS Robockets
Rocket Independent Video CLub
Roman Music Therapy Services
Rzepka Family
Samantha's Harvest
Sartell Electric
SEPAC
Sinclair Family (new 2019)
Social Good
Stepler & La Francesca Families
The Flower Shoppe of Eric's
The Reading Color Street Team
The Residence at Pearl Street
Timothy J Kelley Atty
Tin Bucket
Tompkins Family
Troop 728
True North Realty
Understanding Disabilities
Women's League of Reading
WoodEnd Elementary PTO
WoodEnd Elementary Staff
Yatsuhashi Family
YMCA