Representative Richard M. Haggerty is proud to announce Reading native Joe DiBacco as a legislative intern hire for Fall 2019. Joe was responsible for speech editing and managing administrative and legislative related duties at the Representative's State House Office.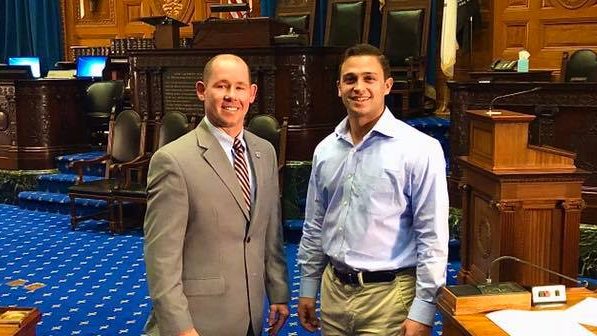 Joe recently graduated from Trinity College in May where he completed his Bachelor of Arts in Economics, being a four-time recipient of Faculty Honors during his time there. Joe developed an interest in politics during his time interning for both Connecticut State Senator Joan Hartley and Minority Leader Bradley Jones, with him most recently canvassing for Melrose Mayor Paul Brodeur's successful mayoral campaign.
"I immensely enjoyed the time I spent working for Rep. Haggerty's office,' said Joe DiBacco. "I had the opportunity to work on a handful of speeches with the Representative which I loved, and I enjoyed researching legislation as well. I learned a lot from this experience, and wish I could have stayed longer."
"It was great having a Joe apart of our team this fall," said Rep. Haggerty. "He brought with him strong writing skills, attention to detail, and fresh insight that were immensely helpful during a very active Fall legislative period. His presence will be missed in our office, and I wish him all the best in his future endeavors."
Joe recently finished his 6-week Fall Internship with Rep. Haggerty's office. The Representative's office will be continuing the internship program through Winter/Spring 2020 and is in the process of considering the application packages of potential interns from the 30th Middlesex District.
For more information on interning with Representative Haggerty's office, please contact his legislative aide at Anthony.Langone@mahouse.gov or call (617) 722-2090.