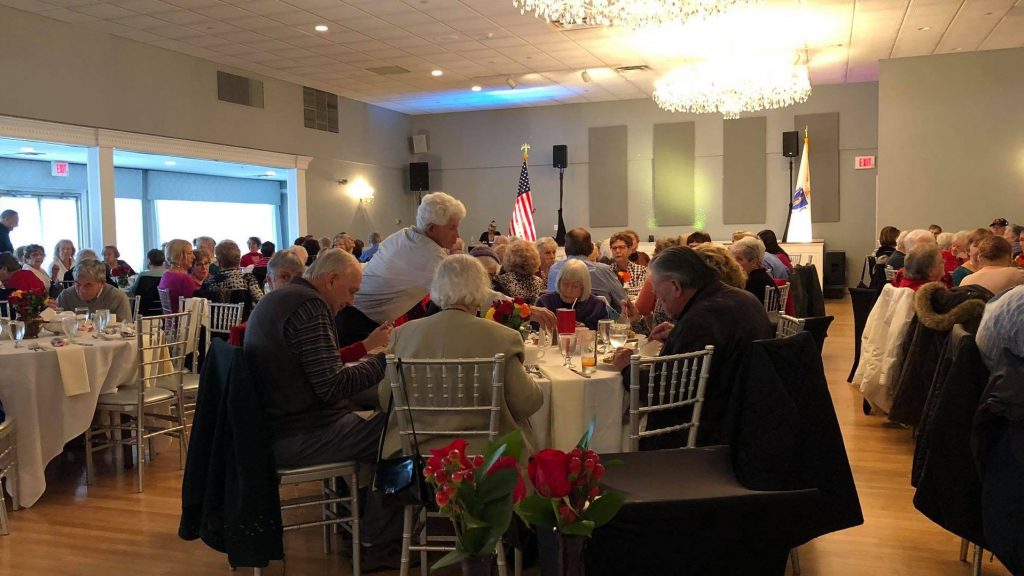 Reading, MA — Reading Senior Citizens are invited to attend the annual Thanksgiving Dinner at the Hillview Country Club in North Reading on Saturday, November 23 at 1 p.m. Doors will open at 12:15 p.m.
Held annually since 2008, the Reading Thanksgiving Dinner is hosted by Representative and Mrs. Bradley H. Jones, Jr., Representative Richard Haggerty, and Senator Jason Lewis, in partnership with the Reading Council on Aging. As in years past, hundreds of local residents are expected to attend this year's event and enjoy a traditional turkey dinner with all the fixings. New this year guests will enjoy a DJ and dancing at the event.
"This dinner would not be possible without the generosity of the many local businesses and individuals who have partnered with us over the years to help make this annual tradition such a great success," said Representative Jones. "We invite Reading's Senior Citizens to join us at the Hillview on the 23rd as we gather once again to celebrate the start of the holiday season."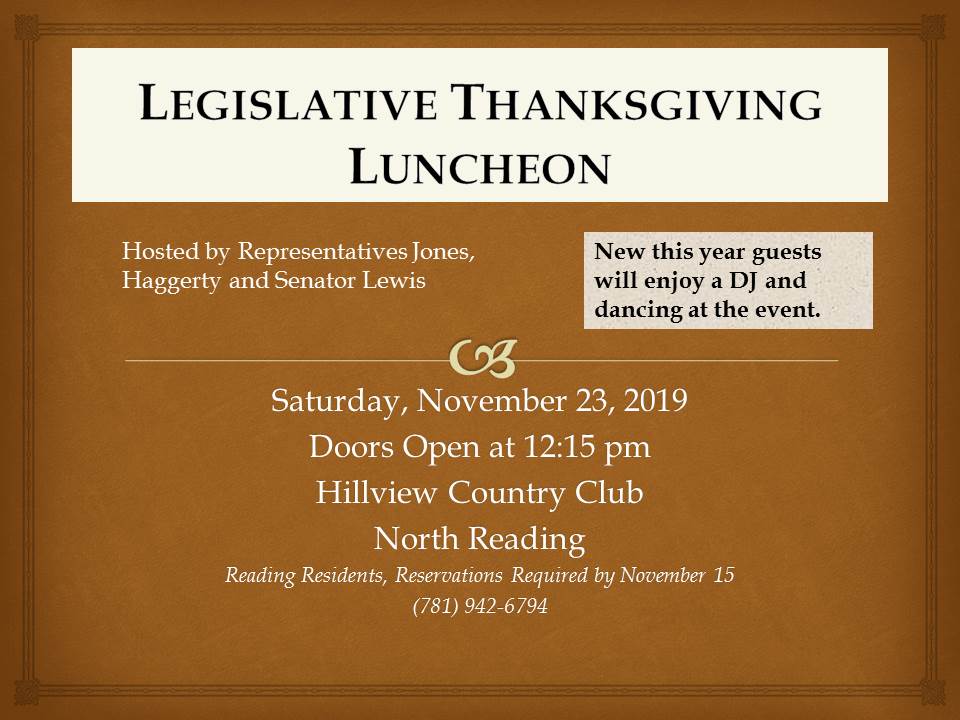 "It is a privilege to join with my colleagues from the Reading delegation Senator Jason Lewis and Representative Brad Jones in honoring our community's seniors and celebrating the Thanksgiving holiday," said Representative Haggerty. "I have great pride taking part in this annual event, and we are all fortunate to have the charitable community leaders, businesses, and individuals to make it all possible."
"I'm looking forward to celebrating Thanksgiving with members of our communities at this great annual event," said Senator Lewis. "I'm grateful to my colleagues in Reading's legislative delegation and all of the community and business leaders from around the Reading community who have partnered to make this great event possible each year, and I hope that seniors will join us on November 23."
The dinner is free and open to all Reading residents over the age of 60. However, reservations are required and will be taken on a first-come, first-serve basis. For reservations or to arrange for transportation to the dinner, please contact the Pleasant Street Center at 781-942-6794 by Friday, November 15.
All attendees, who are able, are asked to bring a non-perishable, non-expired food item for donation to the Reading Food Pantry.