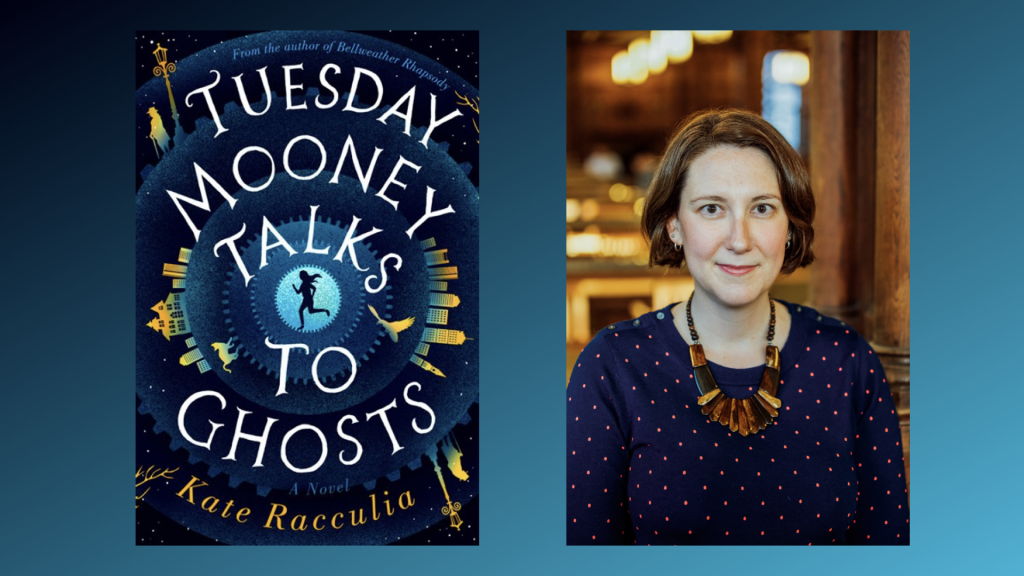 Reading, Massachusetts –Whitelam Books is delighted to welcome author Kate Racculia as she presents her new book, Tuesday Mooney Talks to Ghosts on Friday, November 1 at 7:00 pm. Whitelam Books is located in downtown Reading at 610 Main Street, near the intersection of Haven Street and Main Street. This event is free and open to the public – all are welcome! Books will be available for purchase and signing.
About the Book:
Tuesday Mooney is a loner. She keeps to herself, begrudgingly socializes, and spends much of her time watching old Twin Peaks and X-Files DVDs. But when Vincent Pryce, Boston's most eccentric billionaire, dies—leaving behind an epic treasure hunt through the city, with clues inspired by his hero, Edgar Allan Poe—Tuesday's adventure finally begins.
Puzzle-loving Tuesday searches for clue after clue, joined by a ragtag crew: a wisecracking friend, an adoring teen neighbor, and a handsome, cagey young heir. The hunt tests their mettle, and with other teams from around the city also vying for the promised prize—a share of Pryce's immense wealth—they must move quickly. Pryce's clues can't be cracked with sharp wit alone; the searchers must summon the courage to face painful ghosts from their pasts (some more vivid than others) and discover their most guarded desires and dreams.
A deliciously funny ode to imagination, overflowing with love letters to art, from The Westing Game to Madonna to the Knights of the Round Table, Tuesday Mooney Talks to Ghosts is the perfect read for thrill-seekers, wanderers, word lovers, and anyone looking for an escape to the extraordinary.
About the Author:
KATE RACCULIA is the author of the novels This Must Be the Place and Bellweather Rhapsody, winner of the American Library Association's Alex Award. She received her MFA from Emerson College and now works for the Bethlehem Area Public Library in Pennsylvania.
Kate Racculia Photograph by Christa Neu