Follow up Summer Reading with new programs at the Reading Public Library.
Beginning mid-September, the Reading Public Library has new reading programs specially created for children in grades K-5. Young readers and their caregivers will find lots to love in these entertaining programs.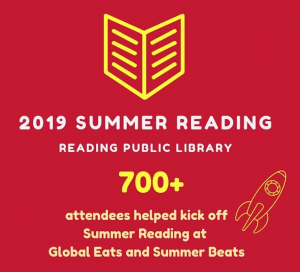 Say Your Piece Book Club
There's no better way to fuel your reading enthusiasm than sharing your favorite books and authors! You're sure to pick up some tips for new things to read – so bring along a few of your favorite books to share. Pizza and drinks provided, thanks to the Friends of the Reading Public Library. Saturdays, September 28, October 19, and November 23. Call 781-942-6705 for details, times, and to register.
Reading Rockets: Parent & Child Book Discussion
This monthly gathering is for kids and their grownups. Join in to discuss award-winning books for kids – from art and language to characters and settings. Snacks are included. Copies of the books are available at the Children's Room desk. October's book is Asian/Pacific American Award for Children's Literature winner, Front Desk by Kelly Yang. Grades 4-5 + an adult. Register online: www.readingpl.org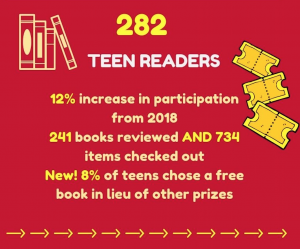 Summer Reading Wrap-up
A Universe of Stories summer reading included programs across all age groups. More than 1,000 children from Pre-K to Grade 6 participated and this year teen readers completed 241 book reviews. 99 adults joined in, reading more than 500 books. The community is a strong supporter of summer reading, and this year, all age groups noted increased participation in programs and reading, over 2018. We're looking forward to next summer when the theme will be imagination. Can't wait to see you all then!