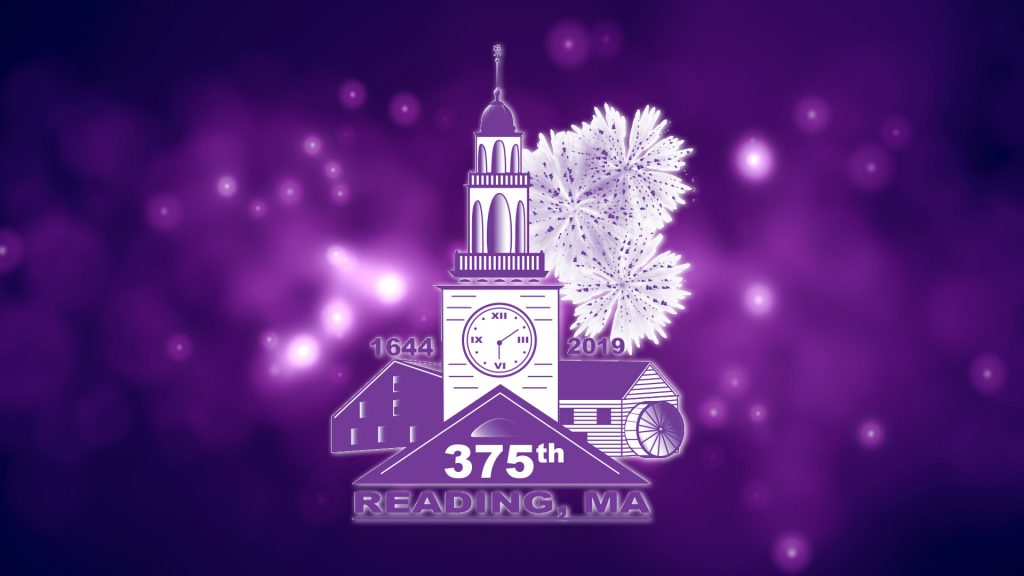 After a successful and well-attended opening weekend, Reading residents are looking forward to continuing the celebration of Reading's 375th anniversary through June 15. 
Events Happening Throughout the Reading 375 Celebration
Roaming Reading – More than 150 Reading residents are already competing in this free, app-based scavenger hunt. There is still time to join in on the fun! Complete fun challenges at Reading 375 events, and learn a little local history along the way. The Reading Cooperative Bank is donating $1,500 in prizes! Game runs through June 15. Rules and details for how to play are at reading375.com.
Paint the Town – Residents can enjoy more than 40 original works of art – all inspired by Reading and created by local artists – on display now through June 15 at venues all around town. For a list of venues and artwork visit reading375.com.
If This House Could Talk – Keep an eye out for "If This House Could Talk" signs on front lawns all over Reading. Take a moment to read your neighbors' stories and learn about their homes. Or get a map of all participating homes and businesses at reading375.com and make sure to visit them all! Signs will be up through June 15.
UPCOMING READING 375 EVENTS
Tavern at the Tavern – Friday, June 7, 6 PM – Celebrate like it's 1644, under the tent on the lawn of Parker Tavern, our town's oldest building. Enjoy a mead tasting, appetizers honoring New England 's culinary traditions, beer, and wine at a cash bar, 18th-century music, and Tavern Performers. Tickets are limited and can be purchased for $37.50 at Reading375.com
Our Town Your Story – Saturday, June 8, 10 AM – Head to the Reading Public Library to make sure your story becomes part of our town's history. You are invited to bring up to 3 photographs, which will be scanned into the Library's virtual collection, creating a legacy of your time in Reading for future residents to learn from.
Vintage Baseball & Clubhouse at the Tavern – Saturday, June 8, 11AM – Head to Washington Park for a double-header of vintage baseball – where the players will use the uniforms, equipment, and rules that would have been typical in the mid-1800s. The games are free, and first pitch is at noon – bring your own lawn chairs and blankets. Baseball themed refreshments – including hot dogs, sausages, popcorn, cotton candy, and cracker jax – will be available for sale a short walk away under the tent at Parker Tavern beginning at 11 AM.
PorchFest – Saturday, June 8, Noon – Enjoy an afternoon of free, outdoor music! Thirty-five different musical acts will perform all over town on porches, driveways, and front yards. For a complete list of bands, venues, and times, see reading375.com.
Revelry at the Tavern – June 8, 7:30 PM – Join your friends and neighbors for an unforgettable night out under the tent at Parker Tavern. Enjoy live music, signature cocktails, and delicious food. Cocktail attire. Tickets are limited for this event and can be purchased for $37.50 each at reading375.com.
Charter Day – June 10, 7:30 PM – Break out your Reading 375 t-shirts, pins, and purple clothes to celebrate Reading's actual birthday. All students in the Reading Public Schools are encouraged to wear purple today, to celebrate June 10, 1644 – the day we became Reading. Head to the Residence at Pearl Street at 7:30 PM to hear Reading Speaks, Voices from the Past and Present. This oral timeline, presented by a variety of notable Reading residents, will cover Reading's history from 1630 – 2019 in just 45 minutes. After the presentation, enjoy Reading's huge birthday cake!
Taste of Metro-North – Wednesday, June 12 6 PM – Join the Reading Rotary for their 8th annual celebration of food, fun, and service to others at Taste of Metro North. Last year more than 400 people came out to join the fun and sample food from more than 20 local restaurants. The event is held at the Reading High School Field House. You can enjoy a discount on your ticket price if you purchase ahead of time ($25 for an individual, $60 for a family) at http://www.tasteofmetronorth.com. Tickets will also available at the door – $30 for an individual, $70 for a family.
Grand Finale – Saturday, June 15 ALL DAY
Mark your calendar for the Grand Finale of Reading 375. Start the day with the Friends of Reading Recreation Fun Run at the RMHS track. Then head to the Lions Club annual Friends and Family Day – it promises to be the biggest one yet! Check out the first ever Reading Dog Parade. Finish up your day with a hot air balloon ride, live music, and dinner purchased from a variety of Food Trucks. Sit back on the grass and wait for the fireworks to light up the night sky – and look for a little something purple in honor of Reading 375. This kind of celebration only comes along once every 25 years. Full event details, including times and locations, are available at reading375.com.
About Reading 375: Reading 375 is a non-profit, volunteer driven organization whose goal is to bring our community together to celebrate Reading's 375th anniversary in 2019. Events will occur over a two-week period, from May 31 – June 15, and will include local artists and musicians, architecture unique to Reading, and fun community gatherings. The Reading 375 Steering Committee hopes to create a town-wide celebration of Reading's rich history and exciting future. Commemorative anniversary t-shirts are available at Reading Trophy and Shirt and RCTV Studios for $20. Limited edition Reading 375 pins are available at Whitelam Books, Reading Cooperative Bank, The Town Clerk's Office at Town Hall, and RCTV Studios for $3.75. To learn more and stay informed, like and follow Reading 375 on Facebook, Twitter and Instagram and check out reading375.com.