As we count down to the kick off of Reading 375, several Reading 375 events are enjoying enthusiastic community support. Full details about all these events can be found at reading375.com.
A Concert for Reading
On June 1 at 3:00, come to the RMHS Performing Arts Center for A Concert for Reading, produced by William Endslow and featuring the Reading Symphony Orchestra and Reading Community Singers. According to Ace Foulds, ticket distribution has been brisk. "There's a lot of excitement about Reading 375, and both the Reading Symphony Orchestra and Reading Community Singers have a tremendous following." While hundreds of tickets have already been reserved, there are still tickets available. Tickets are FREE, but you need a ticket to gain entry to the concert. You can pick up your tickets at RCTV Studios, the Clerk's Office at Town Hall, and at Whitelam Books.
Paint the Town
Beginning on May 31, approximately 40 original works of art, all created by local artists and inspired by Reading, will be on display at venues around town. You can join the artists at a reception on Wednesday, June 5 at 6 PM at the Pleasant Street Senior Center. You can also enjoy the artwork at the following venues during the two week Reading 375 Celebration from May 31 – June 15: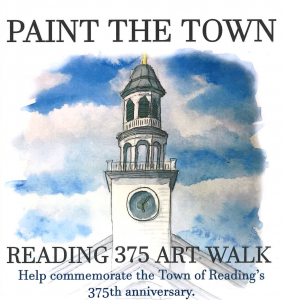 Pleasant Street Senior Center

Town Hall

Reading Public Library

Goodhearts

Caffe Nero

Simms Jewelers

Whitelam Books

Northern Bank

Fusion Café

Mane 565

RCTV

Atlantic Framing

J & B Crosby & Co.

Edward Jones

Universal Financial Corp.

Middlesex Animal Hospital
Tavern Events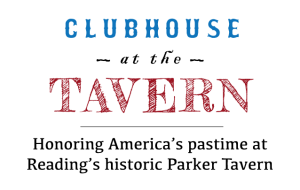 On June 7 and 8, the public is invited to visit the Parker Tavern for two special evenings. On the evening of Friday, June 7 journey to our colonial past at Tavern at the Tavern. On the evening of Saturday, June 8, celebrate Reading 375 in style at Revelry at the Tavern. According to Reading 375 Steering Committee member Catie Robertson, "We've had a fantastic response to these two tavern events. A large portion of our tickets were sold in the first few days. Ticket inventory is limited. If folks want to go to these events they should reserve their tickets today." Tickets to Tavern at the Tavern and Revelry at the Tavern cost $37.50 each and are available at reading375.com.
On the afternoon of Saturday, June 8, head to Washington Park for a double-header of Vintage Baseball – where the players will use the uniforms, equipment, and rules that would have been typical in the mid-1800s. First pitch is at noon and the game is free to watch – bring your own lawn chairs and blankets. Baseball-themed refreshments will be available for sale a short walk away under the tent at Parker Tavern beginning at 11:00.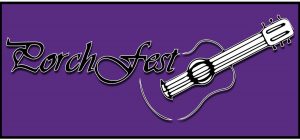 PorchFest
Enjoy an afternoon of free music on Saturday, June 8 on porches and front lawns all over Reading. A wide variety of music will be represented…from bluegrass to punk to rock. According to event organizers Ace and Alan Foulds, "We're thrilled with the response. We were hoping to get 25 musical acts to perform at PorchFest. We're up to 35 and growing every day." 
If This House Could Talk
During the two-week Reading 375 celebration, residents will notice "If This House Could Talk" signs on lawns throughout the community. On these signs, homeowners will share an interesting tidbit or two about their home. Event organizer Sarah Brukilacchio says the response has been tremendous: "We have around 70 local homes and businesses signed up. Once people realized how easy it was to participate, the registrations started pouring in." Signs are still available at RCTV Studios or for delivery to your home while supplies last. You are encouraged to register your home to participate today at reading375.com. 
Dog Parade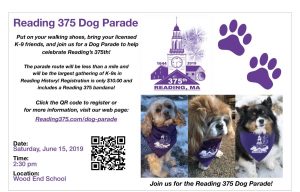 The Reading 375 Dog Parade will take place on Saturday, June 15 at 2:30 at the Wood End Elementary School. "We are so excited to have an event just for the dogs of Reading," according to event organizer Marcel Dubois. Dogs will receive a commemorative Reading 375 bandana to wear and keep. Registration is required for this event and costs $10. You can register your dog at reading375.com. Proof of current rabies vaccine and dog license is required to attend this event. By registering for the 375 Dog Parade either at reading375.com or in person on the day of the event, you are certifying that your dog is registered in the State of Massachusetts and up to date on their rabies vaccine.
Reading 375 kicks-off on May 31 at 7 PM on the Town Common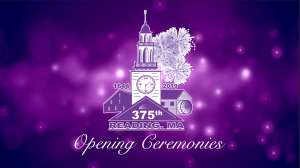 Don't be late – come see the JUMBOTRON, live music, tree illumination, and more surprises. Then head downtown and stop at all the venues with purple balloons to enjoy special events and discounts at your favorite local restaurants, businesses, organizations, and churches. Overflow event parking is available at the Train Depot.