Reading Public Library continues the conversations aimed at strengthening the heart of our community.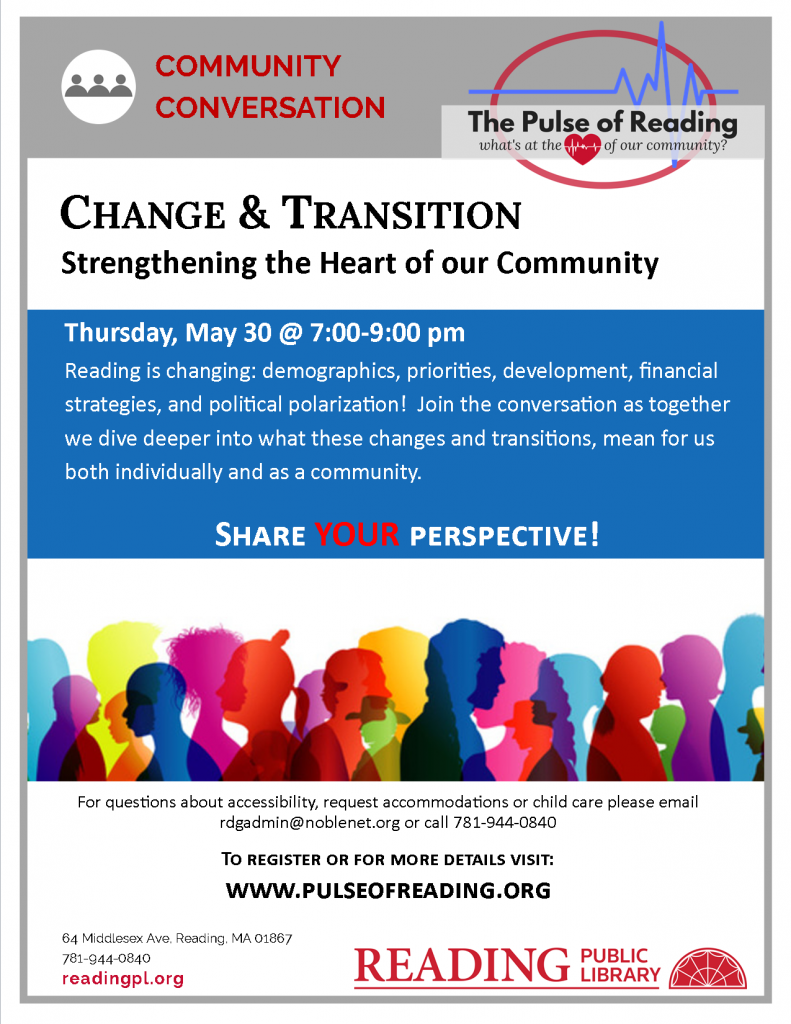 The Reading Public Library (RPL) invites the Reading community to participate in our continuing series of town-wide conversations called The Pulse of Reading. Residents of all ages, business owners, organization representatives, and town employees are welcome to participate in any of the four conversation events scheduled to take place in the library community room.
Change and Transition | May 30, 2019 @ 7:00 pm

A Matter of Civility | September 26, 2019 @ 7:00 pm

Building Our Community | October 14, 2019 @ 7:00 pm

Belonging: Diversity in Reading | November 9, 2019 @ 7:00 pm
Don't miss our first 2019 Pulse of Reading conversation on "Change and Transition: Strengthening the Heart of Our Community" on Thursday, May 30. Reading is changing: demographics, priorities, development, financial strategies, and political polarization! Join the conversation as together we dive deeper into what these changes and transitions, mean for us both individually and as a community. Share your viewpoint, add your voice, and hear what others have to say.
RPL is sponsoring this series to foster open and respectful conversations that recognize different perspectives, identify shared interests, and spark future networks to support a growing and changing community. Each session is designed to explore questions about the issues raised during the original 2018 Pulse of Reading conversation series.
RPL staff and local volunteers will facilitate the sessions using the World Café process (www.theworldcafe.com), an open-source conversation methodology designed to bring diverse groups together to explore important questions that matter to them. Attendees can expect:
a safe and inclusive conversation experience that invites people to speak honestly from their point of view

respectful and honest discussion with fellow residents about challenges and opportunities facing Reading

an opportunity to hear from others with different perspectives, as well as to

 

identify shared values, passions and concerns
Please contact the library (rdgadmin@noblenet.org) if you need childcare or have accessibility needs.  The events are free and open to anyone in Reading who wants to participate.  RSVP's appreciated (https://libcal.readingpl.org/event/5192072) but not required.  To learn more or if you have questions regarding accessiblity, please contact the library at rdg@noblenet.org and include "Pulse of Reading" in your subject line.