By Jeanne Borawski on behalf of the Reading 375 Committee
As part of the Reading 375 Celebrations this spring, local authors Ginny and Everett Blodgett have written a new book: Images of America: Reading. The book, which took over a year to compile and write, is published by Arcadia Publishing Company and will be on sale beginning May 13.
Ginny and Everett are well known in Reading. Both retired teachers, they have been married for 47 years. They have been collecting Reading maps, photos, objects, books, town reports, and street lists for decades. According to Everett, they've been thinking about a book for a long time. The upcoming Reading 375 anniversary celebration prompted them to action.
Everett and Ginny were involved with a team in the writing and publishing of At Wood End, which was published in 1994 to coincide with Reading's 350th celebration. Ginny notes that "this new book has a format of images and captions, with over 200 photographs that do not repeat from At Wood End. We included photos of historic items we have collected as a jumping off point to discuss various historically important and interesting people and events in Reading." Everett adds, "Images of America: Reading is the kind of book you can flip through and enjoy in sections or even just a picture at a time. It doesn't have to be read all at once."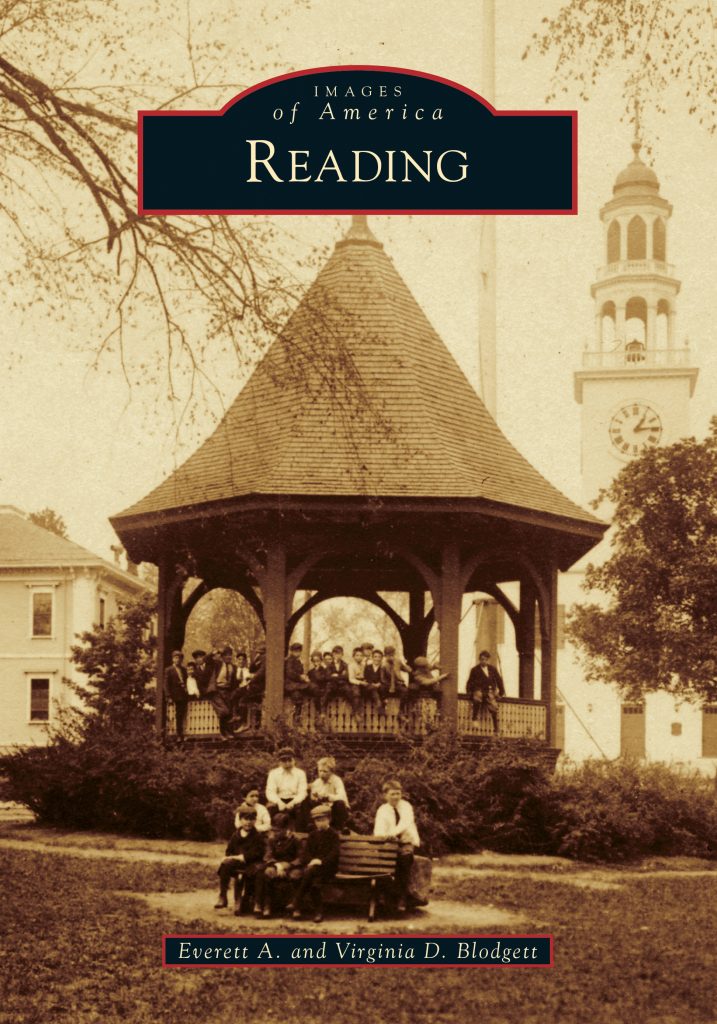 When asked what prompted them to become so interested in local history, Ginny says, "We've always been interested in learning more about the town in which we live." She adds that she knows people in town drive by fascinating, historically important areas and don't realize what they are looking at. She feels the new book will help educate other Reading residents about our town's history. She adds that local history is "just so interesting." Everett knows that many parents in Reading are invested in education and travel. "They bring their kids all over the world and to historically important sights around our country. We want to make sure they realize there are fascinating, important historical areas right here in Reading." He points to Parker Tavern, Reading's oldest structure built in 1694, as a prime example. Ginny and Everett have tremendous gratitude for the local history buffs who have come before them. "People handed down so much important historical knowledge to us," Ginny says. "We feel the need to pass it along to other folks in Reading."
When asked what the most interesting tidbit they learned while writing the book, the Blodgetts are coy. Ginny explains, "We made a fascinating new discovery about what is commonly referred to as the 1795 Reading map." Everett jumps in, "But if you want to know what it is – you have to read the book!" Both Blodgetts agree that working with a proof editor, and getting the language just right, was the most challenging aspect of writing this book. Disagreements over capitalization and punctuation were not uncommon throughout the process. Everett says the best part of writing the book was, "the years we spent collecting important historical artifacts from Reading and finding new history to share."
Asked how the world has changed over the twenty–five years since the Reading 350th celebration, Ginny muses that people seem busier. With so many people working outside of Reading, and family responsibilities, it can be hard for people to find the time to learn about, and therefore support, local history.
After more than a year of work, the Blodgetts are hoping for a positive reaction from the Reading community. Images of America: Reading includes a variety of stories, photographs, and historical artifacts. "There's something for everyone," according to Everett. Ginny believes it would be a great book for someone new to town, to help them understand the history of the community they are joining. There's another important motivation for people to purchase this book, Everett explains: "We are dedicating the profits from sales of this book to the Reading 375 celebration, Parker Tavern, and conservation of some Reading artifacts." Both authors are hopeful that Reading residents will be motivated to purchase this book as a way of supporting these important causes and continuing their tradition of promoting and protecting Reading's history.
We concluded our interview with a question. What makes Reading special? Ginny doesn't hesitate. "It's the people. We love Reading and its history, but what makes Reading Reading is the people who live here." Everett adds, "we've been so fortunate to make so many friends in Reading over the years. We love it here."
Images of America: Reading, by Ginny and Everett Blodgett, will be on sale beginning May 13. It costs $21.99, payable by cash or check made out to Virginia Blodgett. You can reserve a copy by emailing evblodgett@comcast.net. Payment will be accepted upon receipt of the book. Profits will benefit Reading 375, Parker Tavern, and local conservation. 
Images of America: Reading will be on sale beginning on May 13 with a book release event at RCTV (see Reading375.com to sign up), at the Garden Club Plant Sale on May 18, at Reading 375 events between May 31 and June 15, and by contacting the authors. For more information about Reading 375, and a complete list of events, visit reading375.com