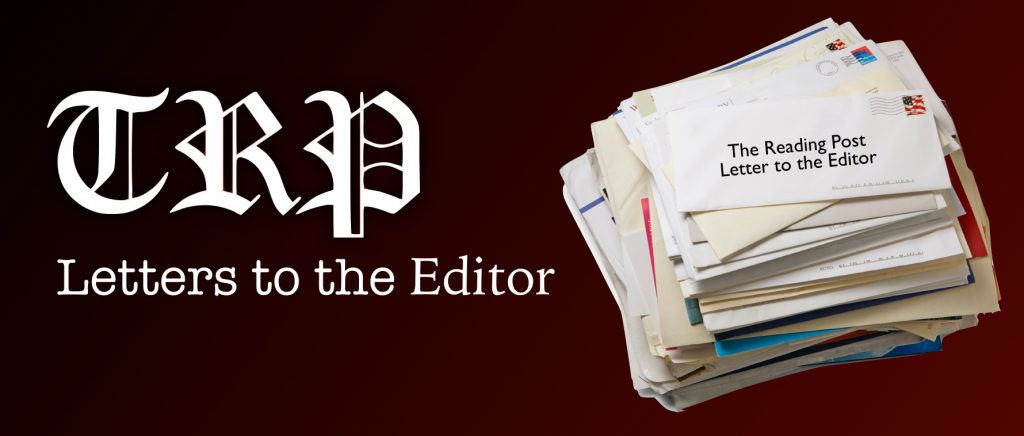 The Reading Post accepts Letters to the Editor. All letters must be signed. The Reading Post reserves the right to edit or not publish any letters received. Letters do not represent the views or opinions of the Post. editor@thereadingpost.com
---
My name is Christine Parks and I am writing to ask you to support my husband, John Parks, for the two year School Committee seat on election day, April 2nd. John has been a member of the Reading community since our marriage, almost 24 years ago. We have raised our three children here, with two of them in college and our youngest, a sophomore at the high school. Over these years, John has been an active volunteer, donating endless hours, in a variety of roles, including a town meeting member, a RUSC soccer coach, age coordinator, and town liaison and a member of the Recreation Committee. He was actively involved as a volunteer in the Barrows Construction Project, and worked on the campaigns for several Select Board and School Committee members. Recently, he served on the selection committee for the new Director of Student Services. John has also been a dedicated volunteer in the schools for the PTOs, Athletics, Drama and Choral groups. When someone is in need, whether a life long friend or new acquaintance, John is among the first to step up and offer whatever help he can give.
In his role as a volunteer, particularly as an age coordinator for sports, I have watched John spend hours addressing parent concerns, stand up and take responsibility for decisions that were not in his control and work behind the scenes advocating and doing what is right for the kids. He is not afraid to take responsibility, yet does not seek to take the credit for his hard work. In my 30 year career as an occupational therapist working with children, 20 of those years in school systems, John has listened to me talk about educational trends and policies, first as a supportive husband and then as concerned parent. He has been eager to learn and advocate for improvements.
John will bring to the School Committee the voice of a parent who has guided children through all three levels of the school and two off to college. He brings to the table the experience of having three children who are three very different learners. John has first hand experience of participating in parent teacher conferences and IEP meetings. The road has not always been smooth. We have had our frustrations along the way, but John has been able to work collaboratively to achieve the best outcome for our children and he intends to bring these skills to the school committee to work towards the best outcome for all children of Reading. He understands that common sense, the law and funding do not always line up. John knows the importance in these cases, of finding common ground to work from to move forward. There is not a parent, staff or administrator who wants or is satisfied with a "mediocre" education. We may not always agree on the path to get there but our shared goal is a quality education for all of our children.
With John's background in sales he is accustomed to working with a diverse group of people to achieve positive outcomes for all. The Reading school system is not perfect, I don't know of any district that is perfect. We have many positives in our school system which should continue to be built upon to help address the areas where we need to improve. As a community this is something we all want. John is not afraid to ask the tough questions or take an unpopular position that is supported by the facts. However, John is also willing to listen to others with different views to learn and to work collaboratively to achieve the best outcome. Thank you for your support for John Parks for School Committee on April 2nd.
Christine Parks
Hancock St.