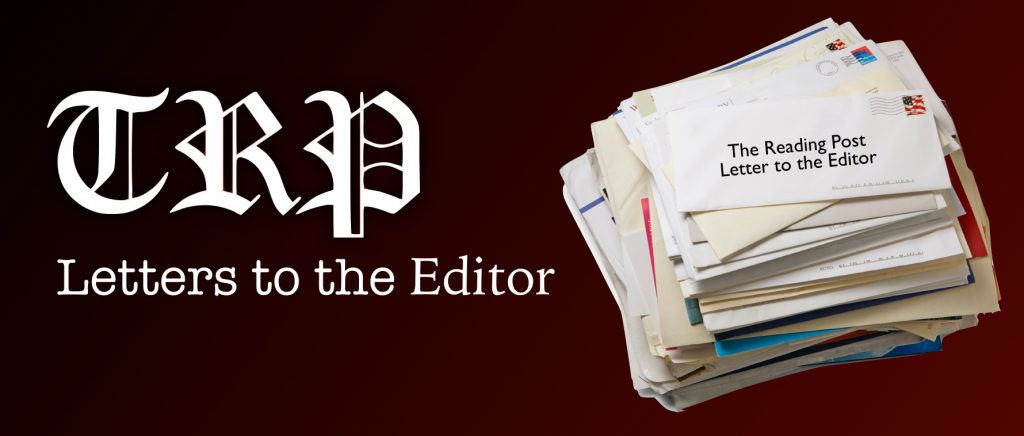 The Reading Post accepts Letters to the Editor. All letters must be signed. The Reading Post reserves the right to edit or not publish any letters received. Letters do not represent the views or opinions of the Post. editor@thereadingpost.com
---
To the Editor,
Election Day, April 2, is approaching, and we in Reading should consider ourselves fortunate to have many qualified candidates running for public office. Thank you to all. Jeff and I will be casting votes for Selectman Barry Berman in his run for re-election, and we hope you will too. 
The Select Board is in a period of transition with new members; Selectman Berman is the only candidate with experience on the Board, having served since 2015. He has very actively participated in all matters of the Board and has the historical knowledge to continue working on economic development projects, housing development issues, capital plan improvements, and other matters before the Board. Going forward the Select Board would continue to benefit from Selectman Berman's experience. He served through two override campaigns, responded to citizen concerns, and is committed to making this override last. As I've watched the Select Board over the past few years, there have been times when I have not agreed with the position Selectman Berman has taken, but I believe he has worked in the best interest of the Town and has worked hard to be independent and bridge divides. He makes time to listen to all sides of an issue and promotes a collaborative approach to problem-solving. I believe he strikes a fair balance between promoting economic development to increase the tax base while protecting the character of the Town and the residents. In difficult situations the Town has faced, Selectman Berman remains positive and works to make Reading a welcoming community. These are qualities I value in a Select Board member.
Recently a friend and I were discussing the 40B housing development project that Wakefield is planning for the old Coast Guard barracks off South Street. I had read in the paper about the meeting that was held in Wakefield, and how Selectman Berman was there to hear about the project and voiced concerns about the development. Our collective thought was, "I'm glad Barry was there." We felt confident that Selectman Berman would work hard to protect the neighbors and Town of Reading, and that he has the experience and knowledge to do so. 
These are some reasons we will be voting to re-elect Selectman Barry Berman on April 2. We urge you to join us. 
Sincerely,
Angela Binda (Town Meeting member) and Jeffrey Dietz