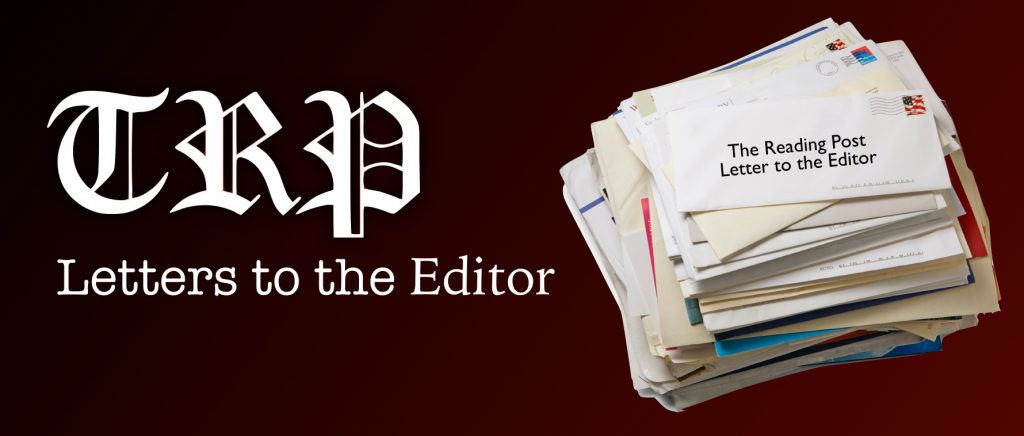 The Reading Post accepts Letters to the Editor. All letters must be signed. The Reading Post reserves the right to edit or not publish any letters received. Letters do not represent the views or opinions of the Post. editor@thereadingpost.com
---
I am voting YES on MA ballot question 3 to support transgender rights, and I urge my neighbors in Reading to vote yes as well. This is a question of civil rights. That it has even come to this point where we as a state are voting on the rights of fellow citizens is just plain wrong. Fear is what brought us here, and I believe it is our responsibility to state affirmatively that our transgender neighbors deserve respect and freedom from discrimination.
Transgender adults and children just want to be able to go about their daily lives. They want to be able to get groceries at Market Basket, grab a cup of coffee at Caffe Nero, go out to dinner with their family at Biltmore, or play at the playground at Memorial Park without being discriminated against. These are the types of "public accommodations" protected under the current law. It is important for us to affirm the dignity and rights of transgender residents to be able to live their lives safely and free from discrimination in these spaces.
To support question 3 is to support a law that was already nearly a decade in the works, heavily debated by our lawmakers, then overwhelmingly supported by our state legislature and Governor Baker in 2016. To be clear, this law is already in place and has been for two years. A yes vote leaves the law in place. A no vote means you do not think that transgender citizens are entitled to protection from discrimination in public spaces.
On Tuesday, October 30, our Select Board voted unanimously to support question 3. They put aside differences in personal politics and came together on this issue because transgender rights are human rights. Their discussion was honest and heartfelt and I highly suggest you watch it when you get the chance. Yes on question 3 is also supported by Governor Baker and numerous other Public Officials and Government Organizations across the state who want their communities to be welcoming and inclusive and safe for all members.
Voting yes on question 3 is also supported by the MA Chiefs of Police. They know that this law protects the rights of transgender people in public accommodations, and it does not change the laws also in place that make it illegal to harm or harass. There are no so-called "loopholes" in this law. The law explicitly prohibits people from using gender identity as a cover for any illegal behavior. It is still illegal to enter a public restroom or locker room with the intent to harm or harass. It is important to note, though, that there have been no instances of increased crimes in public restrooms, locker rooms, or fitting rooms since the law went into effect in 2016. The Reading Chief of Police has confirmed that there have been no instances of crimes perpetrated by transgender people (or anyone pretending to be so) in restrooms or locker rooms here in Reading. The law makes these places safer for transgender people, but it does not make it less safe for everyone else.
Massachusetts Teachers Association also supports this law. Teachers know that in order for students to learn, they must first feel safe, and that includes being free from discrimination in and outside of school. Children need to feel valued, respected and supported in order to thrive. There are currently transgender student s in the Reading public schools. Vote yes to show that you support all children of Reading.
The World Champion Boston Red Sox, the New England Patriots, the Boston Bruins, the Boston Celtics, and the New England Revolution all support voting yes on question 3 because they want to ensure that all of their fans feel safe and welcomed to their games. Don't we want the same for the children and families of Reading when they participate in or attend sporting events around town?
The repeal of this law would have a devastating and irreversible impact on transgender and gender-non-conforming residents. Please help end the spread of fear and vote YES on ballot question 3.
Erin Gaffen
Hemlock Road