LiveWires: Delvena Theatre Presents W.C. Fields & Mae West
Wednesday, May 23, 2018 @ 7:00 pm
Reading Public Library Community Room
64 Middlesex Avenue, Reading, MA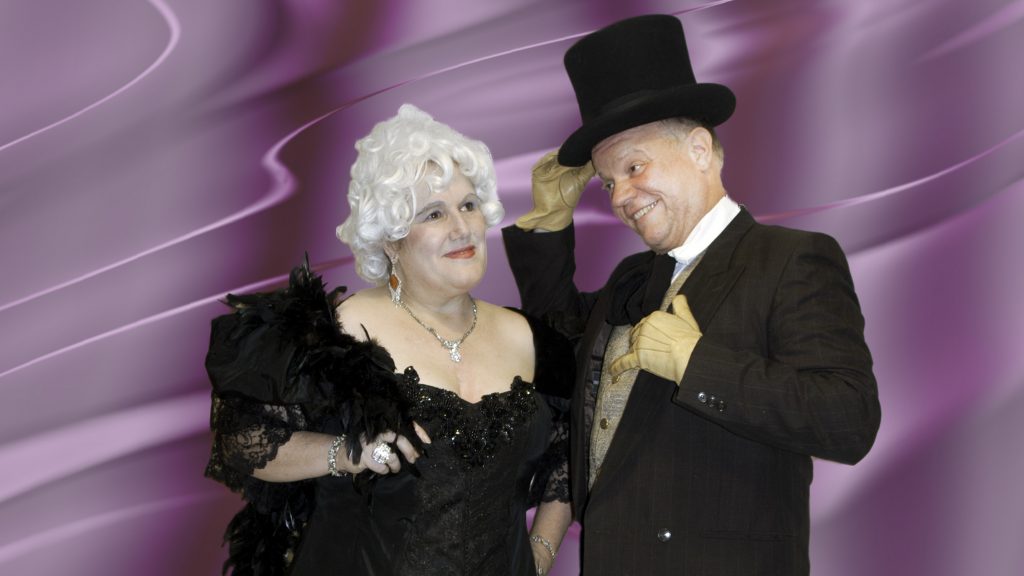 Come visit with W. C. Fields and Mae West in a dressing room on the set of My Little Chicadee. See the characters come to life, and enjoy the laughs as the audiences did way back when. Learn about their personal lives, too, in this humorous, yet informative production – an afternoon of fun. After the performance, the actors will open up to the audience for discussion regarding Fields and West. Truly a unique experience!
An edutainment production, written by Fran Baron, the show will feature Lynne Moulton as Mae West and Joseph Zamparelli, Jr. as W. C. Fields, with Fran Baron as Narrator.
Lynne Moulton has performed several roles for Delvena Theatre including her IRNE nominated Martha in Who's Afraid of Virginia Woolf? and Sissy in Piece of My Heart and also for numerous other theatre companies in the New England area. She received her acting training at the Royal Academy of Dramatic Art under the direction of Sir Robert Palmer and at Trinity Rep Conservatory. 
Joseph Zamparelli, Jr., is a professional actor, director and producer. A graduate of Boston College (Psychology/Theater Arts) he went on to the professional training program at Circle in the Square Theater School in NYC. In addition to commercial film and television work, he is Producing/Artistic Director of BostonAlive.
Fran Baron's most recent roles include Maggie in Meet Julia Child! Mrs. Patterson, Martha and Evalyn, in Delvena's All the President's Women and Narrator and Mrs. Cratchit in The Christmas Carol. She is a playwright, producer and theatrical manager. She received her acting training with Karen Shepard.   
The Delvena Theatre Company was founded in 1992 and has performed at various venues, most often at the Boston Center for the Arts. The company was nominated for five Independent Reviewers of New England awards. Its production of 'Who's Afraid of Virginia Woolf?' was on Theatre Mirror's Best List for acting, directing and production. Presentations of 'Anna Weiss' and 'Beyond Therapy' were included on Theatre Mirror's best play list and 'Blue Heart' was placed on Aisle Say's best list.
W.C. Fields and Mae West is supported in part by a grant from the Reading Cultural Council, a local agency which is supported by the Massachusetts Cultural Council, a state agency. For more information, call the Library at (781) 944-0840.