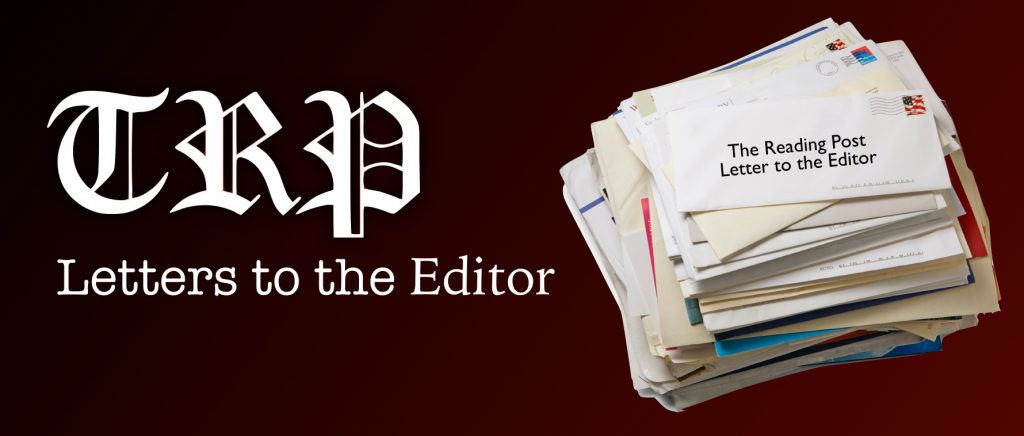 The Reading Post accepts Letters to the Editor. All letters must be signed. The Reading Post reserves the right to edit or not publish any letters received. Letters do not represent the views or opinions of the Post. editor@thereadingpost.com
---
What will we choose to Value?
On April 3rd at the ballot box, each of us will individually make a decision that impacts us personally. The choice we make will significantly change the direction of our community. This is a tremendously difficult decision similar to 15 & 16 years ago, when we last wrangled with an override. At that time, like today, we were divided and emotions ran strong.
I believe that we need to think beyond ourselves and consider what the value of Reading is. Each of our households has challenges supporting our families; some are living on fixed incomes, some are struggling to get by on minimal annual income increases, others offset child care by halting a career, and others rely on community and state support systems. To say yes to increasing a tax bill by an average of $488 dollars we must believe that there is value created that justifies that cost.
If Reading is to continue to be a safe community with strong schools then we must infuse additional operating revenue. The municipal and school budgets have aggressively managed expenses. Our fire and police forces need resources to meet critical demands created by the new housing units that have been built over the past decade as well as the 200+ new units that are planned. Our public safety resources are critical to the prevention and emergency response to substance misuse and abuse. The collaboration created by the Reading Coalition Against Substance Abuse, our School Resource Officer, Police, Fire, School Administration, and the Town Manager must be supported to ensure that our strong education focused prevention framework is maintained and always evolving.
Over the last five years, consecutive below level service budgets have resulted in a slow dismantling of our school district during a time of tremendous change in education. Reading is in the bottom 10% of districts in the entire state in funding allocated per-pupil. Our district cut $4 Million over the last 5 years and this year the cuts for FY19 will dismantle our middle school model. This model has delivered outstanding results for many years, supporting students through a tumultuous developmental period enabling strong academic and social outcomes. Meaningful inclusion opportunities for students receiving special education services will decrease in with increasing class size and the loss of the double English block in 6th grade. We have achievement gaps in our elementary schools that are challenging to address in the context of continually changing standards and curriculum. We need a well-staffed district that supports and trains teachers to improve and invigorate their craft in order to optimize student growth and success and close these gaps. We need to strengthen in-district programs and support our most vulnerable population of students. RMHS should be our flagship. It is the culmination of our students' public education career where we must allow them the ability to create pathways that feed their interests and enable them to build the richest experience possible. To that end, we must continue to innovate and evolve our academic, co-curricular, athletics, civic, service, and school culture to keep our students competitive. It is critical that we halt the steady decline in funding our children's education. Our students deserve a high-quality education and our parents rightfully have high expectations for their children's development and success.
In 2002 when the override failed, my children were in pre-school and elementary school. In 2003 when we passed the $4.5M override, we had no data based idea of how long it would last. Many people thought 6-8 years, with 10 years being the absolute maximum. Proposition 2 1⁄2, which passed into law during my senior year at RMHS, was not intended to prevent operating revenue increases, it was to ensure that communities were rigorous and thoughtful in their decision to increase taxes for the public good. There is no doubt in my mind after 15 years, this $4.15M override is for the public good. It impacts residents of all ages, many critical municipal and school services, and it will determine if our town will retain and attract families and support strong property values. Please join me in voting Yes for Reading on April 3.
Elaine L. Webb
School Committee Vice-Chair
RCASA Board of Directors Vice-President Reading resident since 1978