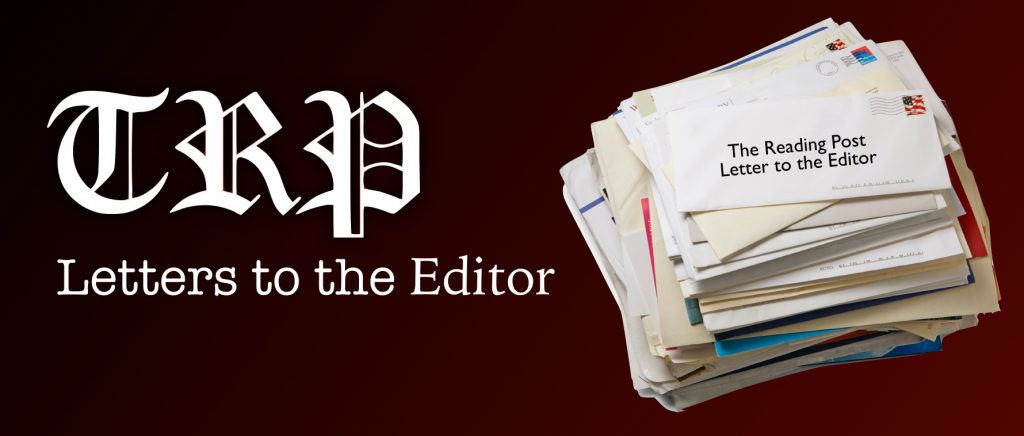 The Reading Post accepts Letters to the Editor. All letters must be signed. The Reading Post reserves the right to edit or not publish any letters received. Letters do not represent the views or opinions of the Post. editor@thereadingpost.com
---
Dear Editor,
I would like to encourage my fellow Reading residents to vote yes for the Proposition 2 ½ override ballot question on April 3. 
As the spouse of a School Committee member, I'm a close observer of our local government. I've seen firsthand the time, energy, and commitment she and her colleagues put into developing, analyzing, and challenging the Reading Public School Budget every year. I've seen the same level of commitment from our Superintendent of Schools, Board of Selectmen, Town Manager, Finance Committee, and Town Meeting. During hours of public meetings, late nights, and public hearings every line item is analyzed and discussed.
I have seen and heard residents ask whether this override is truly needed and if the town committees are spending our tax money in the most efficient way possible. As someone who is very biased towards lower taxes and spending I have asked similar questions of my wife and other town committee members. These have been answered to my satisfaction. Hearing my wife describe a series of bad options for reducing school expenditures (e.g. cutting the middle school language program, reducing our high school athletic program, etc.), seeing her struggle to identify the option that is "least bad," and then watching her agonize over the impact that it will have on our students, including our own two children, is gut wrenching. I know that other school committee members and selectmen are going through similar processes. For example, having to choose between inadequate law enforcement and emergency services or other similarly impactful cuts puts our elected leaders in a difficult position. I have confidence that our elected leaders will choose the "least bad" option, but it is a position that we residents should avoid at all costs.
The simple fact is that many of the costs of running our town, including health insurance for employees and federally mandated special education services, are growing at a rate that far outpaces our ability to raise revenue. These are costs that local officials are unable control. 
After five years of budget cuts, it is time for our community to stabilize our level of services. 
Without a successful override, we risk seeing Reading become a less desirable community to live in. 
My wife and I moved to Reading ten years ago for its proximity to Boston, it's vibrant downtown area, and the reputation of the public school system. We have grown to love this town and are grateful for the quality of education our children are receiving here. I ask you to join me in voting yes on April 3, so that we can maintain the level of services that drew my family here a decade ago. 
Sincerely,
Mike Borawski
Johnson Woods Drive