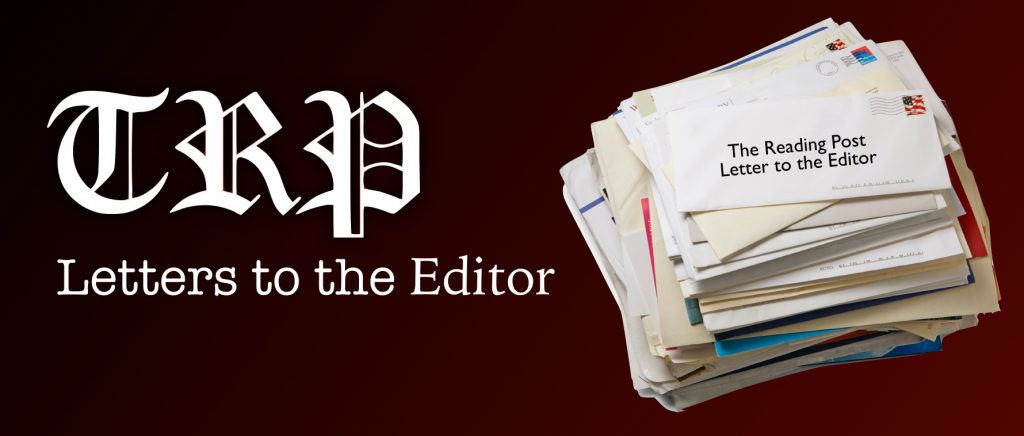 The Reading Post accepts Letters to the Editor. All letters must be signed. The Reading Post reserves the right to edit or not publish any letters received. Letters do not represent the views or opinions of the Post. editor@thereadingpost.com
---
Dear fellow Reading residents,
Twenty years ago my wife Kim and I had a big decision to make. We had been renting in Belmont for a few years and began looking for a home to start our family. Since neither one of us is from Massachusetts, we looked at several towns in the Greater Boston area, ultimately choosing to call Reading home. Starting our young family, we were confident that we landed in a town with people that valued community, friendship, public safety, and all aspects of educational development (arts, sciences, athletics and academics).
From early on in our time here, we have benefited from that decision. We have, like I am sure many of Reading's residents, had need of the police or fire department to deal with an injured child, or an errant smoke alarm. We have had more than a few calls and have always found the firefighters and police to be quick, capable and supremely understanding. In one case when I was a new father, the Reading Fire Department quickly arrived at our house when my daughter was choking on bath foam (she was ok). In another, more humorous case but no less illustrative of the town's commitment to safety, the Reading Police arrived only to discover that our alarm was tripped by some birthday balloons. And while neither incident turned out to be too serious, it is certainly comforting to know that if we need help, the Reading first responders will be there for us, day or night, as soon as humanly possible. In order to continue to maintain that dedication, our services must be funded.
As our children grew, they attended the Reading Public School system and participated in the many town sponsored athletic leagues. Our children have had amazing teachers in this town, at all levels. Teachers who cared for their learning, their well being and for our entire family. We have had teachers who have taught all three of our children and who have known us well. Each of our children has felt that the Reading Public Schools has prepared them well for the next phase. While we briefly evaluated some of the great private schools in the area which was my experience in Upstate NY, we elected to send our kids to RMHS and have been very happy with our decision (scholastically and financially). The courses have been challenging, the teachers supportive and overall the experience has been positive. Without appropriate funding, the schools will not be able to maintain that level of excellence which is essential to the continued success and growth of this town.
Lastly, I can completely understand how residents could have concerns about paying additional taxes, particularly those of us on fixed incomes or tight budgets. It is easy to question the town's spending decisions and legitimate to do so. While there is a lot of information available on this, and I encourage people to do their homework, I look at it in a more simplistic manner. Whether you have used the public schools, or no longer use the schools, you have enjoyed the public spaces (town forest, ball fields, tennis courts, etc.), you have needed the police, the fire department, the highway department, the plows, the local businesses or not, there is one basic financial question worth asking – and it is not has the value of your house appreciated, it is by how much has it appreciated?
I am very glad that we landed in Reading and not any of the other towns we explored. And I look forward to seeing the town continue to grow and evolve in years to come. I cannot emphasize enough the importance of the override's role in making that happen.
Thank you.
Steve Peacock
Reading Birch Meadow Resident since 1996