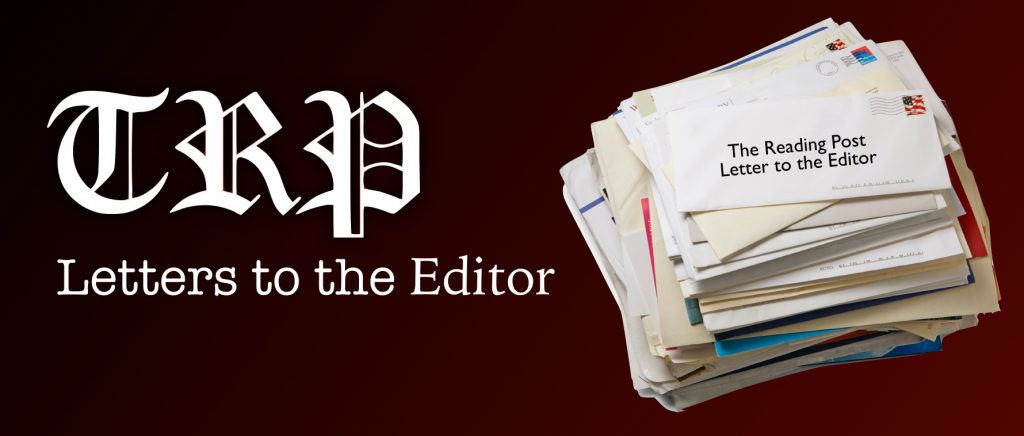 The Reading Post accepts Letters to the Editor. All letters must be signed. The Reading Post reserves the right to edit or not publish any letters received. Letters do not represent the views or opinions of the Post. editor@thereadingpost.com
---
To the Editor:
This is a suggestion directed to the Selectmen, Town Meeting Members, and Town Manager:
We, the Alliance, respectfully request that the Town of Reading institute a town-wide moratorium immediately on all building and approvals for development of all 40R and 40B projects unless and until a Design Code and Code of Conduct can be developed in concert with the abutters of any proposed 40R/40B projects. This request is made so that:
Proposals from developers comply with the wishes of the town and its residents
The history of the Town of Reading and any historic buildings are preserved
Neighborhoods are preserved and protected from rampant and unmanaged growth
Our residents' quality of life is un-trampled.
All concerns by abutters be countenanced with responses provided in writing from both the CPDC and the developer on a project-by-project basis. We recommend that a mediation process be used.

The CPDC, developers, and abutters can work in concert with one another and are mutually respectful.
We further recommend that any plan, once it is proposed and approved by the CPDC, Does not change without the consent of all parties – I cite changes to the Haven St. project that leaves us with a pink building, which was never approved and not in the original plan. The Town should withhold occupancy permits when developers are not in compliance.
The goal here is to make the process more harmonious and more in keeping with the Town, so there is managed growth.
Further, where there is an impact on traffic and/or parking, population density, road conditions, and other critical factors, that the Town respond with a plan for dealing with increased demands on policing, traffic management, and school staffing, so that the town is anticipatory as it applies to infrastructure changes.
Pamela Adrian
Spokesperson for the Gould and Green Street Neighborhood Alliance
Note: The Gould and Green Street Neighborhood Alliance is 30+ person group comprised of abutters of the 20-24 Gould Street proposed development project. The members reside on each of the three adjoining streets (Gould Street, Green Street, and Ash Street).