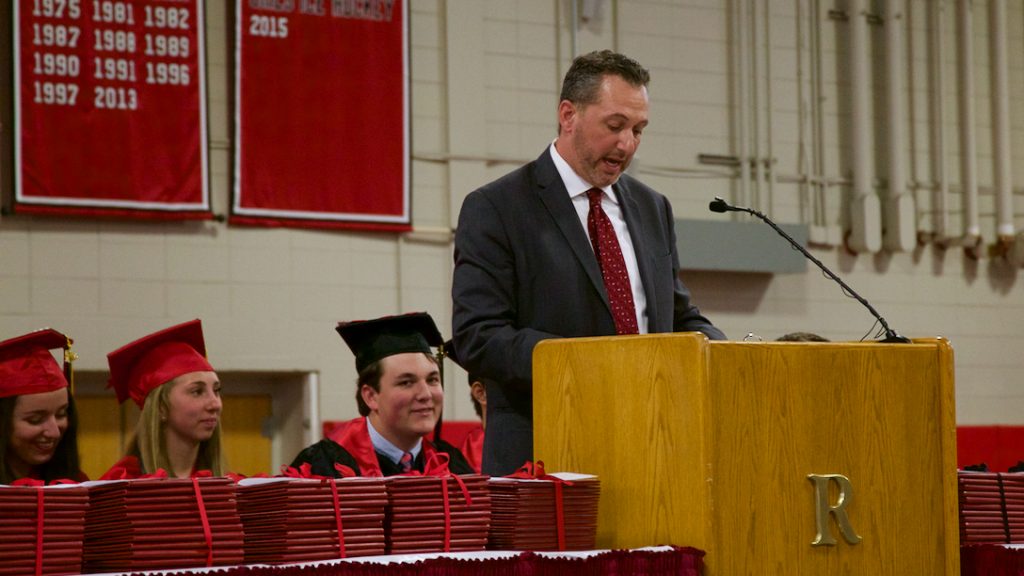 Well here we are Class of 2017. I stand before you one last time to thank you and to commend you for all that you have accomplished over the last four years, all that you have contributed over the past four years, and all that you will undoubtedly accomplish in the years to come. Throughout your years in the Reading Public Schools—particularly during your time at RMHS—you have continuously heard how huge of a class the Class of 2017 is. As we saw a little while ago when you marched into the field house, and as we are about to see when all of your names are read: at 358 students, you guys are indeed a large class. Over the years, the size of your class has required the different schools you have attended to increase space and staffing in order to accommodate your considerable numbers and to provide you with the educational opportunities and resources you deserved—no matter how big a class you were. As you progressed through the years, and left each grade level–and eventually each building—your class's size left in its wake a fraction of the students, but ALL of your 350 plus students' memories and impact. What will forever remain with your teachers, friends, and family members who have worked and grown alongside of you, is not so much the significant size of the class of 2017, but rather the extent of your accomplishments and the significant amount of your class's collective heart, spirit, courage, and contributions to our Reading Community and beyond.
Class of 2017, you have continuously wowed and amazed us all with incredible accomplishments ranging from: academic, musical, artistic, and scientific recognitions at the national level—placing many of you among our country's very best. You have also routinely excelled–and in many cases dominated–at the state and regional level in athletics, music, drama, the arts, academics, and robotics—winning competitions, state and regional championships—making success almost seem commonplace and causing many to justifiably refer to Reading as "Titletown"—well-rounded in its excellence. And yet—in spite of all of these sizeable accomplishments, recognitions, and talent—what will be most remembered and most difficult to replace as this enormous class exits the field house for the final time is the extraordinary quality of people you all are, so often exemplifying perseverance, courage, leadership, compassion, global citizenship, enthusiasm and, of course, personality-.lots and lots of it. But what also marks the Class of 2017 is your collective sense of community and how much you truly look out for one another. There is a genuine affection and sense of responsibility to each other that many teachers, coaches, advisors, and parents acknowledge when they talk about this outstanding class. I hear over and over from so many people: "I just love this year's seniors," which is very high praise considering that often even the world's best 12th graders often find themselves getting bitten by the awful bug – "senioritis." But now, we teachers, parents, and friends will have to adjust to the gigantic hole that you are about to leave in the cultural fabric of RMHS. But we are very, very encouraged and optimistic that these outstanding qualities and the genuinely good people you have become gives us great hope that the tomorrow looks extremely promising with you as the stewards of our future. The class of 2017 appears to have the complete package—whose size and strength in numbers is complemented equally by tremendous ability, humility, responsibility, and likeability.
Seniors, you all will be missed for sure – you already are – but it is now time to go make your enormous mark on the world. It needs good citizens,good people like you all, more than ever.