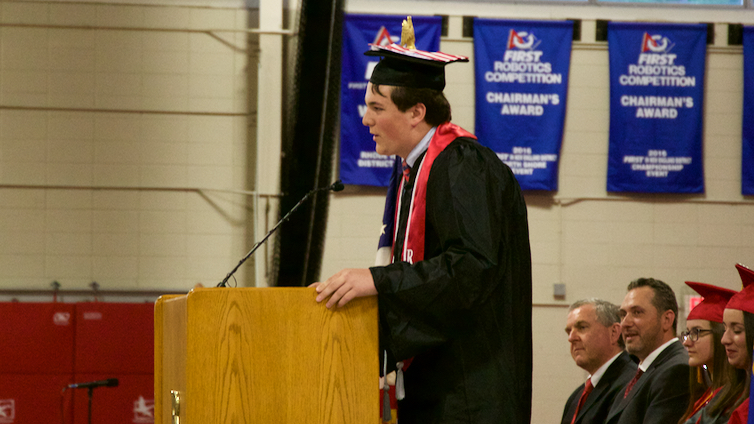 For the rest of our lives, people are going to ask us where we're from, and we're going to say "Boston." But we're actually not from Boston; we're from Reading, and that's something to be proud of.
Reading is much more than a small spot on the map. It's a real community, one that's supportive and nurturing, with a strong sense of spirit and pride, and I see that reflected in us today.
Our class isn't like The Breakfast Club. We don't fit neatly into categories. As we've grown up together, we've known that being true to ourselves is more important than fitting into someone else's notion of what a "high school student" is. Because we're not just high school students, we're Reading high school students. We're not afraid to go our own way, because we know we'll always have people in our corner.
I want to remind you all of a story from when we first entered high school. In 2013, hours after two bombs were detonated at the Boston Marathon, leaving three people dead and hundreds wounded, two Emerson College students, Christopher Dobens and Nicholas Reynolds, tried to think of ways they could lend their support.They settled on creating a simple blue T-shirt with yellow block letters: Boston Strong.
The two students planned to make and sell one hundred T-shirts, the proceeds going to help the victims of the bombing. They didn't expect their simple slogan to become the defining phrase of a city looking to bounce back from tragedy. And they certainly didn't expect the scene months later, when the Boston Red Sox, after finishing last in 2012, won the World Series. They carried their championship trophy to Boylston Street, and placed it on the Marathon finish line, where they then draped it in a jersey labeled "Boston Strong." Two kids, looking to raise $2,000, ended up raising over a million dollars for the bombing victims and through that, inspiring an entire city that continues today. They serve as a valuable reminder that you don't need to be the smartest or most brilliant person to do great things; anyone with heart and the desire to do good has the potential to make a real difference.
So feel free to say you're from Boston—I know I will. But let the diplomas you're holding serve as a reminder that you come from Reading, a place that values substance over style. A town that is built on the idea that greatness can and should be as simple as showing up and doing what you think is right. And then, doing the same thing, the next day. You don't need to be perfect, you just need to keep moving forward. But no matter how far you go, remember that you always have a home back here. 
I know our class is destined for greatness in the future, because I can see the greatness we've achieved here in Reading. I'm proud to be your class president, but I'm even more proud to be a member of the RMHS class of 2017.