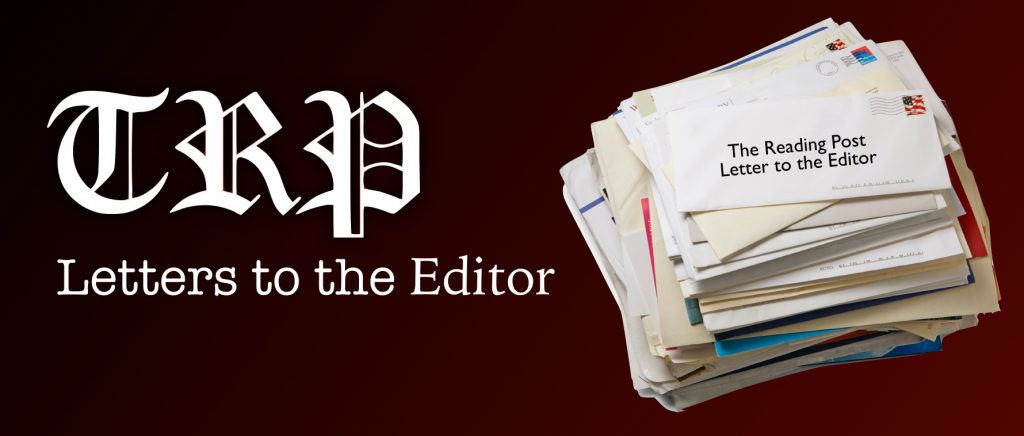 The Reading Post accepts Letters to the Editor. All letters must be signed. The Reading Post reserves the right to edit or not publish any letters received. Letters do not represent the views or opinions of the Post. – editor@thereadingpost.com
---
The Reading Coalition Against Substance Abuse (RCASA) Board of Directors would like to draw the Reading voter's attention to an important Question One on the local ballot in our April 4th town election.
If, as a community, we want to take action to support our vote last November and we want to strongly commit to the health and future of our youth, we need to vote YES on Question One on April 4th. A YES vote will allow Town Meeting to adopt zoning bylaws that will prohibit marijuana establishments per the new law including: commercial marijuana cultivators, marijuana testing facilities, marijuana product manufacturers, and marijuana retailers. Voting YES on Question One has no impact at all on registered medical marijuana dispensaries, or on the personal use aspects of the new state law.
In October of 2016 the RCASA Board published a statement against question four on the State Ballot legalizing recreational marijuana. The key issues cited by RCASA were; the youth usage causing harm to developing brains, youth addiction rates, lack of limits on potency, marketing targeting youth especially in edibles, drugged driving control and enforcement, lack of local government control, accelerated implementation, and a taxation rate that does not support the infrastructure required to control the industry.
In November, 8,353 Reading voters (55.1%) decided that question four was not the right path for our community and State at this time. In fact, all our State Legislators agreed with us. However, the question passed at the state level by a margin of 53.7% to 46.3%. The legal impact of the passage of the ballot question state-wide is still being debated on Beacon Hill, and there are differing views and confusion on implications and next steps. The ballot question could be viewed as having two components: personal use and commercial use.
In support of the vote cast by our residents, the Town took very proactive steps in late November to advertise a Public Hearing for the purposes of discussing changes to the Zoning Bylaws. The result of that dialogue and Town leadership action is that we are now at a crossroads. 
Eleven years ago, our community mobilized against substance abuse in response to overdose deaths. The Reading Coalition Against Substance Abuse (RCASA) was formed in 2006 as a sustainable, collaborative community approach to substance abuse prevention. We may not all agree that marijuana use and abuse leads to use and abuse of other more harmful and addictive drugs, however, it is a fact that marijuana adversely affects adolescent brain development and that 1 in 6, or 17% of teen marijuana users become addicted at nearly 3 times the rate of all users. (National Institute of Drug Abuse Research and Report Series: Marijuana).
RCASA is a coalition made of community members, leaders, and highly skilled practitioners. We listen to our community, we survey our youth, we partner with the police and the schools, we leverage our community organizations and neighboring coalitions, and we work hard to educate youth and parents. It is with unwavering confidence that we recommend a YES vote on Question One in our local election on April 4th, 2017.
The Reading Coalition Against Substance Abuse Board of Directors:
Reading Residents; Patrick Shannon, Elaine Webb, John Halsey, Sherri VandenAkker, Chuck Robinson, Joanne Senders, Garrett Collins, Brian Snell, and Jennifer Hillary. Reverend Pete Jeffery – Church of the Good Shepard, Richard Winant – Mass Alliance for Sober Housing.
If you would like more information, please refer to this article by Dan A. Ensminger.